Molecular Evolution of Multiple Arylalkylamine
N

-Acetyltransferase (AANAT) in Fish

1

Department of Neurobiology, George S. Wise Faculty of Life Sciences, Tel Aviv University, Tel Aviv, 69978, Israel

2

Bioinformatics Unit, George S. Wise Faculty of Life Sciences, Tel Aviv University, Tel Aviv, 69978, Israel

3

Section on Neuroendocrinology, Office of the Scientific Directory, National Institute of Child Health and Human Development, National Institutes of Health, Bethesda, MD 20892, USA

*

Author to whom correspondence should be addressed.

Received: 17 February 2011 / Revised: 16 May 2011 / Accepted: 17 May 2011 / Published: 24 May 2011
Abstract
Arylalkylamine
N
-acetyltransferase (AANAT) catalyzes the transfer of an acetyl group from acetyl coenzyme A (AcCoA) to arylalkylamines, including indolethylamines and phenylethylamines. Multiple
aanats
are present in teleost fish as a result of whole genome and gene duplications. Fish
aanat1a
and
aanat2
paralogs display different patterns of tissue expression and encode proteins with different substrate preference: AANAT1a is expressed in the retina, and acetylates both indolethylamines and phenylethylamines; while AANAT2 is expressed in the pineal gland, and preferentially acetylates indolethylamines. The two enzymes are therefore thought to serve different roles. Here, the molecular changes that led to their specialization were studied by investigating the structure-function relationships of AANATs in the gilthead seabream (sb,
Sperus aurata
)
. Acetylation activity of reciprocal mutated enzymes pointed to specific residues that contribute to substrate specificity of the enzymes. Inhibition tests followed by complementary analyses of the predicted three-dimensional models of the enzymes, suggested that both phenylethylamines and indolethylamines bind to the catalytic pocket of both enzymes. These results suggest that substrate selectivity of AANAT1a and AANAT2 is determined by the positioning of the substrate within the catalytic pocket, and its accessibility to catalysis. This illustrates the evolutionary process by which enzymes encoded by duplicated genes acquire different activities and play different biological roles.
View Full-Text
►

▼

Figures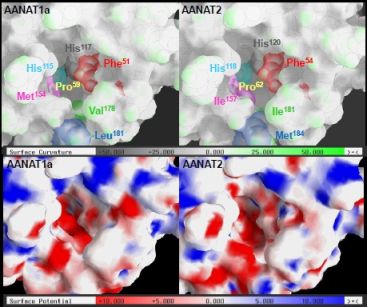 Graphical abstract

Share & Cite This Article
MDPI and ACS Style
Zilberman-Peled, B.; Bransburg-Zabary, S.; Klein, D.C.; Gothilf, Y. Molecular Evolution of Multiple Arylalkylamine N-Acetyltransferase (AANAT) in Fish. Mar. Drugs 2011, 9, 906-921.
Related Articles
Comments
[Return to top]