First Evidence of Palytoxin and 42-Hydroxy-palytoxin in the Marine Cyanobacterium
Trichodesmium
1
Toulouse University, UPS, UMR152 UPS-IRD (PHARMA-DEV), 118, route de Narbonne, F-31062 Toulouse cedex 9, France
2
Research Institute for the Development (IRD), UMR152, 98848 Noumea, New Caledonia
3
Laboratory of Phycotoxins, IFREMER, Rue de l'Ile d'Yeu, BP21105, F-44311 Nantes cedex 3, France
4
Laboratory of toxic micro-algae (LMT), Louis Malarde Institute (ILM), BP30, 98713 Papeete, Tahiti, French Polynesia
5
Biological Science Center, Boston University, 5 Cummington Street, Boston, MA 02215, USA
6
Research Institute for the Development (IRD), UMR152, 98713 Papeete, Tahiti, French Polynesia
*
Author to whom correspondence should be addressed.
Received: 15 February 2011 / Revised: 23 March 2011 / Accepted: 25 March 2011 / Published: 31 March 2011
Abstract
Marine pelagic diazotrophic cyanobacteria of the genus
Trichodesmium
(Oscillatoriales) are widespread throughout the tropics and subtropics, and are particularly common in the waters of New Caledonia. Blooms of
Trichodesmium
are suspected to be a potential source of toxins in the ciguatera food chain and were previously reported to contain several types of paralyzing toxins. The toxicity of water-soluble extracts of
Trichodesmium
spp. were analyzed by mouse bioassay and Neuroblastoma assay and their toxic compounds characterized using liquid chromatography coupled with tandem mass spectrometry techniques. Here, we report the first identification of palytoxin and one of its derivatives, 42-hydroxy-palytoxin, in field samples of
Trichodesmium
collected in the New Caledonian lagoon. The possible role played by
Trichodesmium
blooms in the development of clupeotoxism, this human intoxication following the ingestion of plankton-eating fish and classically associated with
Ostreopsis
blooms, is also discussed.
View Full-Text
►

▼

Figures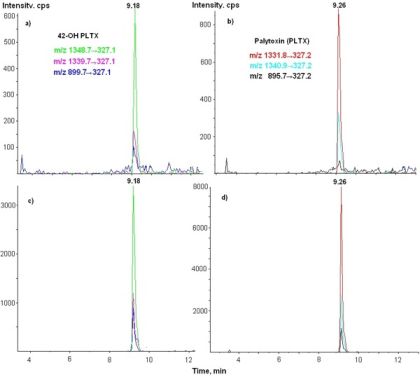 Graphical abstract

Share & Cite This Article
MDPI and ACS Style
Kerbrat, A.S.; Amzil, Z.; Pawlowiez, R.; Golubic, S.; Sibat, M.; Darius, H.T.; Chinain, M.; Laurent, D. First Evidence of Palytoxin and 42-Hydroxy-palytoxin in the Marine Cyanobacterium Trichodesmium. Mar. Drugs 2011, 9, 543-560.
Related Articles
Comments
[Return to top]