Anti-Proliferation Activity of a Decapeptide from
Perinereies aibuhitensis

toward Human Lung Cancer H1299 Cells

1

Zhejiang Provincial Engineering Technology Research Center of Marine Biomedical Products, School of Food and Pharmacy, Zhejiang Ocean University, Zhoushan 316022, China

2

Laboratory of Aquatic Products Processing and Quality Safety, Zhejiang Marine Fisheries Research Institution, Zhoushan 316021, China

*

Authors to whom correspondence should be addressed.

Received: 1 February 2019 / Revised: 11 February 2019 / Accepted: 15 February 2019 / Published: 18 February 2019
Abstract
Perinereis aibuhitensis
peptide (PAP) is a decapeptide (Ile-Glu-Pro-Gly-Thr-Val-Gly-Met-Met-Phe, IEPGTVGMMF) with anticancer activity that was purified from an enzymatic hydrolysate of
Perinereis aibuhitensis
. In the present study, the anticancer effect of PAP on H1299 cell proliferation was investigated. Our results showed that PAP promoted apoptosis and inhibited the proliferation of H1299 cells in a time- and dose-dependent manner. When the PAP concentration reached 0.92 mM, more than 95% of treated cells died after 72 h of treatment. Changes in cell morphology were further analyzed using an inverted microscope and AO/EB staining and flow cytometry was adopted for detecting apoptosis and cell cycle phase. The results showed that the early and late apoptosis rates of H1299 cells increased significantly after treatment with PAP and the total apoptosis rate was significantly higher than that of the control group. Moreover, after treatment with PAP, the number of cells in the S phase of cells was significantly reduced and the ability for the cells to proliferate was also reduced. H1299 cells were arrested in the G2/M phase and cell cycle progression was inhibited. Furthermore, the results of western blotting showed that nm23-H1 and vascular endothelial growth factor (VEGF) protein levels decreased in a dose-dependent manner, while the pro-apoptotic protein and anti-apoptotic protein ratios and the level of apoptosis-related caspase protein increased in a dose-dependent manner. In conclusion, our results indicated that PAP, as a natural marine bioactive substance, inhibited proliferation and induced apoptosis of human lung cancer H1299 cells. PAP is likely to be exploited as the functional food or adjuvant that may be used for prevention or treatment of human non-small cell lung cancer in the future.
View Full-Text
►

▼

Figures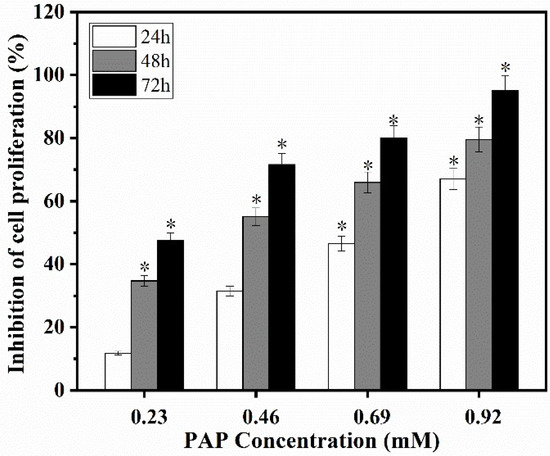 Figure 1
This is an open access article distributed under the
Creative Commons Attribution License
which permits unrestricted use, distribution, and reproduction in any medium, provided the original work is properly cited (CC BY 4.0).

Share & Cite This Article
MDPI and ACS Style
Jiang, S.; Jia, Y.; Tang, Y.; Zheng, D.; Han, X.; Yu, F.; Chen, Y.; Huang, F.; Yang, Z.; Ding, G. Anti-Proliferation Activity of a Decapeptide from Perinereies aibuhitensis toward Human Lung Cancer H1299 Cells. Mar. Drugs 2019, 17, 122.
Note that from the first issue of 2016, MDPI journals use article numbers instead of page numbers. See further details here.
Related Articles
Comments
[Return to top]