Open Access This article is
freely available
re-usable
Review
Bioactive Compounds from Marine Organisms: Potential for Bone Growth and Healing
School of Nursing and Midwifery, Queen's University Belfast, Belfast BT9 7BL, UK
*
Author to whom correspondence should be addressed.
Received: 8 August 2018 / Accepted: 11 September 2018 / Published: 18 September 2018
Abstract
:
Marine organisms represent a highly diverse reserve of bioactives which could aid in the treatment of a wide range of diseases, including various musculoskeletal conditions. Osteoporosis in particular would benefit from a novel and effective marine-based treatment, due to its large disease burden and the inefficiencies of current treatment options. Osteogenic bioactives have been isolated from many marine organisms, including nacre powder derived from molluscan shells and fucoidan—the sulphated polysaccharide commonly sourced from brown macroalgae. Such extracts and compounds are known to have a range of osteogenic effects, including stimulation of osteoblast activity and mineralisation, as well as suppression of osteoclast resorption. This review describes currently known soluble osteogenic extracts and compounds from marine invertebrates and algae, and assesses their preclinical potential.
Keywords:
marine; bioactive; compound; extract; bone; bone growth; bone healing; osteoporosis; algae; nacre
Author Contributions
M.A.C. wrote the manuscript. S.A.C. edited the manuscript and helped review the literature.
Funding
This research received no external funding.
Conflicts of Interest
The authors declare no conflict of interest.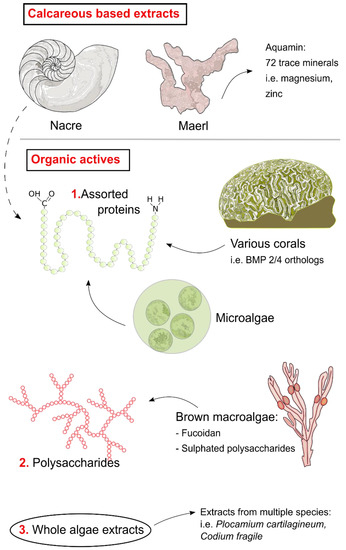 Figure 1. Summary figure highlighting some of the most promising marine extracts and bioactives with osteogenic activity. Two groups are included—calcareous based extracts (nacre and maerl) and organic extracts, which contains three main groups: assorted proteins, polysaccharides, and whole algae extracts.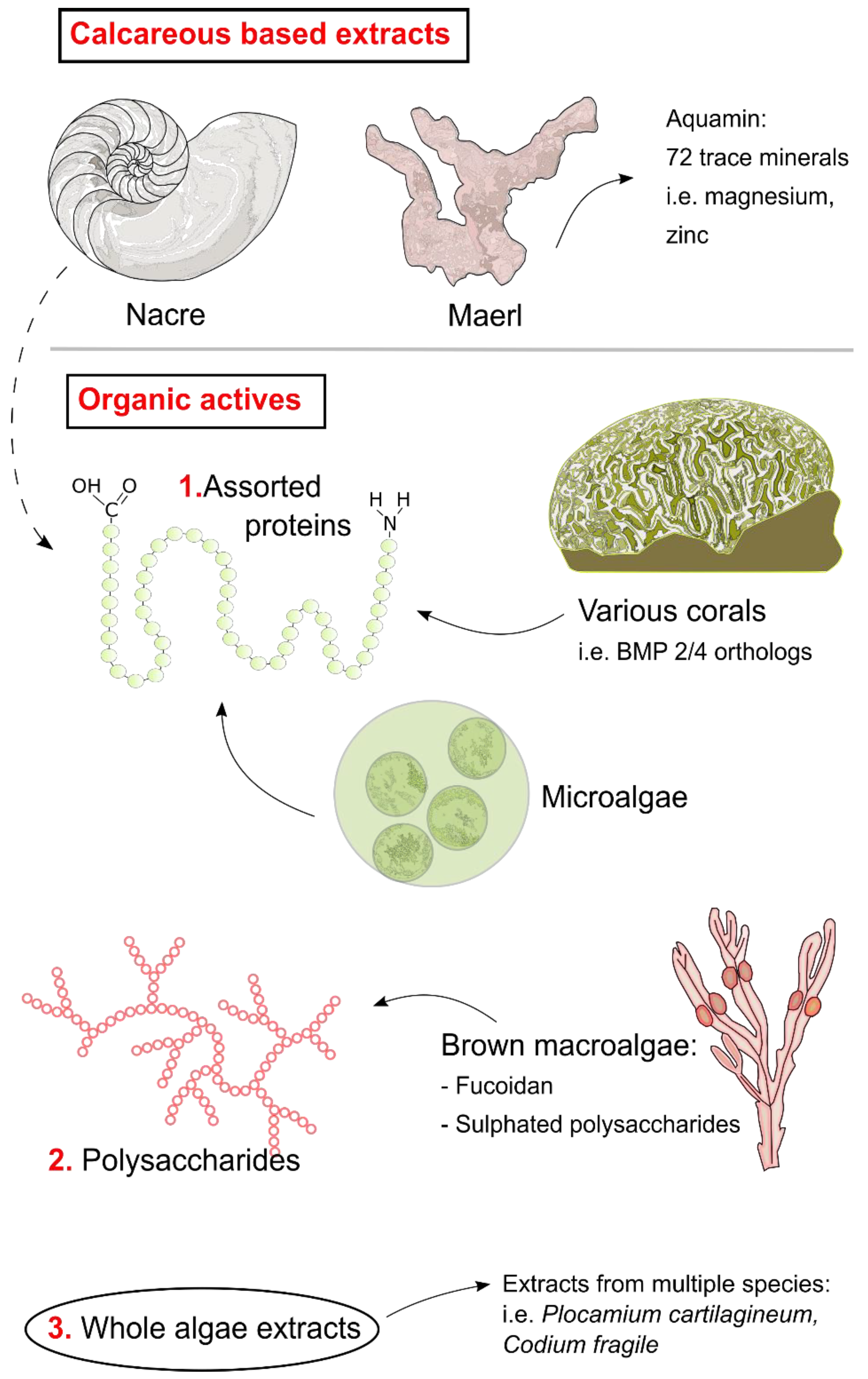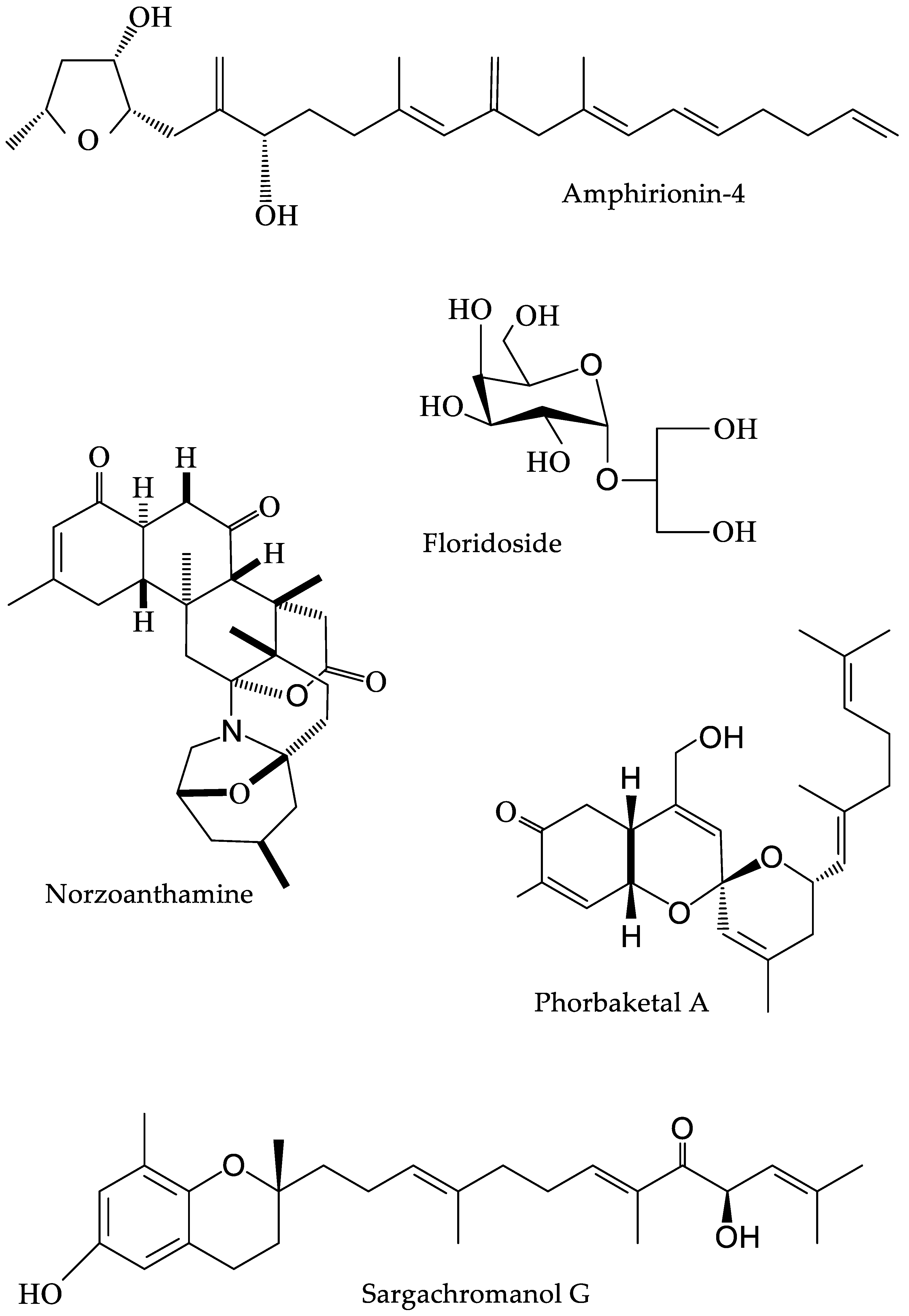 Table 1. Summary table showing the genus, species, general description, and extract type of key invertebrates that have been tested for their osteogenic effect in cell culture or relevant in vivo models. This demonstrates the range of taxa investigated within this field, which are also referred to in the text.
Genus and Species
General Description
Extract/Bioactive
Reference Example
Numerous assorted species
Brown algae
Fucoidan
[21]
Numerous assorted species
Brown algae
Fucoidan (low molecular weight)
[22]
Numerous assorted species
Brown seaweed
Fucoxanthin
[23]

Sargassum horneri

Brown algae
Raw extract
[24]

Sargassum siliquastrum

Brown algae
Sargachromanol G
[25]

Sargassum thunbergii

Brown algae
Quinone derivatives
[26]

Hizikia fusiforme

Brown algae
Water by-product
[27]

Cladophora rupestris

Green algae
Crude extract
[28]

Codium fragile

Green algae
Crude extract
[28]

Laurencia undulata

Red algae
Floridoside
[29]

Lithothamnion corallioides

Calcareous red algae
Aquamin
[30]

Lyngbya

sp.
Cyanobacteria
Macrolide
[31]

Symbiodinium

sp.
Dinoflagellate
Symbioimine
[32]

Amphidinium

sp.
Dinoflagellate
Polyketide
[33]

Nannochloropsis oculata

Microalgae
Peptide
[34]

Alteromonas infernus

Prokaryote
Polysaccharide
[35]

Symploca

sp.
Cyanobacterium
Largazole (depsipeptide)
[36]

Phorbas

sp.
Sponge
Phorbaketal A
[37]

Zoanthus

sp.
Zoanthid
Norzoanthamine
[38]

Millepora dichotoma

Hydrocoral
Bioactive material
[39]

Porites lutea

Stony coral
Bioactive material
[40]

Porites lutea

Stony coral
Biomatrix
[40]

Synularia polydactyla

Alcyonarian coral
Proteins
[41]

Xenia elongate

Soft coral
Coral cells
[42]

Montipora digitata

Hard coral
Coral cells
[42]

Apostichopus japonicus

Sea cucumber
Fucan sulphate
[43]

Haliotis discus hannai

Abalone
Digested intestines
[44]

Haliotis laevigata

Abalone
Perlucin protein
[45]

Numerous assorted species

Mussels
Adhesive protein
[46]

Crassostrea gigas

Oyster
Protein
Nacre (water soluble matrix)
[47]

Pinctada maxima

Pearl oyster
Individual proteins
Low molecular weight molecules.
[48]

Pteria martensii

Pearl oyster
Nacre (water soluble matrix)
[49]

Pinctada margaritifera

Oyster
Proteinase inhibitor
Proteins
Nacre (water soluble matrix)
[50]

Pinctada fucata

Akoya pearl oyster

Pinctada fucata

mantle gene 3
Protein p10 and other novel proteins
[51]

© 2018 by the authors. Licensee MDPI, Basel, Switzerland. This article is an open access article distributed under the terms and conditions of the Creative Commons Attribution (CC BY) license (http://creativecommons.org/licenses/by/4.0/).