Open Access This article is
freely available
re-usable
Review
UV-Protective Compounds in Marine Organisms from the Southern Ocean
1
Department of Biology and Evolution of Marine Organisms (BEOM), Stazione Zoologica Anton Dohrn (SZN), 80121 Villa Comunale, Napoli, Italy
2
Department of Evolutionary Biology, Ecology, and Environmental Sciences, and Biodiversity Research Institute (IrBIO), Faculty of Biology, University of Barcelona, Av. Diagonal 643, 08028 Barcelona, Catalonia, Spain
3
Department of Marine Biotechnology (Biotech), Stazione Zoologica Anton Dohrn (SZN), 80121 Villa Comunale, Napoli, Italy
4
Institute of Biosciences and BioResources (IBBR), CNR, Via Pietro Castellino 111, 80131 Napoli, Italy
*
Author to whom correspondence should be addressed.
Received: 12 July 2018 / Accepted: 12 September 2018 / Published: 14 September 2018
Abstract
:
Solar radiation represents a key abiotic factor in the evolution of life in the oceans. In general, marine, biota—particularly in euphotic and dysphotic zones—depends directly or indirectly on light, but ultraviolet radiation (UV-R) can damage vital molecular machineries. UV-R induces the formation of reactive oxygen species (ROS) and impairs intracellular structures and enzymatic reactions. It can also affect organismal physiologies and eventually alter trophic chains at the ecosystem level. In Antarctica, physical drivers, such as sunlight, sea-ice, seasonality and low temperature are particularly influencing as compared to other regions. The springtime ozone depletion over the Southern Ocean makes organisms be more vulnerable to UV-R. Nonetheless, Antarctic species seem to possess analogous UV photoprotection and repair mechanisms as those found in organisms from other latitudes. The lack of data on species-specific responses towards increased UV-B still limits the understanding about the ecological impact and the tolerance levels related to ozone depletion in this region. The photobiology of Antarctic biota is largely unknown, in spite of representing a highly promising reservoir in the discovery of novel cosmeceutical products. This review compiles the most relevant information on photoprotection and UV-repair processes described in organisms from the Southern Ocean, in the context of this unique marine polar environment.
Keywords:
antarctica; UV radiation; ozone hole; climate change; marine organisms; sunscreen; UV-absorbing molecules; antioxidants; DNA repair; cosmeceuticals
1. Introduction
Ultraviolet radiation (UV-R) is one of the most critical abiotic factors for life on Earth. In spite of the beneficial effects, sunlight can also threaten living organisms, and excessive UV-R of certain wavelengths can promote damage in their molecular machineries. Such deleterious processes can alter marine ecosystems productivity, thus affecting species diversity, ecosystem stability, trophic interactions, and global biogeochemical cycles [
1
] (
Figure 1
).
The ozone layer in Earth's atmosphere acts as a shield by absorbing biologically harmful solar UV-B (290–315 nm). However, each spring, large ozone holes develop over the Southern Hemisphere, increasing the amount of UV-B that reach the Antarctic marine environments [
2
]. The ecological consequences of springtime ozone depletion are directly correlated with the tolerance of species to UV-B via photoprotective strategies to minimize UV exposure, and repair mechanisms for correcting UV-B-induced damage (
Figure 1
).
Antarctic species have developed a variety of adaptive strategies to mitigate the effects of solar UV-B radiation, including avoidance mechanisms, synthesis of UV-absorbing substances, enzymatic and non-enzymatic quenching of reactive oxygen species (ROS), and the activation of DNA repair pathways. However, there is a critical lack of information about the UV-B photobiology of Southern Ocean biota before the occurrence of springtime ozone depletion, and about the ecological consequences after the first depletion events in the 1970s [
3
]. Current research on the UV photobiology of Antarctic marine organisms is still poor and characterized by an old literature on the theme. In this review, we describe the major characteristics of the Antarctic marine environment by outlining the principal geophysical properties influencing the Southern Ocean (e.g., currents, UV-R, photoperiod, seasonality, ozone depletion, temperature, sea ice dynamics and global climate change) in the context of marine photobiology. The most relevant available information on UV-protective strategies has been summarized, with particular emphasis on suncreen compounds, molecular quenching and photodamage-repairing mechanisms. Such processes have been further compared to those described at other latitudes, in order to identify analogies/differences in the chemical structure of the molecules involved, their function and specific concentration.
1.1. Antarctic Marine Environment
Antarctica is detached geographically from the other continents, and isolated oceanographically and thermally by currents (e.g., the Antarctic circumpolar current (ACC)) defining sub-zero temperatures. It was originally part of the supercontinent Gondwana, which originated from Pangaea and began to break up c. 135 million of years ago (mya), during the early Tertiary. Antarctica reached the current geographic position at the beginning of the Cenozoic, 65 mya [
4
]. The region currently comprises the major continental land, the Maritime Antarctic, the sub-Antarctic islands, and the southern cold-temperate islands. Over the Cenozoic, in the last 40 my, the Antarctic shelf experienced cyclical glaciations that led to isolation from other oceans, as well as the establishment of colder conditions, and to major episodes of extinction of marine fauna [
5
]. The earliest cold-climate marine faunas are thought to date back to latest Eocene—Oligocene (35 mya) [
6
]. Extensive and thick ice sheets began to form periodically every 1–3 my, after the middle Miocene. Climate records from ice and sediment cores indicate that over the past 800,000 years, polar regions have gone through eight glacial cycles [
7
]. The last glacial cycle is dated on ~120,000–110,000 years ago, and culminated approximately 15,000 years ago [
8
]. At that time, the ice sheet thickened to more or less its recent configuration. The progressive separation from other continental masses allowed the establishment of the ACC and, at its northern border, the Antarctic Polar Front (APF), creating the isolated and cold habitat we know today. A southward shift of the fronts of the ACC has been suggested as the key mechanism for some of the observed Southern Ocean warming [
9
].
Antarctica is renowned as being the driest, windiest and coldest continent, boasting the lowest recorded temperature on Earth, −89.2 °C [
10
]. In terms of water surface, the Southern Ocean (including the Weddell and Ross Seas) is the planet's fourth largest ocean. Water temperatures range between +1.5 and −1.9 °C at the most northerly and southerly latitudes, respectively [
11
]. There is little variation in temperature during seasons or as function of depth, because of the presence of the ACC and APF [
12
,
13
]. Along the APF, the surface layers of the north-moving Antarctic waters sink beneath the less cold and less dense sub-Antarctic waters, generating almost permanent turbulence [
14
]. Here the Ocean plays an important role in the global carbon cycle being responsible for ~20% of carbon dioxide (CO
2
) drawdown [
10
]. The deep water south of the APF, a roughly circular oceanic system extending to 2000 m in depth, brings to the surface dissolved nutrients and CO
2
, and then releases CO
2
to the atmosphere. In contrast, water north of the APF takes up CO
2
from the atmosphere thus making the Southern Ocean both a source and a sink for atmospheric CO
2
.
APF acts as a barrier for migration of marine organisms between the cooler Antarctic and the lower warmer latitudes [
14
]. Moreover, the cooling process over the last ~5 my, characterized by cyclical freezing and warming events accompanied by advances and retreats of the continental ice sheet, introduced new niches for faunal radiation [
15
,
16
]. More than 9700 species, mostly benthic, have been described from the Southern Ocean. The number of known species has significantly increased in the last years thanks to initiatives, such as the Census of Antarctic Marine Life [
17
]. Marine organisms thriving in the Southern Ocean are exposed to extreme conditions of isolation, harsh climate, low stable water temperature and viscosity, deep continental shelf and disturbance from scouring by icebergs [
18
,
19
]. Several studies revealed that despite some taxonomic connectivity that remains with South America through the Scotia Arc (which acted as biogeographic bridge between Antarctica and the Magellanic region [
20
]), the current benthic marine invertebrate fauna is largely ancient and endemic [
21
]. As such, the biota has had chances to co-adapt to this unique severe environment [
22
].
1.2. UV Radiation, Penetration, Photoperiod
1.3. Sea Ice Dynamics
Antarctic ice is one of the main features of the Southern Polar continent, covering ~99.6% of its land area and surrounding seas. This ice sheet extends an average of 30 × 10
6
km
3
and represents 70% of the Earth's freshwater. There are several typologies of ice, which prompt impacts to marine biota living on or in the ice, and to subtidal and underlying ecosystems. Freshwater ice derives from glaciers, it can extend up to a kilometer thick, and form the ice shelves attached to the land, and freely floating icebergs when large masses of ice detach [
33
]. The direct effects of iceberg scouring, and anchor ice, are major factors of physical disruption for benthic communities in Antarctic seafloors [
34
]. Sea ice, instead, is frozen seawater a few meters thick, and similarly subdivided into fast ice (attached to land) and ice floes (non-attached) [
33
]. In the Southern Ocean the ice cover is highly seasonal, spreading each winter far northward (to approximately 60° S) and experiencing a retreat almost to the coastline in the summer [
35
]. Antarctic sea ice mediates physical disturbance to the benthos. On the one hand it prevents drifting icebergs from scouring the seabed; and on the other it forms a barrier between the water column and the atmosphere, restricting wind-induced turbulence and water-column turnover [
36
]. These reduced land–ocean–atmosphere interactions interfere with the supply of nutrients (particulaly iron) to the marine environments [
37
]. Algae and particles trapped within sea ice caps seasonally constitute the basis of the Antarctic marine food chain when the packs melt, and phytoplankton blooms and organic matter reach the benthos [
38
,
39
]. Regarding the effects on sunlight incidence, ice sheets strongly modify the radiation budget and energy balance on the ocean surface by reflecting light (albedo). The regular albedo without snow is 6–7%, but it can exceed 85% in the presence of sea ice [
40
]. In underwater ecosystems, sea ice significantly attenuates solar irradiance [
40
] while protecting from UV wavelengths [
41
]. For instance, the Weddell Sea pack ice in the austral spring (September) showed an almost dark under-ice light regime with light transmittances bellow 0.1% [
42
]. For all the mentioned, the ecology and productivity in the Southern Ocean are strongly influenced by the sea-ice cover and its periodicity [
43
,
44
]. Each year Antarctic ecosystems go through a sort of lethargy marked by long dark cold winters, and reactivate in the summer upon the return of sunlight and the melting of the ice. These cyclic events influence all marine biota, but in particular photoautrotrophs and organisms depending on these for nutrition or light protection [
43
,
45
]. Contradicting most global climate models (including recent reports of Arctic ice declines [
46
]), Antarctic sea ice extent increased in the last decades [
47
]. These episodes of sea-ice expansion increased surface albedo, reduced ventilation, and enhanced CO
2
sequestration to the deep ocean [
48
]. Nonetheless, since 2016/17 unprecedented springtime retreats in the Antarctic ice packs [
49
] highlighed the possibility of a switch to future declines in sea ice extent [
39
]. Reductions in the fraction of ice and snow cover will definitely influence the exposure of marine ecosystems to solar UV-R, and consequently the biology of photosynthetic organisms at the base of the food web, invertebrates and large predators along the ecological web (reviewed in References [
35
,
50
]).
1.4. The Ozone Hole and the Impacts of a Changing Environment
2. Effects of Light in Marine Organisms
Life on Earth relies on sunlight [
77
]. The infrared rays of longer wavelengths (700 nm to 1 mm) are responsible for warming contributing to the benevolent temperatures of our planet; whereas the visible spectrum (400–700 nm, visible for human eye) supports the sense of sight. Remarkably, the visible light is also essential for photosynthesis, the process whereby autotrophic solar-powered organisms that are at the basis of most food networks derive their energy from photons. However, on the other side of the spectrum below 400 nm, UV sunlight exerts mostly deleterious effects on biological systems [
77
,
78
].
2.1. Beneficial Effects of Light
The sea covers about 71% of the planet's surface and contributes to about one third of the global productivity. In marine systems above the aphotic zone, UV-R penetrates deeply and biota at all trophic levels become potentially exposed to UV-R [
79
]. The principal marine primary producers comprise planktonic diatoms, dinoflagellates, coccolithophorids, silicoflagellates, and blue-green and other bacteria, while benthic phototrophs include micro- and macroalgae, higher plants, and symbiotic producers, such as zooxanthellae in corals. All these organisms live in the euphotic zone to remain photosynthetically active. Zooplankton, herbivores, and other heterotrophs, in turn, largely depend on those photoautotrophs as their primary source of food. Marine biota depends directly or indirectly on light, for a number of biological processes [
80
,
81
]. Besides photosynthesis-related effects, there are other beneficial processes powered by light. For instance, beyond the photoautotrophic nourishment zooxanthellae provide to their coral hosts, these symbiotic dinoflagellates can further potentiate calcification and lipogenesis processes in the presence of light [
82
]. UV-R has also been shown to be necessary for spicule formation in some gorgonians, as colonies maintained in the absence of UV-R had significantly more "irregular" spicules when compared to colonies grown in the presence of UV-R [
83
]. For swimming organisms, the capacity of phototaxis may allow them to control their position in the water column, while avoiding excess of radiation [
84
]. UV photoreceptors have been described in bacteria, cyanobacteria, and algae, as well as in protozoans, annelids, cnidarians, molluscs, crustaceans, and fish, suggesting that UV vision may be relevant in aquatic systems [
79
,
85
]. UV photoreceptors may be used for navigation, communication, enhanced foraging, and possibly for UV-R avoidance. For instance, in the Antarctic krill
Euphausia superba
, a complex photoreception system, composed of different opsin photopigments, enables to respond to the daily and seasonal changes in light, moving downward during the day and upward during the night within the top 200 m of the water column [
86
]. Both negative phototactic behaviors and UV vision, suggest that UV-R may influence behaviour, migration and abundance patterns, as well as predator-prey and intraspecific interactions in marine environment [
79
,
85
]. UV-R may also play an essential role in the ecology of several infectious diseases of aquatic organisms, particularly when there is a pronounced difference in the UV tolerance of the host and the pathogen or parasite [
65
]. Simultaneously, solar radiation is very effective at reducing viral infections in some organisms, including fish viruses and harmful algal blooms, as well as some trematode worms infections [
65
].
Light is essential for the synthesis of vitamin D (calciferol) in most organisms, which has a significant role in calcium homeostasis, inmune system, and metabolism [
87
]. Its precursor, 7-dehydrocholesterol reacts with UV-B light at wavelengths between 270 and 300 nm, with peak synthesis occurrying between 295 and 297 nm [
88
].
Seasonal cycles in many organims may also be controlled by light, since light actually initiates different kinds of cycles as it increases in spring [
80
]. Duration and extent of the effects are variable. Vertical migrations, for example, happen usually within a day (diurnal cycles), while horizontal migrations are seasonal or annual. Intertidal organims also use light to adjust their optimum position relative to tidal height [
82
]. There are different types of mechanisms based on light to synchronize individuals of a given species, or to regulate a large number of activities [
77
]. Photokinesis, photoperiodicity, photosensibilization are among these mechanisms. Furthermore, circadian rhythms, which are endogenous, are also often regulated by light, and may also have intermediate controls, such as hormonal regulation [
77
]. Somatic growth and reproduction are usually coupled with seasonal cycles [
82
]. Synchronization may be also very useful for reproduction and for survival of the offspring, and many sponges, corals, and echinoderms, for example, spawn in a coordinated way related to light [
82
].
2.2. Negative Effects of Light
3. UV Photoprotection in Marine Organisms: Antarctic and Non-Antarctic Strategies
Marine organisms have developed physiological and biochemical traits to cope with UV. The choice of habitat is the most effective defence, and consists of avoidance mechanisms, such as cyclic migrating behaviours from high to low UV-R levels in a diel or seasonal manner, or translocation to shaded or deeper zones along the water column. Many cyanobacterial communities in Antarctica live in dim-light environments, such as within or beneath rocks, in permanently ice-covered lakes, beneath the surface of the soil or at the base of the plants within moss banks [
108
]. In the Antarctic cyanobacteria
Oscillatoria
sp. vertical migration of the microbial mat reduces the exposition to UV [
109
], whereas vertical mixing of the water column provides similar effects in planktonic organisms [
96
].
For organisms living exposed to sunlight, mechanisms for minimizing UV damage include: (1) Screening mechanisms for reducing UV exposure by physical barriers or chemical barriers with UV-absorbing compounds; (2) quenching mechanisms by non-enzymatic (carotenoids, α-tocopherol, ascorbic acid, glutathione) and enzymatic antioxidants, such as superoxide dismutase (SOD), catalase (CAT), glutathione peroxidase and other enzymes that can neutralize effects of radicals produced by UV photochemical reactions; and (3) repair mechanisms to deal with UV-induced damage that occur in DNA, proteins and lipids.
4. Conclusions and Future Perspectives
Currently, there is a need for extensive work to understand the photobiology of Antarctic communities and to investigate on the potential of photoprotective compounds and related molecular and enzymatic machineries from those marine habitats to be used in biotechnological discovery pipelines and pharmaceutical applications. Further development of marine biotechnology for human photoprotection and research must be specially focused on the analysis, biosynthesis, and mode of action of several unknown photoprotective compounds against several abnormalities induced by UV-R. All these studies should be always carried out respecting the environment, and protecting biodiversity and chemical diversity for future generations.
Author Contributions
All authors gave an important contribution in the consideration of the available bibliographic information for the review and in the preparation of the final version of the manuscript. L.N-P. and D.G. developed the original idea and organized all the materials.
Funding
This study grant support from the Italian National Programme for Antarctic Research (PNRA) (2016/AZ1.06-Project PNRA16_00043). Grant support was also provided by the Spanish Government through the BLUEBIO project (CTM2016-78901/ANT) to C.A. This study was carried out in the framework of the SCAR Programmes "Antarctic Thresholds–Ecosystem Resilience and Adaptation" (AnT-ERA) and "State of the Antarctic Ecosystem" (AntEco).
Acknowledgments
D.G. wishes to thank Valentina Brasiello and Francesca Segreti for support and assistance.
Conflicts of Interest
The authors declare no conflict of interest.
Abbreviations
| | |
| --- | --- |
| ACC | Antarctic Circumpolar Current |
| ACCE | Antarctic Climate Change and the Environment |
| APF | Antarctic Polar Front |
| APX | Ascorbate peroxidase |
| CAT | Catalase |
| CDOM | Coloured dissolved organic matter |
| CFCs | Chlorofluorocarbons |
| Chl | Chlorophyll |
| CPDs | Cyclobutane pyrimidine dimers |
| DOM | Dissolved organic matter |
| EPS | Extracellular polysaccharides |
| GHG | Greenhouse gases |
| GSH | Glutathione |
| GSH-Px | Glutathione peroxidase |
| HPLC | High pressure liquid chromatography |
| MAAs | Mycosporine-like amino acids |
| MDT | Marine-derived tocopherol |
| my | Million of years |
| mya | Million of years ago |
| NASA | National Aeronautics and Space Administration |
| NER | Nucleotide excision repair |
| NOAA | National Oceanic and Atmospheric Administration |
| ODSs | Ozone depleting substances |
| PAR | Photosynthetically active radiation |
| 6-4PPs | Pyrimidine 6-4 pyrimidone photoproducts |
| PUFA | Polyunsaturated fatty acids |
| ROS | Reactive oxygen species |
| SOD | Superoxide dismutase |
| UNEP | United Nations Environment Programme |
| UV, UV-R | Ultraviolet, UV radiation |
| WMO | World Meteorological Organization |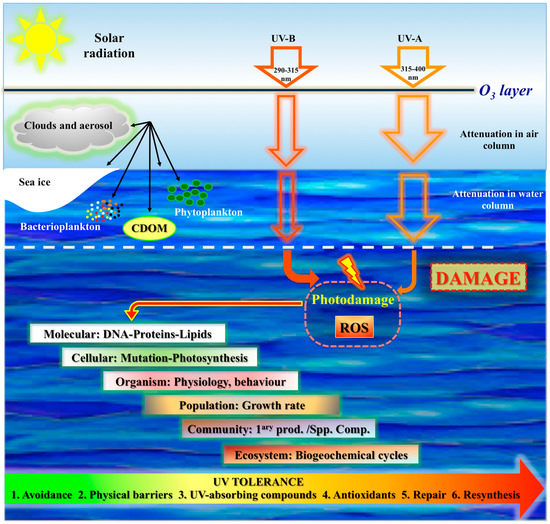 Figure 1. Negative effects of ultraviolet radiation (UV-R) on marine environment. Main factors involved in the attenuation of light through the air and water column and mechanisms of UV tolerance in biological systems by mitigating strategies and repair processes. UV-R may affect organisms through molecular and/or cellular damages, genetic mutations, or by causing disturbances at population and community levels, interfering with physiological functions (e.g., growth, reproduction and behaviour), and species interactions with effects on the ecosystem and biogeochemical cycles. ROS, reactive oxygen species; CDOM, coloured dissolved organic matter.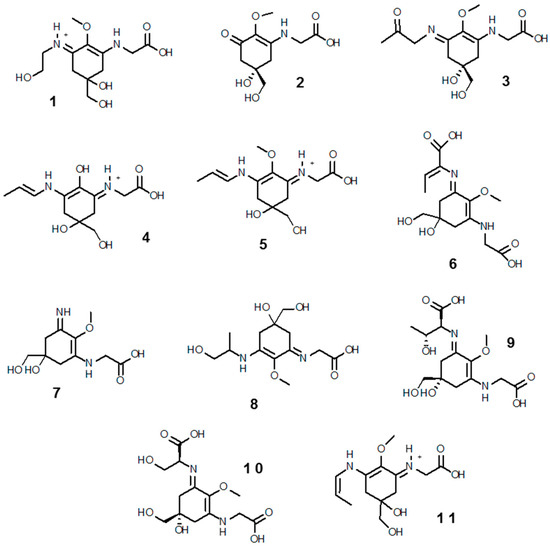 Figure 2. Mycosporine-like amino acids (MAAs) found in Antarctic marine organisms: (1) Asterina-330; (2) mycosporine-glycine; (3) mycosporine-2-glycine; (4) mycosporine-glycine-valine; (5) palythene; (6) palythenic acid; (7) palythine; (8) palythinol; (9) porphyra-334; (10) shinorine; (11) usujirene.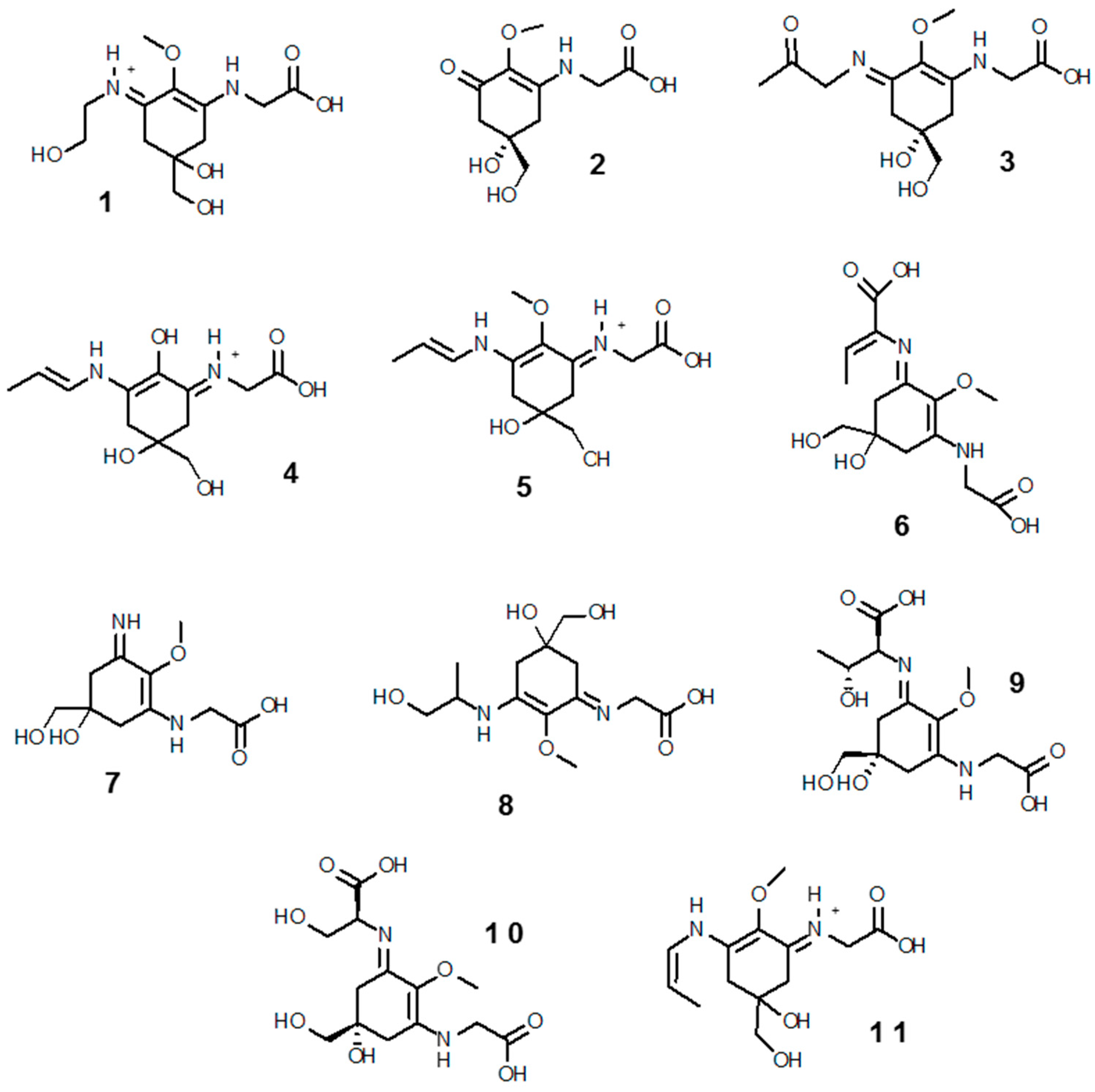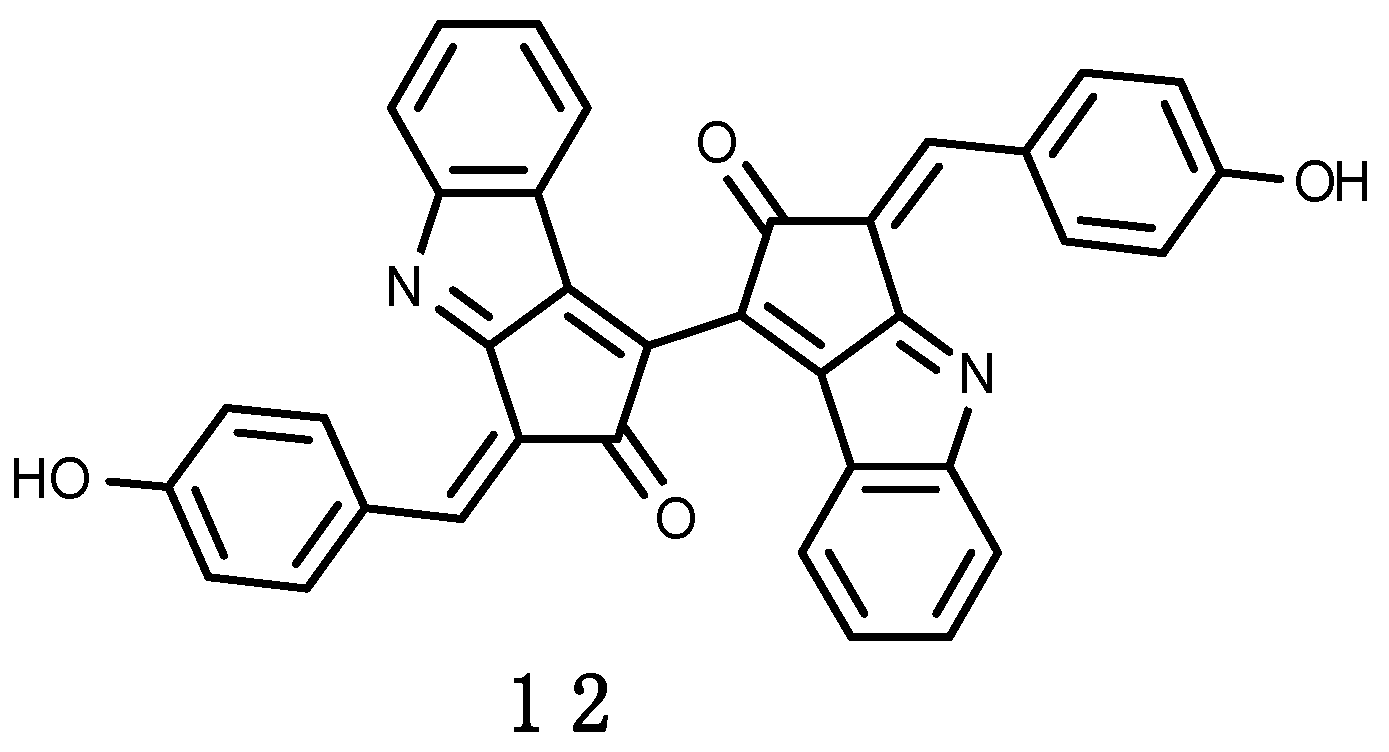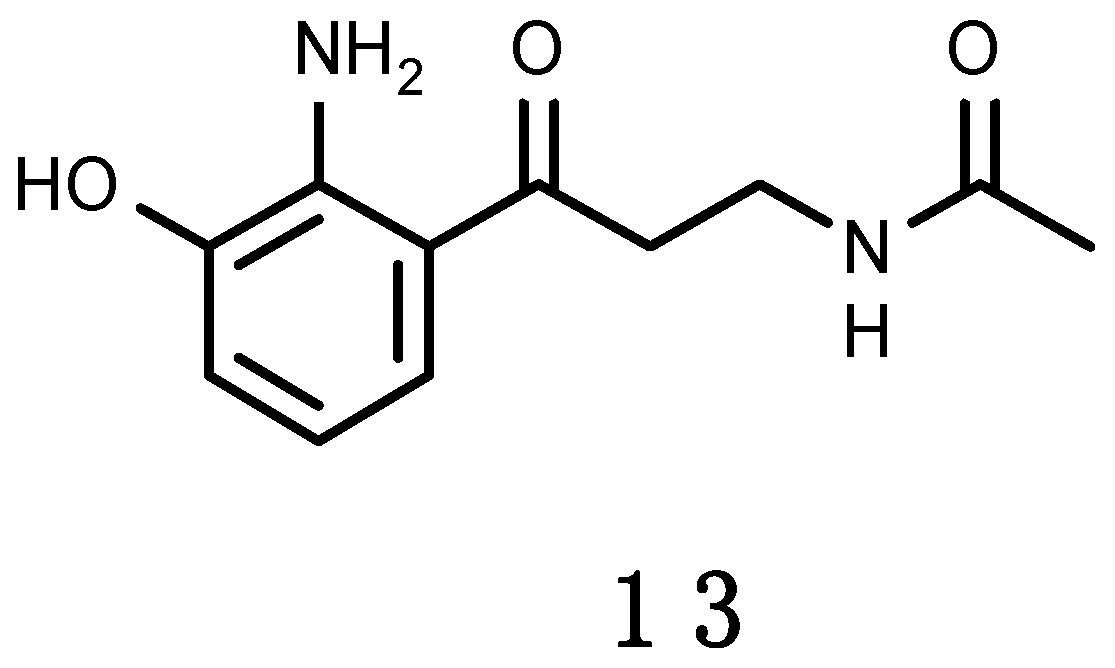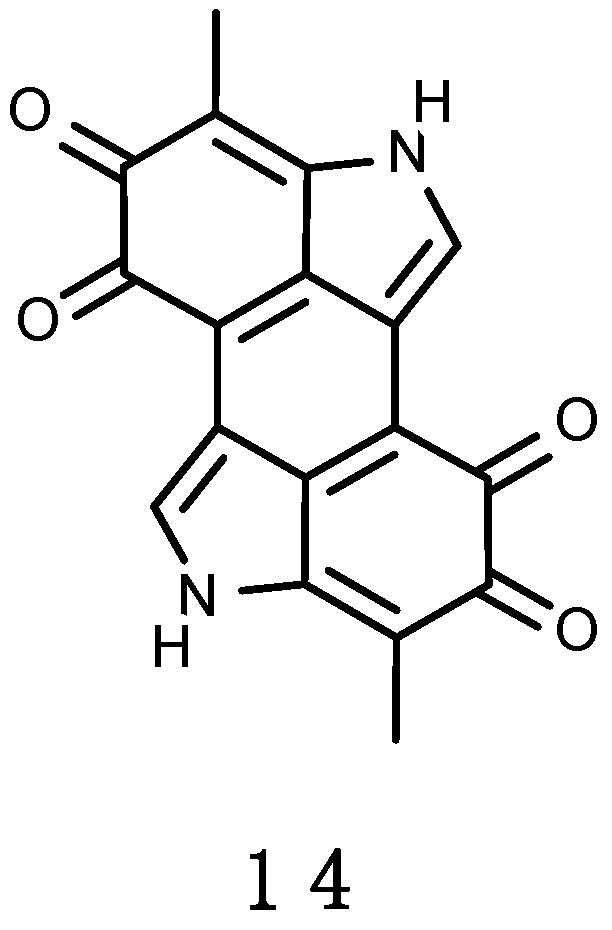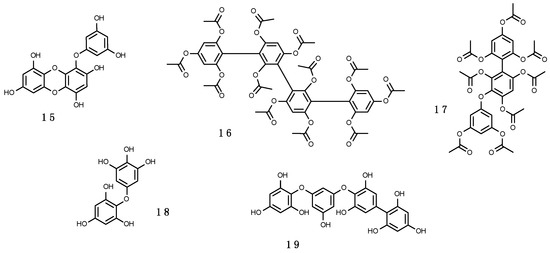 Figure 6. Examples of marine phlorotannins: (15) Eckol; (16) fucol; (17) fucophlorethol; (18) fuhalol; (19) phlorethol.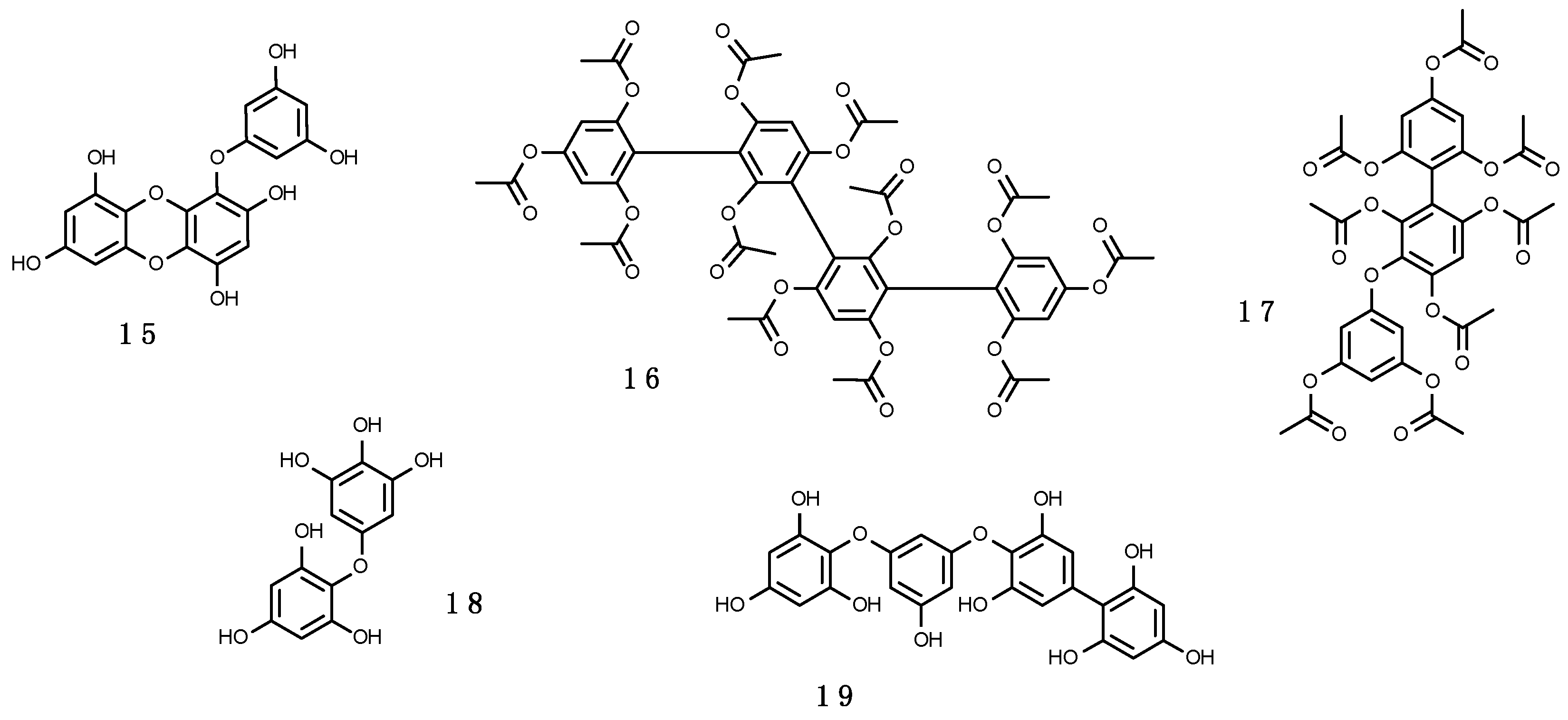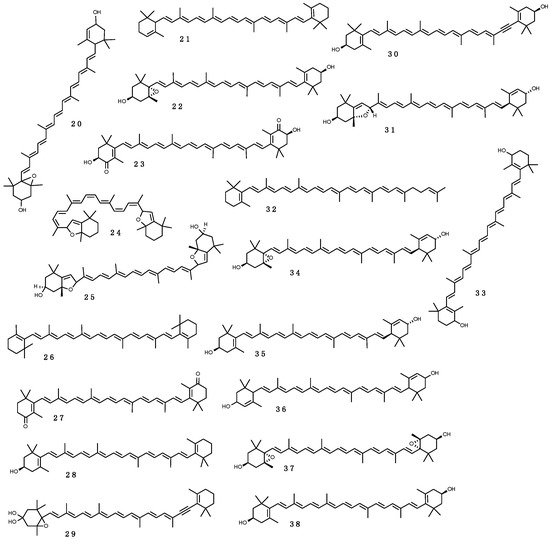 Figure 7. Carotenoids: (20) 4-hydroxy-α-carotene; (21) α-carotene; (22) antheraxanthin; (23) astaxanthin; (24) aurochrome; (25) auroxanthin; (26) β-carotene; (27) canthaxanthin; (28) cryptoxanthin; (29) diadinoxanthin; (30) diatoxanthin; (31) flavoxanthin; (32) γ-carotene; (33) isozeaxanthin; (34) lutein-5,6-epoxide; (35) lutein; (36) tunaxanthin; (37) violaxanthin; (38) zeaxanthin.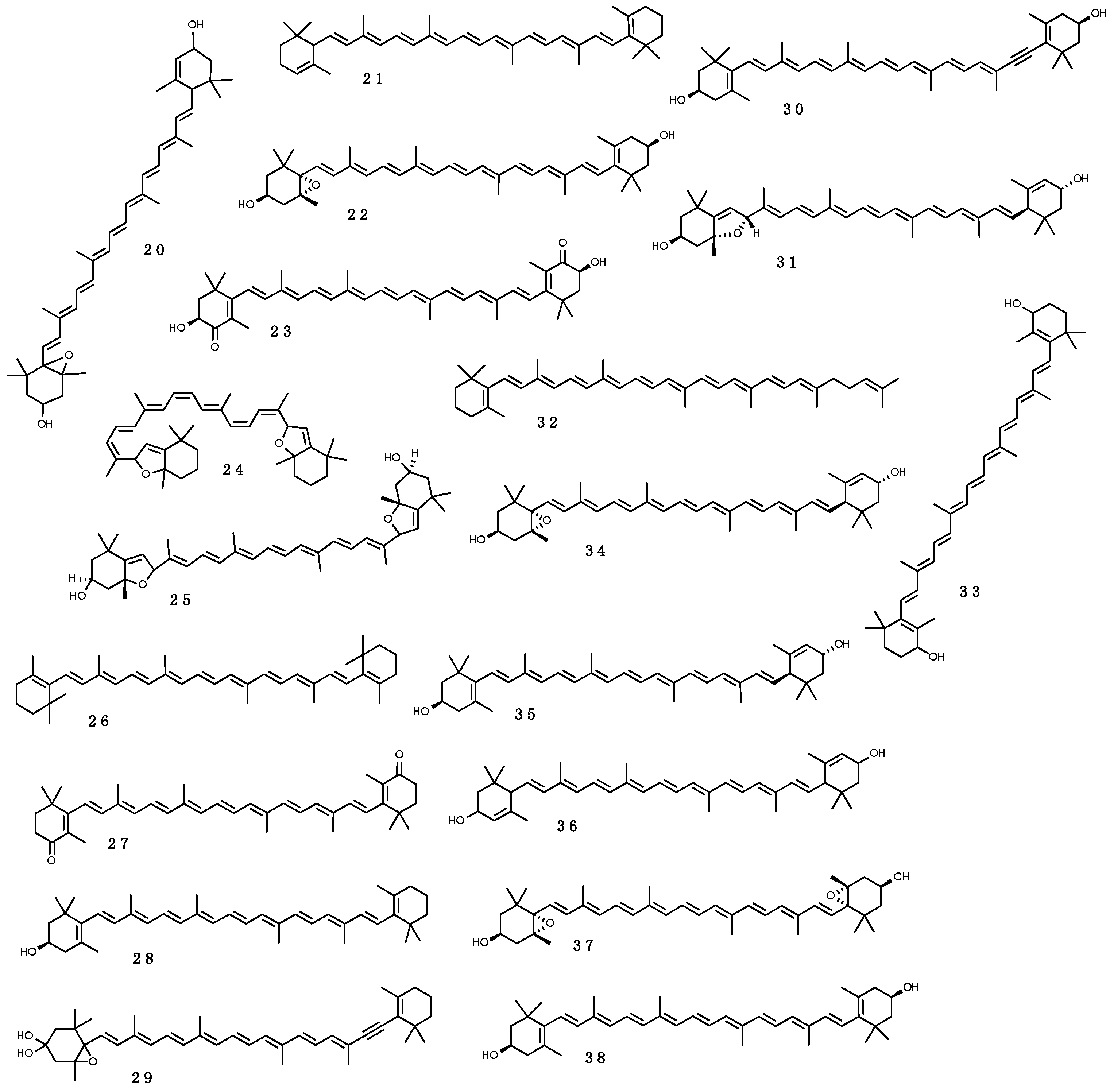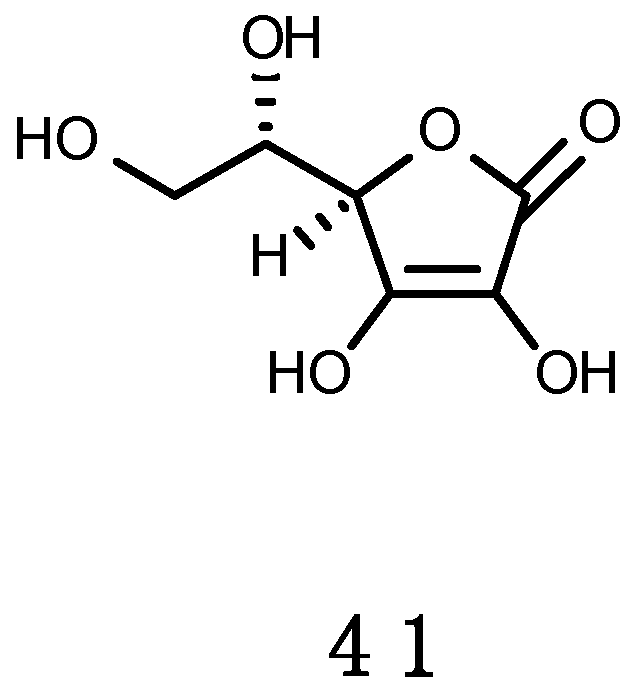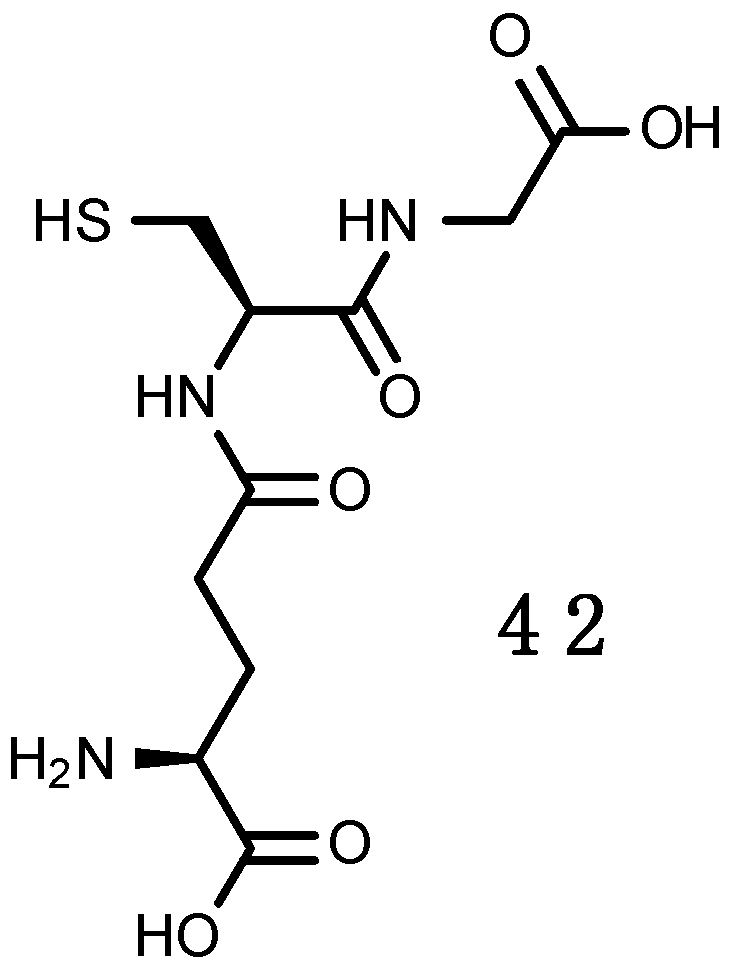 Figure 12. Antioxidant enzymes involved in the detoxification of reactive oxygen species (ROS). SOD, superoxide dismutase; CAT, catalase; APX, ascorbate peroxidase; GSH, glutathione.


© 2018 by the authors. Licensee MDPI, Basel, Switzerland. This article is an open access article distributed under the terms and conditions of the Creative Commons Attribution (CC BY) license (http://creativecommons.org/licenses/by/4.0/).