Protective Effect of Eckol against Acute Hepatic Injury Induced by Carbon Tetrachloride in Mice
Department of Pharmacology, College of Medicine, Wuhan University of Science and Technology, Wuhan 430065, China
*
Author to whom correspondence should be addressed.
Received: 4 August 2018 / Revised: 22 August 2018 / Accepted: 24 August 2018 / Published: 27 August 2018
Abstract
Several in vitro studies have shown the potential hepatoprotective properties of eckol, a natural phlorotannin derived from the brown alga. However, the in vivo hepatoprotective potential of eckol has not been determined. In this study, we performed an in vivo study to investigate the protective effect of eckol and its possible mechanisms on the carbon tetrachloride (CCl
4
)-induced acute liver injury model in mice. Results revealed that eckol pre-treatment at the dose of 0.5 and 1.0 mg/kg/day for 7 days significantly suppressed the CCl
4
-induced increases of alanine transaminase (ALT) and aspartate aminotransferase (AST) levels in serum and meliorated morphological liver injury. Terminal deoxynucleotidyl transferase-mediated dUTP nick end labelling (TUNEL) analysis showed that the number of positive apoptotic hepatocytes in the eckol-treated group was lower than that in the CCl
4
model group. Western blotting analysis also demonstrated the enhanced expression of bcl-2 and suppressed expression of cleaved caspase-3 by eckol. The CCl
4
-induced oxidative stress in liver was significantly ameliorated by eckol, which was characterized by reduced malondialdehyde (MDA) formations, and enhanced superoxide dismutase (SOD), glutathione peroxidase (GSH-Px) activities and glutathione (GSH) content. Moreover, the CCl
4
-induced elevations of pro-inflammatory cytokines tumor necrosis factor (TNF)-α, interleukin (IL)-1β and IL-6 were markedly suppressed in the eckol-treated group. However, eckol enhanced the level of IL-10, a potent anti-inflammatory cytokine, and recruited CD11c
+
dendritic cells into the liver tissues of CCl
4
-treated mice. These results indicated that eckol has the protective effect on CCl
4
-induced acute liver injury via multiple mechanisms including anti-apoptosis, anti-oxidation, anti-inflammation and immune regulation.
View Full-Text
►

▼

Figures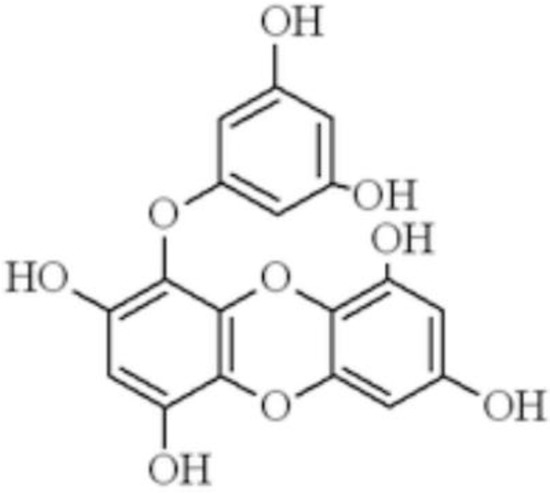 Figure 1
This is an open access article distributed under the
Creative Commons Attribution License
which permits unrestricted use, distribution, and reproduction in any medium, provided the original work is properly cited (CC BY 4.0).

Share & Cite This Article
MDPI and ACS Style
Li, S.; Liu, J.; Zhang, M.; Chen, Y.; Zhu, T.; Wang, J. Protective Effect of Eckol against Acute Hepatic Injury Induced by Carbon Tetrachloride in Mice. Mar. Drugs 2018, 16, 300.
Note that from the first issue of 2016, MDPI journals use article numbers instead of page numbers. See further details here.
Related Articles
Comments
[Return to top]