Determination of the μ-Conotoxin PIIIA Specificity Against Voltage-Gated Sodium Channels from Binding Energy Calculations
1
Key Laboratory of Marine Drugs, Chinese Ministry of Education, School of Medicine and Pharmacy, Ocean University of China, Qingdao 266003, China
2
Laboratory for Marine Drugs and Bioproducts, Qingdao National Laboratory for Marine Science and Technology, Qingdao 266003, China
*
Author to whom correspondence should be addressed.
Received: 30 March 2018 / Revised: 25 April 2018 / Accepted: 28 April 2018 / Published: 7 May 2018
Abstract
Voltage-gated sodium (Na
V
) channels generate and propagate action potentials in excitable cells, and several Na
V
subtypes have become important targets for pain management. The μ-conotoxins inhibit subtypes of the Na
V
with varied specificity but often lack of specificity to interested subtypes. Engineering the selectivity of the μ-conotoxins presents considerable complexity and challenge, as it involves the optimization of their binding affinities to multiple highly conserved Na
V
subtypes. In this study, a model of Na
V
1.4 bound with μ-conotoxin PIIIA complex was constructed using homology modeling, docking, molecular dynamic simulations and binding energy calculations. The accuracy of this model was confirmed based on the experimental mutagenesis data. The complex models of PIIIA bound with varied subtypes of Na
V
1.x (x = 1, 2, 3, 5, 6, 7, 8, or 9) were built using Na
V
1.4/PIIIA complex as a template, and refined using molecular dynamic simulations. The binding affinities of PIIIA to varied subtypes of Na
V
1.x (x = 1 to 9) were calculated using the Molecular Mechanics Generalized Born/Surface Area (MMGB/SA) and umbrella sampling, and were compared with the experimental values. The binding affinities calculated using MMGB/SA and umbrella sampling are correlated with the experimental values, with the former and the latter giving correlation coefficient of 0.41 (R
2
) and 0.68 (R
2
), respectively. Binding energy decomposition suggests that conserved and nonconserved residues among varied Na
V
subtypes have a synergistic effect on the selectivity of PIIIA.
View Full-Text
►

▼

Figures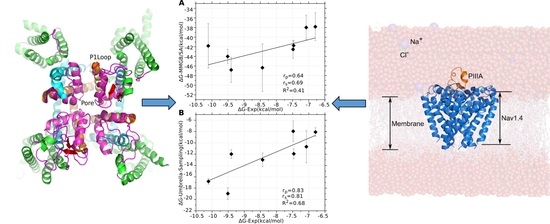 Graphical abstract
This is an open access article distributed under the
Creative Commons Attribution License
which permits unrestricted use, distribution, and reproduction in any medium, provided the original work is properly cited (CC BY 4.0).

Share & Cite This Article
MDPI and ACS Style
Chen, F.; Huang, W.; Jiang, T.; Yu, R. Determination of the μ-Conotoxin PIIIA Specificity Against Voltage-Gated Sodium Channels from Binding Energy Calculations. Mar. Drugs 2018, 16, 153.
Note that from the first issue of 2016, MDPI journals use article numbers instead of page numbers. See further details here.
Related Articles
Comments
[Return to top]