Leptolide Improves Insulin Resistance in Diet-Induced Obese Mice
1
Instituto de Biología y Genética Molecular, University of Valladolid-CSIC, Valladolid 47005, Spain
2
Instituto de Productos Naturales y Agrobiología (CSIC), La Laguna 38206, Spain
3
Instituto Universitario de Bioorgánica "A. González", University of La Laguna, La Laguna 38206, Spain
4
School of Nursery, University of Burgos, Burgos 09001, Spain
*
Author to whom correspondence should be addressed.
Received: 18 July 2017 / Revised: 22 August 2017 / Accepted: 13 September 2017 / Published: 15 September 2017
Abstract
Type 2 diabetes (T2DM) is a complex disease linked to pancreatic beta-cell failure and insulin resistance. Current antidiabetic treatment regimens for T2DM include insulin sensitizers and insulin secretagogues. We have previously demonstrated that leptolide, a member of the furanocembranolides family, promotes pancreatic beta-cell proliferation in mice. Considering the beneficial effects of leptolide in diabetic mice, in this study, we aimed to address the capability of leptolide to improve insulin resistance associated with the pathology of obesity. To this end, we tested the hypothesis that leptolide should protect against fatty acid-induced insulin resistance in hepatocytes. In a time-dependent manner, leptolide (0.1 µM) augmented insulin-stimulated phosphorylation of protein kinase B (PKB) by two-fold above vehicle-treated HepG2 cells. In addition, leptolide (0.1 µM) counteracted palmitate-induced insulin resistance by augmenting by four-fold insulin-stimulated phosphorylation of PKB in HepG2 cells. In vivo, acute intraperitoneal administration of leptolide (0.1 mg/kg and 1 mg/kg) improved glucose tolerance and insulin sensitivity in lean mice. Likewise, prolonged leptolide treatment (0.1 mg/kg) in diet-induced obese mice improved insulin sensitivity. These effects were paralleled with an ~50% increased of insulin-stimulated phosphorylation of PKB in liver and skeletal muscle and reduced circulating pro-inflammatory cytokines in obese mice. We concluded that leptolide significantly improves insulin sensitivity in vitro and in obese mice, suggesting that leptolide may be another potential treatment for T2DM.
View Full-Text
►

▼

Figures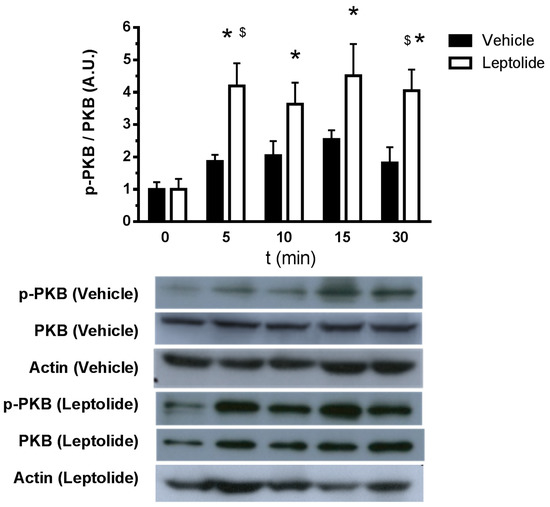 Figure 1
This is an open access article distributed under the
Creative Commons Attribution License
which permits unrestricted use, distribution, and reproduction in any medium, provided the original work is properly cited (CC BY 4.0).

Share & Cite This Article
MDPI and ACS Style
Villa-Pérez, P.; Cueto, M.; Díaz-Marrero, A.R.; Lobatón, C.D.; Moreno, A.; Perdomo, G.; Cózar-Castellano, I. Leptolide Improves Insulin Resistance in Diet-Induced Obese Mice. Mar. Drugs 2017, 15, 289.
Note that from the first issue of 2016, MDPI journals use article numbers instead of page numbers. See further details here.
Related Articles
Comments
[Return to top]