Open Access This article is
freely available
re-usable
Article
Design, Synthesis, and Antifouling Activity of Glucosamine-Based Isocyanides
1
Division of Environmental Materials Science, Graduate School of Environmental Science, Hokkaido University, N10W5, Sapporo 060-0810, Japan
2
Environmental Science Research Laboratory, Central Research Institute of Electric Power Industry, 1646 Abiko, Abiko, Chiba 270-1194, Japan
3
CERES, Inc., 1-4-5 Midori, Abiko, Chiba 270-1153, Japan
*
Authors to whom correspondence should be addressed.
Received: 16 May 2017 / Accepted: 21 June 2017 / Published: 29 June 2017
Abstract
:
Biofouling, an undesirable accumulation of organisms on sea-immersed structures such as ship hulls and fishing nets, is a serious economic issue whose effects include oil wastage and clogged nets. Organotin compounds were utilized since the 1960s as an antifouling material; however, the use of such compounds was later banned by the International Maritime Organization (IMO) due to their high toxicity toward marine organisms, resulting in masculinization and imposex. Since the ban, there have been extensive efforts to develop environmentally benign antifoulants. Natural antifouling products obtained from marine creatures have been the subject of considerable attention due to their potent antifouling activity and low toxicity. These antifouling compounds often contain isocyano groups, which are well known to have natural antifouling properties. On the basis of our previous total synthesis of natural isocyanoterpenoids, we envisaged the installation of an isocyano functional group onto glucosamine to produce an environmentally friendly antifouling material. This paper describes an effective synthetic method for various glucosamine-based isocyanides and evaluation of their antifouling activity and toxicity against cypris larvae of the barnacle
Amphibalanus amphitrite
. Glucosamine isocyanides with an ether functionality at the anomeric position exhibited potent antifouling activity, with EC
50
values below 1 μg/mL, without detectable toxicity even at a high concentration of 10 μg/mL. Two isocyanides had EC
50
values of 0.23 and 0.25 μg/mL, comparable to that of CuSO
4
, which is used as a fouling inhibitor (EC
50
= 0.27 μg/mL).
Keywords:
antifouling; glucosamine; isocyanide
Acknowledgments
This research was supported by the Environment Research and Technology Development Fund (1RF-1601) Environmental Restoration and Conservation Agency of Japan.
Author Contributions
Y.H., I.S.N., J.S., and T.M. prepared compounds; Y.N. and E.Y. evaluated biological activities. T.U. conceived and designed the research and analyzed the experimental data. T.U., Y.N., and F.M. wrote the paper. All of the authors reviewed and approved the manuscript.
Conflicts of Interest
The authors declare no conflict of interest.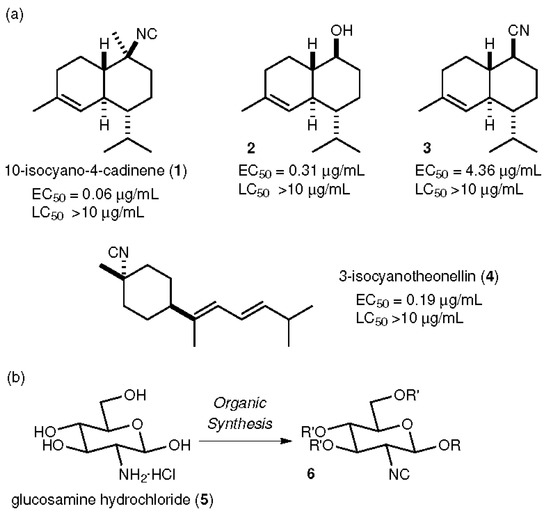 Figure 1. Materials containing isocyano groups exhibit potent antifouling properties. (a) Previously reported natural products and derivatives with antifouling properties, along with their antifouling activities. (b) Synthetic plan for glucosamine-based isocyanides.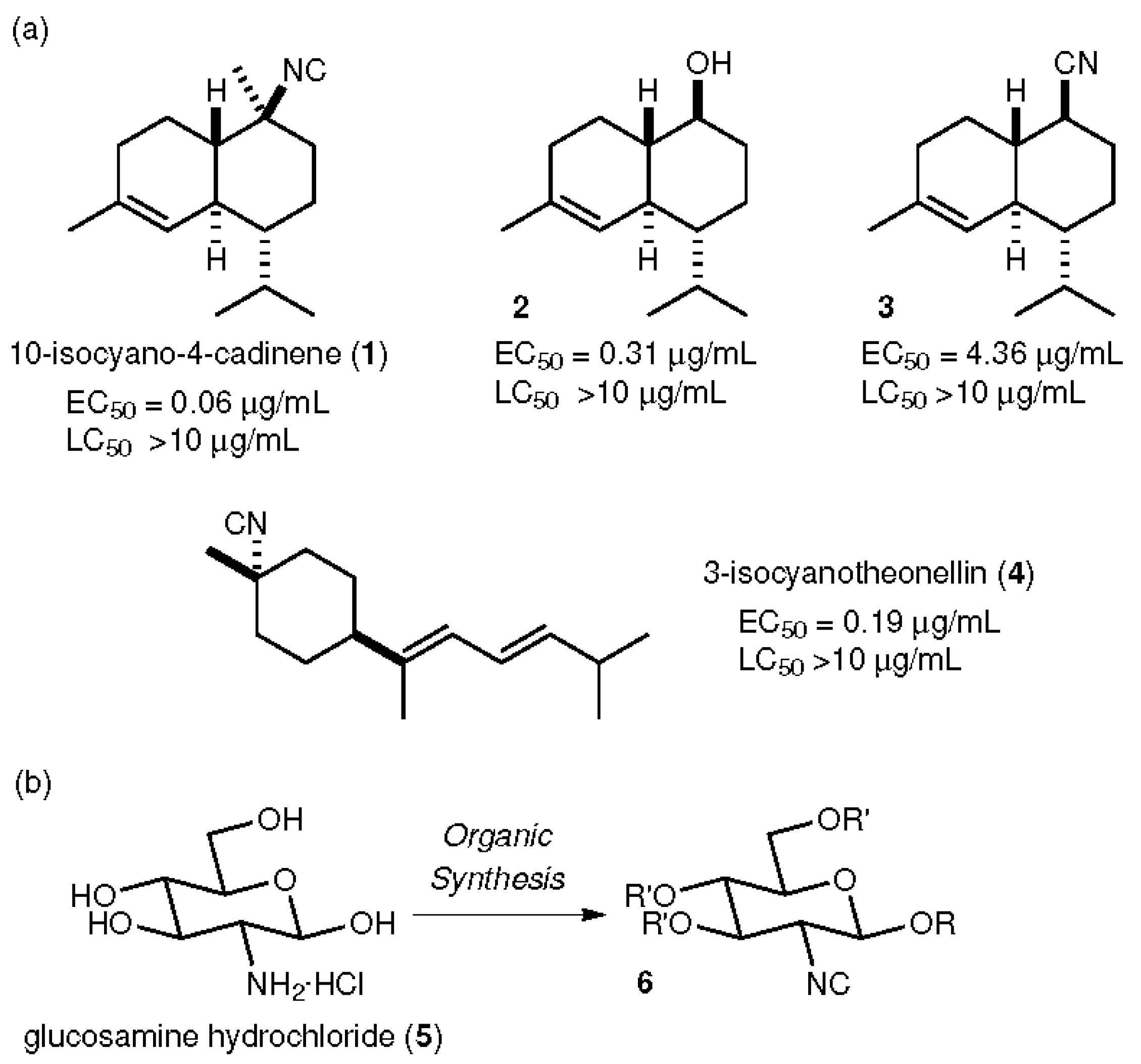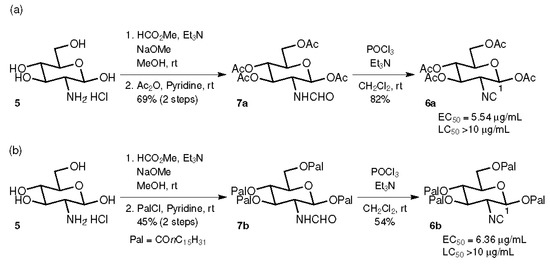 Figure 2. Synthesis and biological activity of tetraacylated glucosamine-based isocyanides. (a) Synthesis of tetraacetate 6a. (b) Synthesis of tetrapalmitate 6b.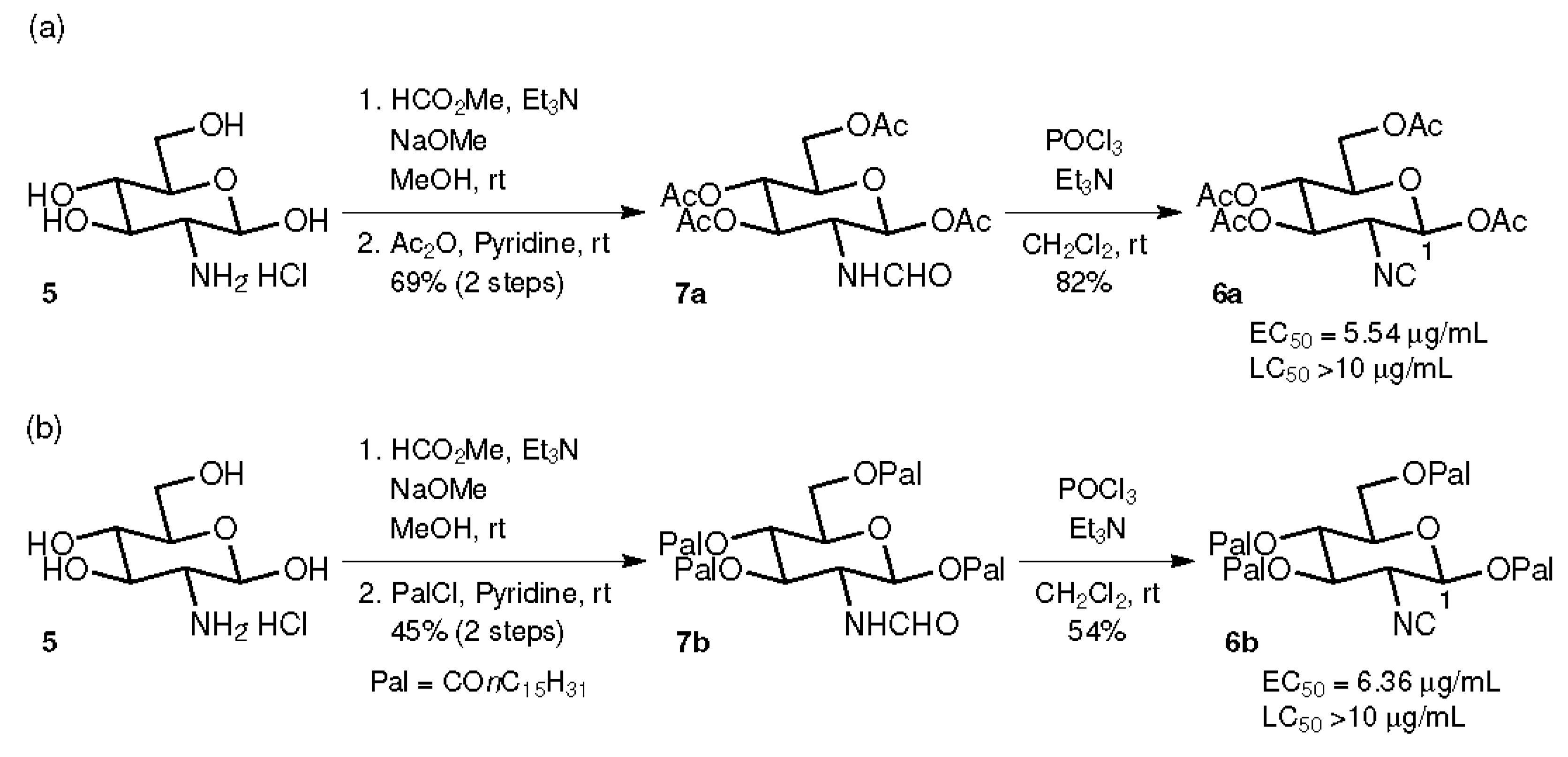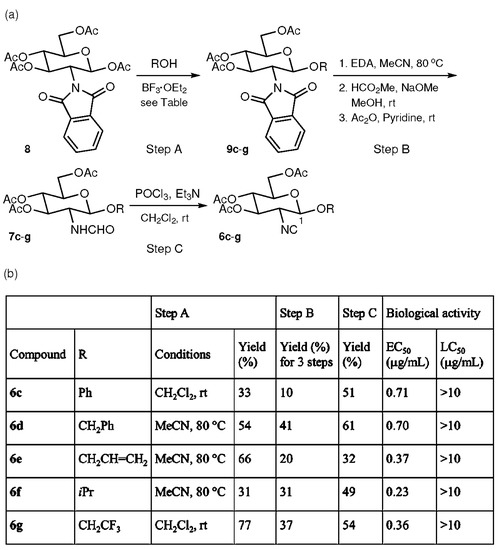 Figure 3. Synthesis and biological activities of glucosamine-based isocyanides. (a) Synthesis of isocyanides 6c–g. (b) Table of reactions and biological activities.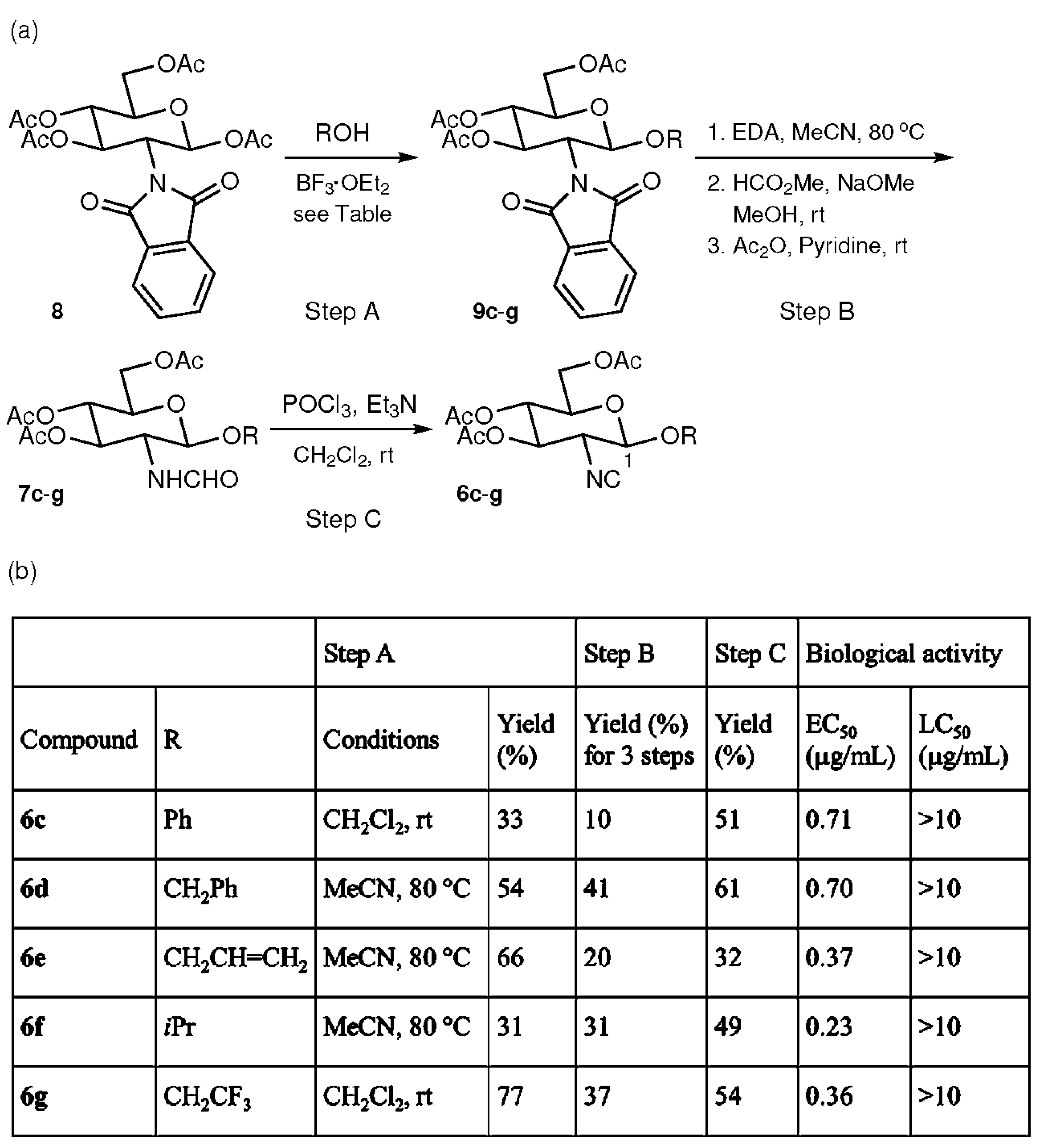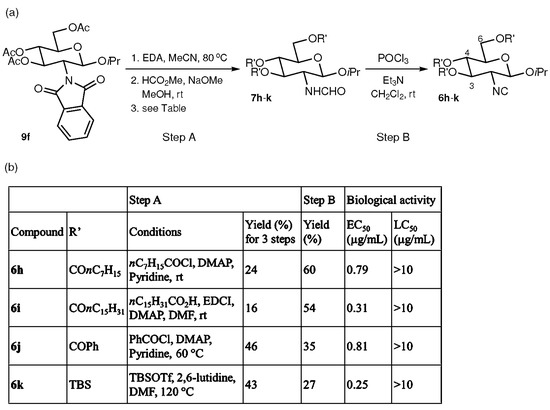 Figure 4. Synthesis and biological activity of glycosylated glucosamine-based isocyanides. (a) Synthesis of isocyanides 6h–k. (b) Table of reactions and biological activities.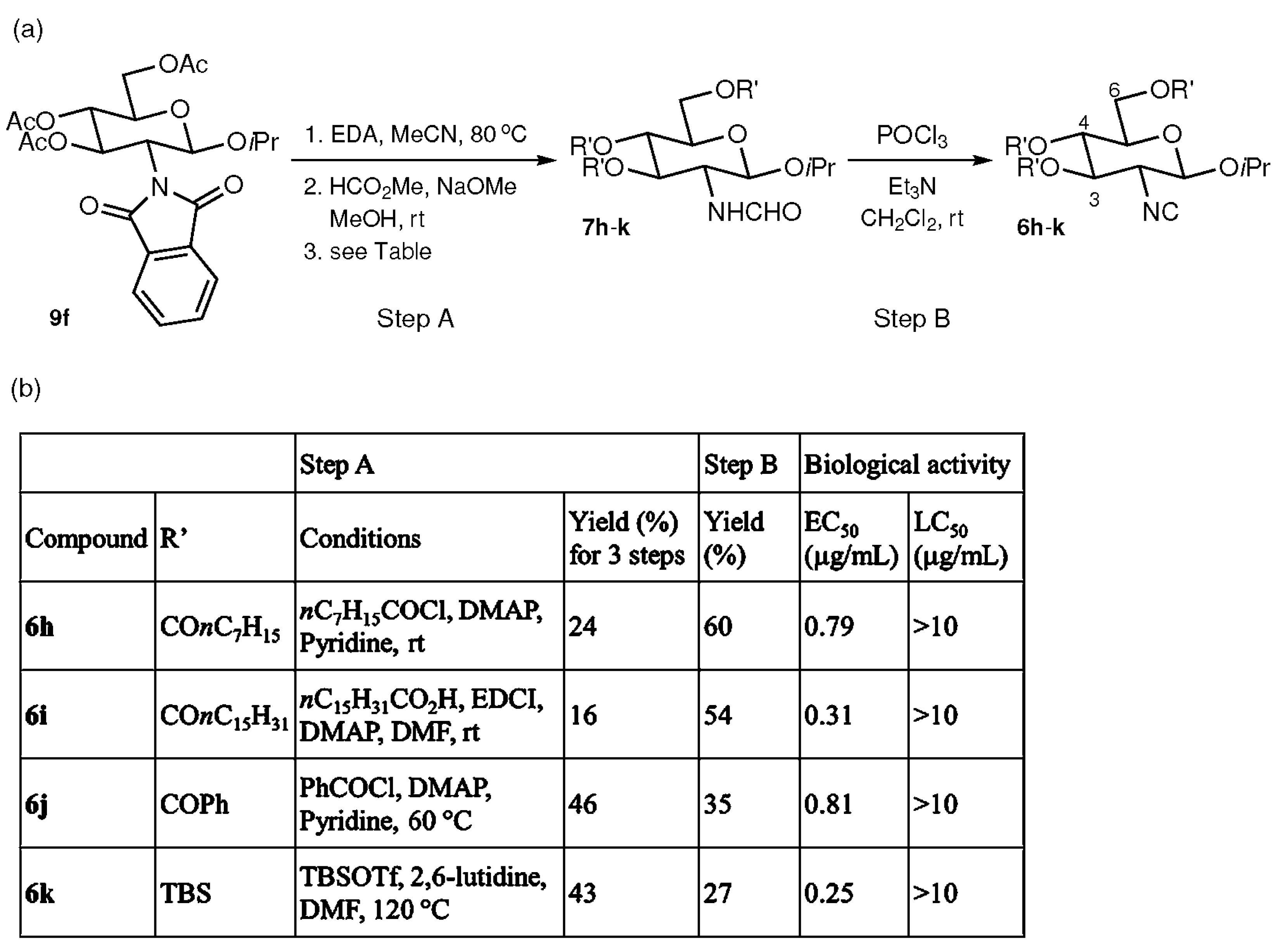 © 2017 by the authors. Licensee MDPI, Basel, Switzerland. This article is an open access article distributed under the terms and conditions of the Creative Commons Attribution (CC BY) license (http://creativecommons.org/licenses/by/4.0/).