Protective Effect of Diphlorethohydroxycarmalol against Ultraviolet B Radiation-Induced DNA Damage by Inducing the Nucleotide Excision Repair System in HaCaT Human Keratinocytes
1
School of Medicine and Institute for Nuclear Science and Technology, Jeju National University, Jeju 63243, Korea
2
Department of Chemistry, College of Natural Sciences, Jeju National University, Jeju 63243, Korea
*
Author to whom correspondence should be addressed.
Academic Editor: Peer B. Jacobson
Received: 8 July 2015 / Revised: 26 August 2015 / Accepted: 26 August 2015 / Published: 2 September 2015
Abstract
We investigated the protective properties of diphlorethohydroxycarmalol (DPHC), a phlorotannin, against ultraviolet B (UVB) radiation-induced cyclobutane pyrimidine dimers (CPDs) in HaCaT human keratinocytes. The nucleotide excision repair (NER) system is the pathway by which cells identify and repair bulky, helix-distorting DNA lesions such as ultraviolet (UV) radiation-induced CPDs and 6-4 photoproducts. CPDs levels were elevated in UVB-exposed cells; however, this increase was reduced by DPHC. Expression levels of xeroderma pigmentosum complementation group C (XPC) and excision repair cross-complementing 1 (ERCC1), which are essential components of the NER pathway, were induced in DPHC-treated cells. Expression of XPC and ERCC1 were reduced following UVB exposure, whereas DPHC treatment partially restored the levels of both proteins. DPHC also increased expression of transcription factor specificity protein 1 (SP1) and sirtuin 1, an up-regulator of XPC, in UVB-exposed cells. DPHC restored binding of the SP1 to the XPC promoter, which is reduced in UVB-exposed cells. These results indicate that DPHC can protect cells against UVB-induced DNA damage by inducing the NER system.
View Full-Text
►

▼

Figures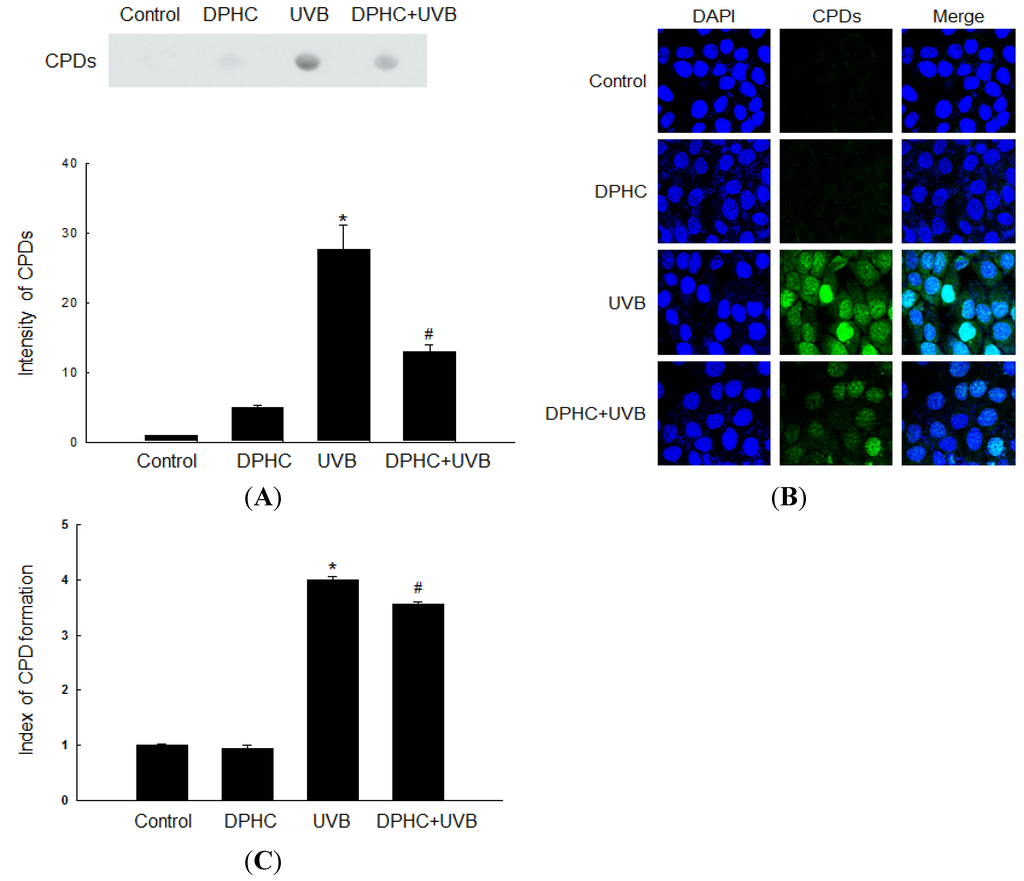 Figure 1
This is an open access article distributed under the
Creative Commons Attribution License
which permits unrestricted use, distribution, and reproduction in any medium, provided the original work is properly cited (CC BY 4.0).

Share & Cite This Article
MDPI and ACS Style
Piao, M.J.; Hewage, S.R.K.M.; Han, X.; Kang, K.A.; Kang, H.K.; Lee, N.H.; Hyun, J.W. Protective Effect of Diphlorethohydroxycarmalol against Ultraviolet B Radiation-Induced DNA Damage by Inducing the Nucleotide Excision Repair System in HaCaT Human Keratinocytes. Mar. Drugs 2015, 13, 5629-5641.
Related Articles
Comments
[Return to top]