First Total Syntheses and Antimicrobial Evaluation of Penicimonoterpene, a Marine-Derived Monoterpenoid, and Its Various Derivatives
1
Key Laboratory of Experimental Marine Biology, Institute of Oceanology, Chinese Academy of Sciences, Nanhai Road 7, Qingdao 266071, China
2
University of Chinese Academy of Sciences, Yuquan Road 19A, Beijing 100049, China
3
Department of Chemistry, University of Iowa, Iowa City, IA 52242, USA
*
Author to whom correspondence should be addressed.
Received: 28 February 2014 / Revised: 8 April 2014 / Accepted: 10 April 2014 / Published: 3 June 2014
Abstract
The first total synthesis of marine-derived penicimonoterpene (±)-
1
has been achieved in four steps from 6-methylhept-5-en-2-one using a Reformatsky reaction as the key step to construct the basic carbon skeleton. A total of 24 new derivatives of
1
have also been designed and synthesized. Their structures were characterized by analysis of their
1
H NMR,
13
C NMR and HRESIMS data. Some of them showed significant antibacterial activity against
Aeromonas hydrophila
,
Escherichia coli
,
Micrococcus
luteus
,
Staphylococcus
aureus
,
Vibrio anguillarum
,
V
.
harveyi
and/or
V
.
parahaemolyticus
, and some showed activity against plant-pathogenic fungi (
Alternaria brassicae
,
Colletotrichum gloeosporioides
and/or
Fusarium graminearum
). Some of the derivatives exhibited antimicrobial MIC values ranging from 0.25 to 4 μg/mL, which were stronger than those of the positive control. Notably, Compounds
3b
and
10
showed extremely high selectively against plant-pathogenic fungus
F. graminearum
(MIC 0.25 μg/mL) and pathogenic bacteria
E. coli
(MIC 1 μg/mL), implying their potential as antimicrobial agents. SAR analysis of
1
and its derivatives indicated that modification of the carbon-carbon double bond at C-6/7, of groups on the allylic methylene unit and of the carbonyl group at C-1, effectively enhanced the antimicrobial activity.
View Full-Text
►

▼

Figures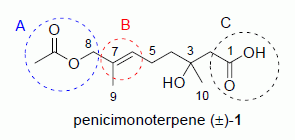 Graphical abstract

Share & Cite This Article
MDPI and ACS Style
Zhao, J.-C.; Li, X.-M.; Gloer, J.B.; Wang, B.-G. First Total Syntheses and Antimicrobial Evaluation of Penicimonoterpene, a Marine-Derived Monoterpenoid, and Its Various Derivatives. Mar. Drugs 2014, 12, 3352-3370.
Related Articles
Comments
[Return to top]