Triphlorethol-A from
Ecklonia

c

ava

Up-Regulates the Oxidant Sensitive 8-Oxoguanine DNA Glycosylase 1

1

School of Medicine, Jeju National University, Jeju 690-756, Korea

2

Radiation Effect Research Team, Radiation Health Research Institute, Korea Hydro & Nuclear Power Co., LTD., Seoul 135-881, Korea

3

Food and Nutrition, Duksung Women's University, Seoul 132-714, Korea

4

Department of Chemistry, College of Natural Sciences, Jeju National University, Jeju 690-756, Korea

*

Author to whom correspondence should be addressed.

Received: 10 July 2014 / Revised: 2 October 2014 / Accepted: 14 October 2014 / Published: 28 October 2014
Abstract
This study investigated the protective mechanisms of triphlorethol-A, isolated from
Ecklonia
c
ava
, against oxidative stress-induced DNA base damage, especially 8-oxoguanine (8-oxoG), in Chinese hamster lung fibroblast V79-4 cells. 8-Oxoguanine DNA glycosylase-1 (OGG1) plays an important role in the removal of 8-oxoG during the cellular response to DNA base damage. Triphlorethol-A significantly decreased the levels of 8-oxoG induced by H
2
O
2
, and this correlated with increases in OGG1 mRNA and OGG1 protein levels. Furthermore, siOGG1-transfected cell attenuated the protective effect of triphlorethol-A against H
2
O
2
treatment. Nuclear factor erythroid 2–related factor 2 (Nrf2) is a transcription factor for OGG1, and Nrf2 combines with small Maf proteins in the nucleus to bind to antioxidant response elements (ARE) in the upstream promoter region of the OGG1 gene. Triphlorethol-A restored the expression of nuclear Nrf2, small Maf protein, and the Nrf2-Maf complex, all of which were reduced by oxidative stress. Furthermore, triphlorethol-A increased Nrf2 binding to ARE sequences and the resulting OGG1 promoter activity, both of which were also reduced by oxidative stress. The levels of the phosphorylated forms of Akt kinase, downstream of phosphatidylinositol 3-kinase (PI3K), and Erk, which are regulators of OGG1, were sharply decreased by oxidative stress, but these decreases were prevented by triphlorethol-A. Specific PI3K, Akt, and Erk inhibitors abolished the cytoprotective effects of triphlorethol-A, suggesting that OGG1 induction by triphlorethol-A involves the PI3K/Akt and Erk pathways. Taken together, these data indicate that by activating the DNA repair system, triphlorethol-A exerts protective effects against DNA base damage induced by oxidative stress.
View Full-Text
►

▼

Figures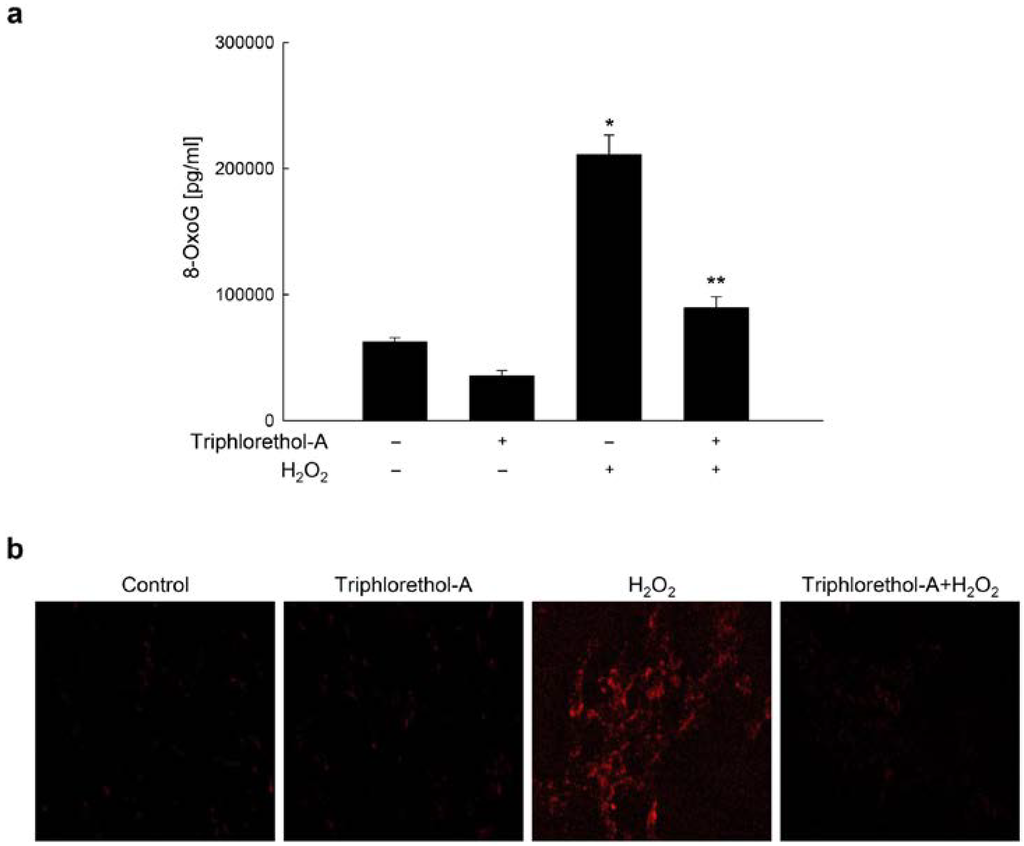 Figure 1
This is an open access article distributed under the
Creative Commons Attribution License
which permits unrestricted use, distribution, and reproduction in any medium, provided the original work is properly cited (CC BY 4.0).

Share & Cite This Article
MDPI and ACS Style
Kim, K.C.; Lee, I.K.; Kang, K.A.; Piao, M.J.; Ryu, M.J.; Kim, J.M.; Lee, N.H.; Hyun, J.W. Triphlorethol-A from Ecklonia cava Up-Regulates the Oxidant Sensitive 8-Oxoguanine DNA Glycosylase 1. Mar. Drugs 2014, 12, 5357-5371.
Related Articles
Comments
[Return to top]