Anti-Inflammation Activities of Mycosporine-Like Amino Acids (MAAs) in Response to UV Radiation Suggest Potential Anti-Skin Aging Activity
1
South Sea Environment Research Department, Korea Institute of Ocean Science and Technology, Geoje 656-830, Korea
2
Anti-Aging Research Institute of Bio-FD&C Co. Ltd, Incheon 406-840, Korea
*
Authors to whom correspondence should be addressed.
Received: 16 June 2014 / Revised: 25 September 2014 / Accepted: 26 September 2014 / Published: 14 October 2014
Abstract
Certain photosynthetic marine organisms have evolved mechanisms to counteract UV-radiation by synthesizing UV-absorbing compounds, such as mycosporine-like amino acids (MAAs). In this study, MAAs were separated from the extracts of marine green alga
Chlamydomonas hedleyi
using HPLC and were identified as porphyra-334, shinorine, and mycosporine-glycine (mycosporine-Gly), based on their retention times and maximum absorption wavelengths. Furthermore, their structures were confirmed by triple quadrupole MS/MS. Their roles as UV-absorbing compounds were investigated in the human fibroblast cell line HaCaT by analyzing the expression levels of genes associated with antioxidant activity, inflammation, and skin aging in response to UV irradiation. The mycosporine-Gly extract, but not the other MAAs, had strong antioxidant activity
in the 2,2-diphenyl-1-picryhydrazyl (DPPH) assay. Furthermore, treatment with mycosporine-Gly resulted in a significant decrease in COX-2 mRNA levels, which are typically increased in response to inflammation in the skin, in a concentration-dependent manner. Additionally, in the presence of MAAs, the UV-suppressed genes, procollagen C proteinase enhancer (PCOLCE) and elastin, which are related to skin aging, had increased expression levels equal to those in UV-mock treated cells. Interestingly, the increased expression of involucrin after UV exposure was suppressed by treatment with the MAAs mycosporine-Gly and shinorine, but not porphyra-334. This is the first report investigating the biological activities of microalgae-derived MAAs in human cells.
View Full-Text
►

▼

Figures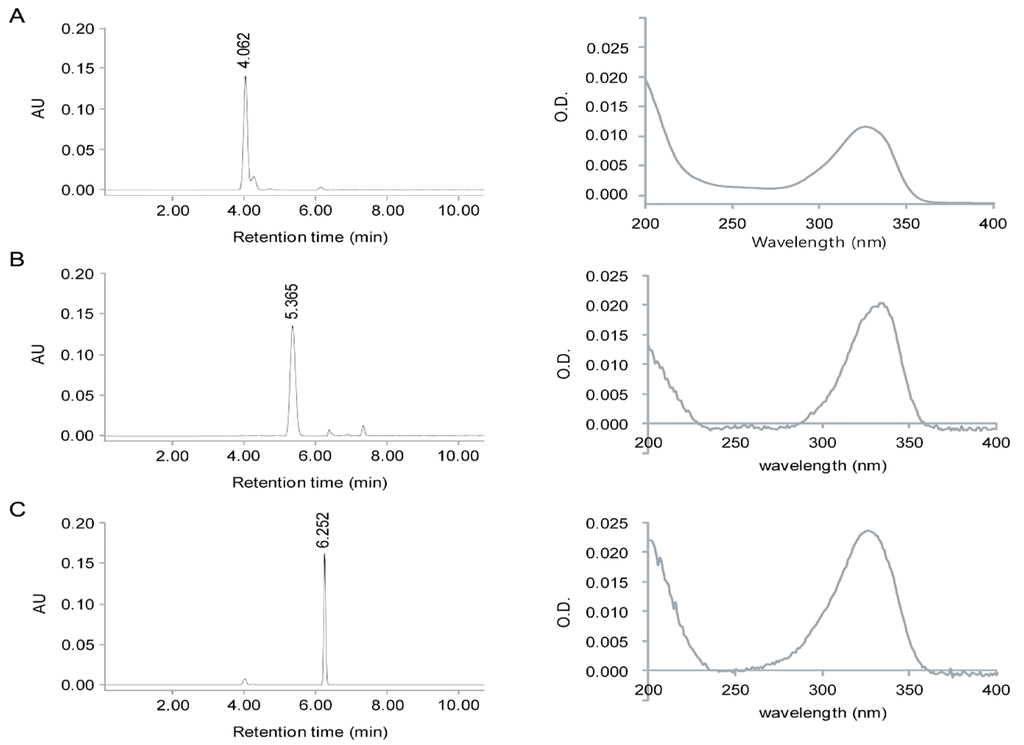 Figure 1
This is an open access article distributed under the
Creative Commons Attribution License
which permits unrestricted use, distribution, and reproduction in any medium, provided the original work is properly cited (CC BY 4.0).

Share & Cite This Article
MDPI and ACS Style
Suh, S.-S.; Hwang, J.; Park, M.; Seo, H.H.; Kim, H.-S.; Lee, J.H.; Moh, S.H.; Lee, T.-K. Anti-Inflammation Activities of Mycosporine-Like Amino Acids (MAAs) in Response to UV Radiation Suggest Potential Anti-Skin Aging Activity. Mar. Drugs 2014, 12, 5174-5187.
Related Articles
Comments
[Return to top]