An Aeroplysinin-1 Specific Nitrile Hydratase Isolated from the Marine Sponge
Aplysina cavernicola
1
Institute of Pharmaceutical Biology and Biotechnology, Heinrich-Heine University, Universitaetsstrasse 1, Bldg. 26.23, 40225 Duesseldorf, Germany
2
Institute of Biochemistry, Heinrich-Heine University, Universitaetsstrasse 1, Bldg. 26.42, 40225 Duesseldorf, Germany
*
Authors to whom correspondence should be addressed.
Received: 2 July 2013 / Revised: 31 July 2013 / Accepted: 1 August 2013 / Published: 21 August 2013
Abstract
A nitrile hydratase (NHase) that specifically accepts the nitrile aeroplysinin-1 (
1
) as a substrate and converts it into the dienone amide verongiaquinol (
7
) was isolated, partially purified and characterized from the Mediterranean sponge
Aplysina cavernicola
; although it is currently not known whether the enzyme is of sponge origin or produced by its symbiotic microorganisms. The formation of aeroplysinin-1 and of the corresponding dienone amide is part of the chemical defence system of
A. cavernicola
. The latter two compounds that show strong antibiotic activity originate from brominated isoxazoline alkaloids that are thought to protect the sponges from invasion of bacterial pathogens. The sponge was shown to contain at least two NHases as two excised protein bands from a non denaturating Blue Native gel showed nitrile hydratase activity, which was not observed for control samples. The enzymes were shown to be manganese dependent, although cobalt and nickel ions were also able to recover the activity of the nitrile hydratases. The temperature and pH optimum of the studied enzymes were found at 41 °C and pH 7.8. The enzymes showed high substrate specificity towards the physiological substrate aeroplysinin-1 (
1
) since none of the substrate analogues that were prepared either by partial or by total synthesis were converted in an
in vitro
assay. Moreover
de-novo
sequencing by mass spectrometry was employed to obtain information about the primary structure of the studied NHases, which did not reveal any homology to known NHases.
View Full-Text
►

▼

Figures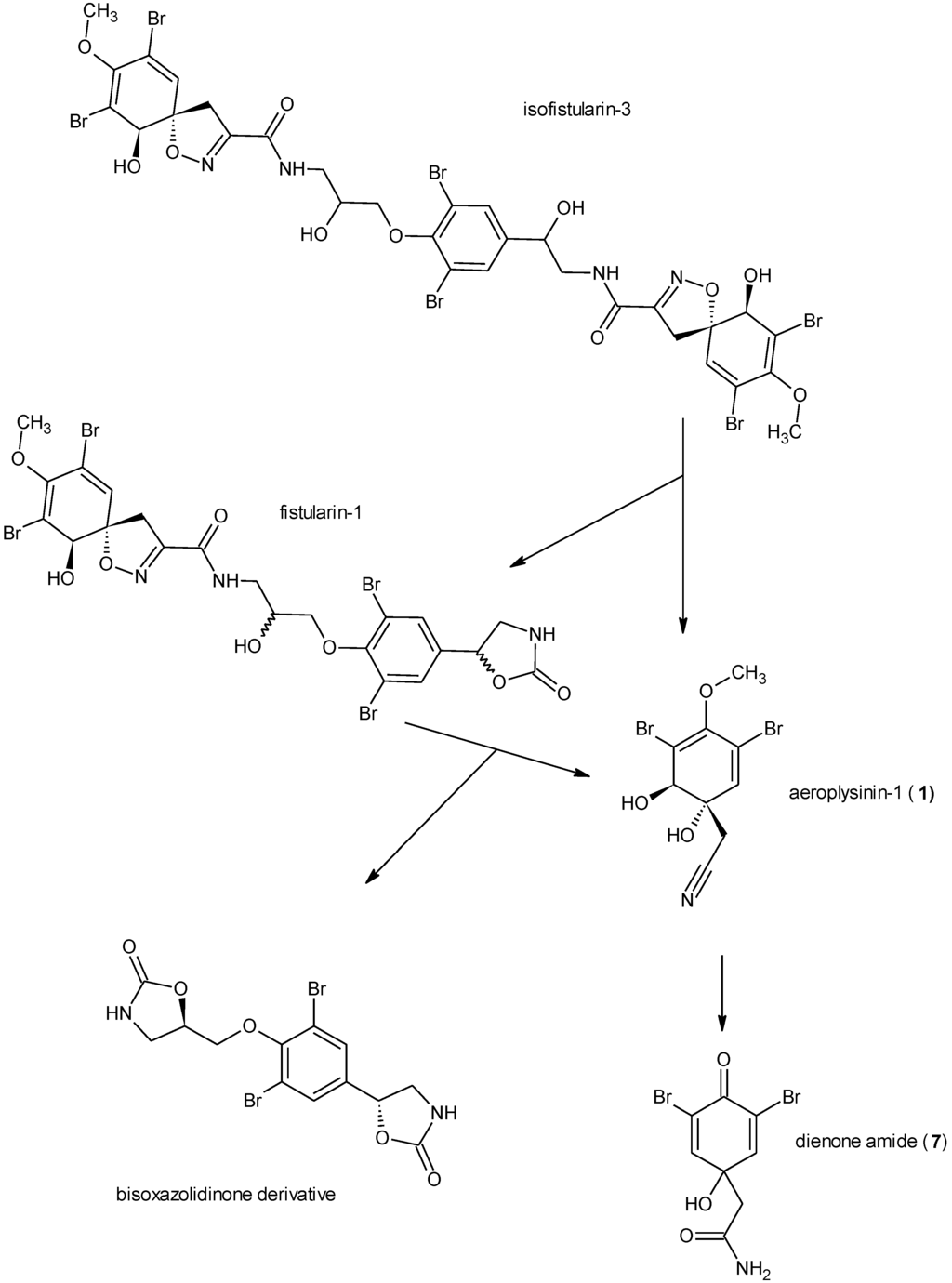 Figure 1

Share & Cite This Article
MDPI and ACS Style
Lipowicz, B.; Hanekop, N.; Schmitt, L.; Proksch, P. An Aeroplysinin-1 Specific Nitrile Hydratase Isolated from the Marine Sponge Aplysina cavernicola. Mar. Drugs 2013, 11, 3046-3067.
Related Articles
Comments
[Return to top]