First Identification of 5,11-Dideoxytetrodotoxin in Marine Animals, and Characterization of Major Fragment Ions of Tetrodotoxin and Its Analogs by High Resolution ESI-MS/MS
1
Graduate School of Agricultural Science, Tohoku University, Sendai 981-8555, Japan
2
Department of Biology, University of Hawaii at Manoa, 2540 Campus Road, Dean Hall, Honolulu, HI 96822, USA
3
Smithsonian Marine Station at Fort Pierce, 701 Seaway Drive, Fort Pierce, FL 34949, USA
4
Graduate School of Bioagricultural Sciences, Nagoya University, Chikusa, Nagoya 464-8601, Japan
5
Department of Chemistry, National Tsing Hua University, 101, Section 2, Kuang-Fu Road, Hsinchu 30013, Taiwan
*
Author to whom correspondence should be addressed.
Received: 18 July 2013 / Accepted: 26 July 2013 / Published: 6 August 2013
Abstract
Even though tetrodotoxin (TTX) is a widespread toxin in marine and terrestrial organisms, very little is known about the biosynthetic pathway used to produce it. By describing chemical structures of natural analogs of TTX, we can start to identify some of the precursors that might be important for TTX biosynthesis. In the present study, an analog of TTX, 5,11-dideoxyTTX, was identified for the first time in natural sources, the ovary of the pufferfish and the pharynx of a flatworm (planocerid sp. 1), by comparison with totally synthesized (−)-5,11-dideoxyTTX, using high resolution ESI-LC-MS. Based on the presence of 5,11-dideoxyTTX together with a series of known deoxy analogs, 5,6, 11-trideoxyTTX, 6,11-dideoxyTTX, 11-deoxyTTX, and 5-deoxyTTX, in these animals, we predicted two routes of stepwise oxidation pathways in the late stages of biosynthesis of TTX. Furthermore, high resolution masses of the major fragment ions of TTX, 6,11-dideoxyTTX, and 5,6,11-trideoxyTTX were also measured, and their molecular formulas and structures were predicted to compare them with each other. Although both TTX and 5,6,11-trideoxyTTX give major fragment ions that are very close,
m/z
162.0660 and 162.1020, respectively, they are distinguishable and predicted to be different molecular formulas. These data will be useful for identification of TTXs using high resolution LC-MS/MS.
View Full-Text
►

▼

Figures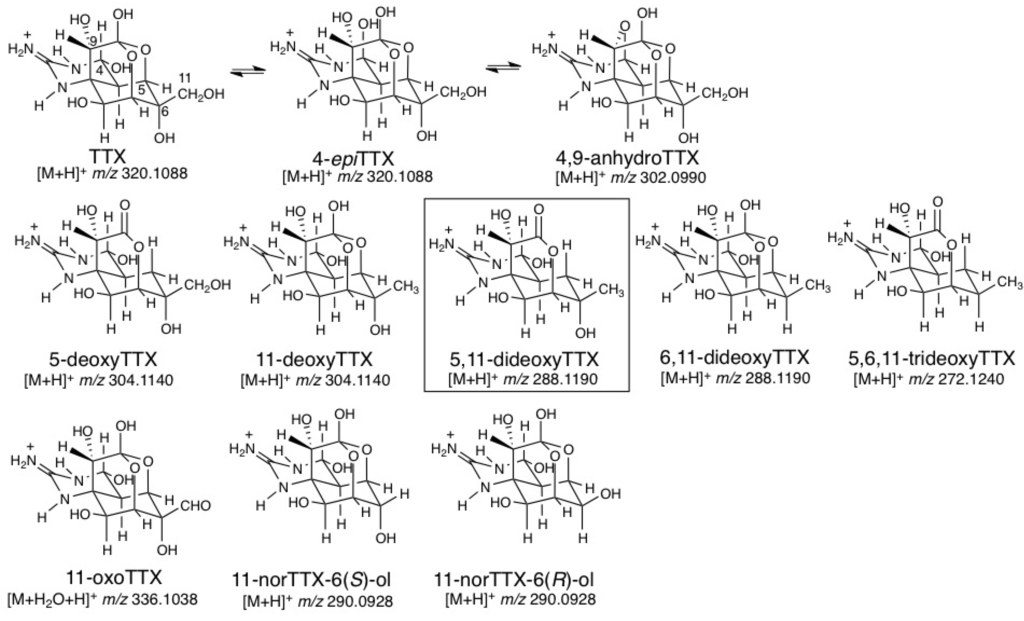 Figure 1

Share & Cite This Article
MDPI and ACS Style
Yotsu-Yamashita, M.; Abe, Y.; Kudo, Y.; Ritson-Williams, R.; Paul, V.J.; Konoki, K.; Cho, Y.; Adachi, M.; Imazu, T.; Nishikawa, T.; Isobe, M. First Identification of 5,11-Dideoxytetrodotoxin in Marine Animals, and Characterization of Major Fragment Ions of Tetrodotoxin and Its Analogs by High Resolution ESI-MS/MS. Mar. Drugs 2013, 11, 2799-2813.
Related Articles
Comments
[Return to top]