Open Access This article is
freely available
re-usable
Review
Meroterpenes from Marine Invertebrates: Structures, Occurrence, and Ecological Implications
The NeaNat Group, Dipartimento di Farmacia, Università degli Studi di Napoli Federico II, Via D. Montesano 49, 80131 Napoli, Italy
*
Author to whom correspondence should be addressed.
Received: 19 March 2013; in revised form: 7 April 2013 / Accepted: 7 May 2013 / Published: 17 May 2013
Abstract
:
Meroterpenes are widely distributed among marine organisms; they are particularly abundant within brown algae, but other important sources include microorganisms and invertebrates. In the present review the structures and bioactivities of meroterpenes from marine invertebrates, mainly sponges and tunicates, are summarized. More than 300 molecules, often complex and with unique skeletons originating from intra- and inter-molecular cyclizations, and/or rearrangements, are illustrated. The reported syntheses are mentioned. The issue of a potential microbial link to their biosynthesis is also shortly outlined.
Keywords:
meroterpenes; terpene quinone; terpene hydroquinone; sponges; ascidians; soft corals
1. Introduction
Quinones are ubiquitous in nature, occurring as secondary metabolites in many organisms; often they are molecules essential to life, being intimately related to the oxidative processes in cells [
1
]. Polyprenylated 1,4-benzoquinones and hydroquinones, such as ubiquinones, plastoquinones, and tocopherols, are widespread in plants and animals, in which they play important roles in electron transport, photosynthesis, and as antioxidants [
1
,
2
]. Terpene quinone/hydroquinone natural products differing from the above-mentioned groups frequently occur as secondary metabolites in many organisms; they form a class of complex metabolites, generally called meroterpenes, of mixed biosynthetic origin which are partially derived from terpenoids. In addition to their wide occurrence, meroterpenes display a huge range of structural diversity, with structures varying from simple compounds comprising a prenyl unit linked to the hydroquinone unit to unique architectural scaffolds, often linked with varied functionalities, arising from intra- and intermolecular ring closures and/or rearrangements of the terpene chains. Moreover, they display important biological activities, undoubtedly related to their most prominent chemical feature, that is their ability to undergo redox cycling to generate reactive oxygen species (ROS) which can damage cells [
3
,
4
].
In the marine environment, meroterpenes have been isolated mainly from brown algae and microorganisms, but another important source are marine invertebrates, mainly sponges and tunicates. The present review provides an update on the meroterpenes so far isolated from marine invertebrates; it describes the structures and biological activities of 300 natural products, thus highlighting the structural diversity generated in this class of natural products and their potential in drug discovery. The issue of a potential microbial link to their biosynthesis is also shortly outlined.
2. Meroterpenes from Ascidians
3. Meroterpenes from Sponges
Marine sponges have yielded a huge variety of meroterpenes having a terpenoid skeleton varying from sesqui-, di-, sester- or triterpene units.
4. Meroterpenes from Soft Corals
A limited number of meroterpenoids have been isolated from soft corals, the only examples being the geranyl idroquinone derivatives
302
–
304
isolated from the marine octocoral
Alcyonium fauri
[
200
] and the meroditerpenois
305
–
314
isolated from
Nephthea chabrolii
[
201
,
202
,
203
] (
Figure 23
).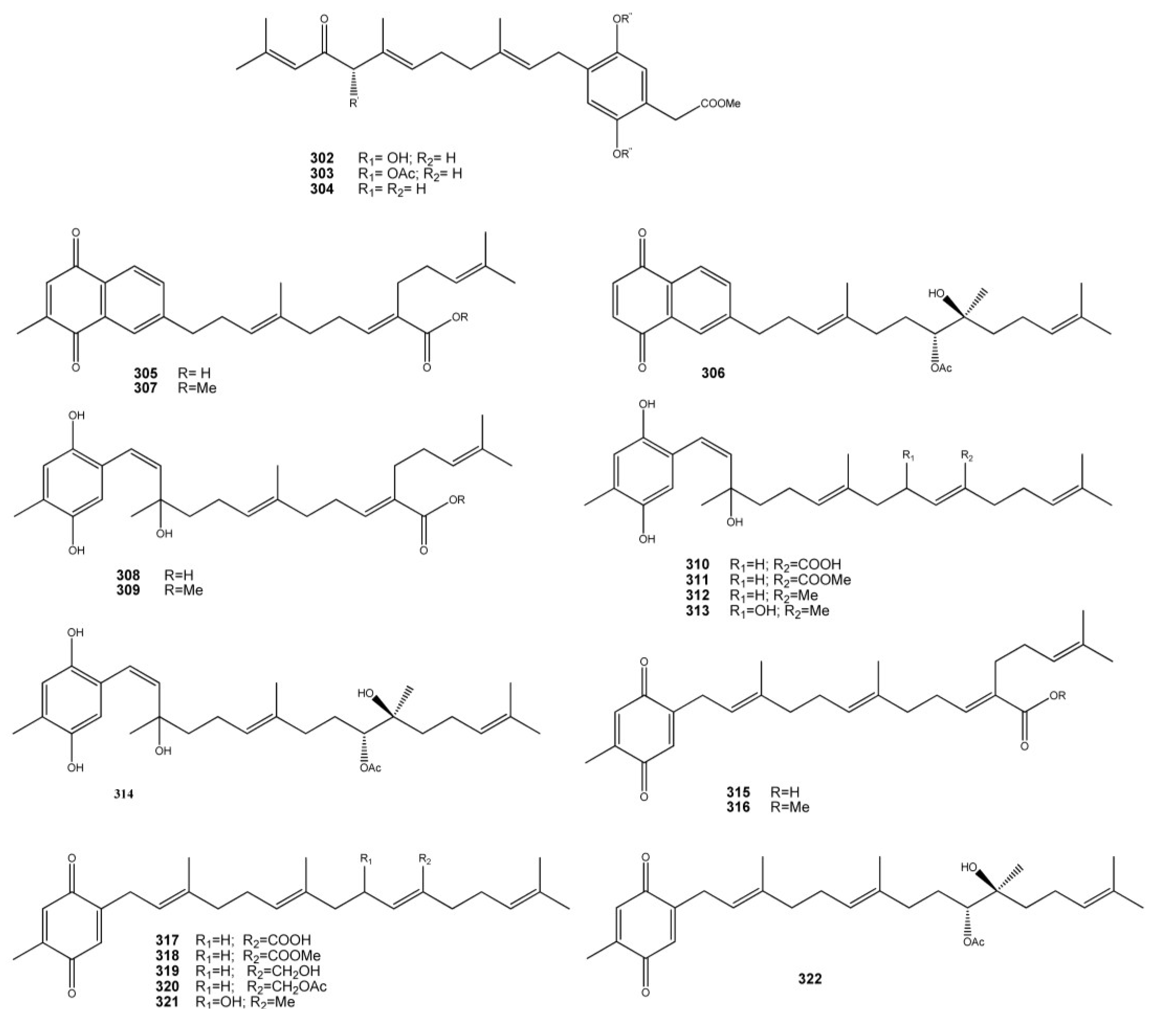 In a NCI's CEM-SS cell line screen, designed to detect agents acting at any stage in the HIV virus reproductive cycle, rietone (
302
) showed moderate activity (EC
50
1.23 μM and IC
50
9.32 μM) [
200
].
N. chabrolii
metabolites series include the naphthoquinone derivatives chabrolonaphthoquinone A–C (
305
–
307
), the tetraprenyltoluquinol-related metabolites chabrolohydroxybenzoquinones A–G (
308
–
314
), and the tetraprenyltoluquinones chabrolobenzoquinones A–H (
315
–
322
). Compound
306
exhibited significant cytotoxicity against the growth of the MDA-MB-231 (IC
50
4.7 μM) cancer cell line and moderate to weak cytotoxicity against Hep G2 (IC
50
12.4 μM) and A549 (IC
50
33.9 μM) cancer cell lines, respectively. Also, metabolites
307
and
314
exhibited moderate to weak cytotoxicity toward these cancer cells. Other metabolites either were inactive or exhibit only weak cytotoxicity against the growth of the above three cancer cell lines.
5. Conclusive Remarks
The great chemical diversity generating in the group of meroterpenes isolated from marine invertebrates and their wide range of biological activities represent a useful tool for development of new therapeutics. But the biomedical potential of these compounds could be greatly enhanced by a comprehensive understanding of their biosynthetic origin combined with the recent progress in molecular biology. The occurrence of different but biosynthetically related meroterpenes in different organisms, in terrestrial sources, and/or in collections of the same organism from distinct geographical locations, strongly supports the possibility of their biosynthesis by associated microorganisms. Significantly, several meroterpenoids have been recently isolated from
Aspergillus
spp. derived from tissues of marine invertebrates. It is known that members of the genus
Aspergillus
can combine polyketide and terpene precursors to produce meroterpenoids, some of whom having important relevance to human health; this is the case of territrem B, produced by
A. terreus
, a potent irreversible inhibitor of acetyl cholinesterase (AChE) and a candidate for drug development for treating Alzheimer's disease [
204
]. Examples of meroterpenoids isolated from invertebrate-associated
Aspergillus
spp. are tropolactones A–D (
323
–
326
) isolated from an
Aspergillus
sp. derived from an unidentified sponge [
205
], insuetolides A–C (
327
–
329
) from
A. insuetus
isolated from the Mediterranean sponge
Psammocinia
sp. [
206
], terretonins E (
330
) and F (
331
), isolated from
A. insuetus
derived from the Mediterranean sponge
Petrosia ficiformis
[
207
], austalides M–Q (
332
–
336
) from an
Aspergillus
sp. derived from the sponge
Tethya aurantium
[
208
], and yanuthones (
337
–
344
) isolated from
A.niger
obtained from tissue homogenates of an
Aplidium
ascidian [
209
] (
Figure 24
). Thus, there are grounds to suppose that meroterpenoids isolated from marine invertebrates or, at least, portions of their structure are microbial products, most likely elaborated by
Aspergillus
fungi. If confirmed, this possibility could work to advantage the research on these compounds, both for the exploitation of their huge chemical diversity and for a potential large-scale production of the bioactive molecules. The
Aspergillus
genus of fungi, indeed, has been largely investigated due to its medical and commercial importance. Research on
Aspergillus
has contributed much knowledge about its fundamental cell biology and biochemistry and, foremost, the significance of
Aspergillus
was cause for the sequencing of the genomes of some of the most well-known members of this genus which are now publicly available [
210
]. Attempts to locate the biosynthetic genes for meroterpenoids production in the genome of some
Aspergillus
spp. have been performed with encouraging results; the biosynthetic pathway for some meroterpenoids (austinol, terretonin) has been proposed [
211
,
212
]. Understanding of
Aspergillus
secondary metabolism would greatly profit from the genome sequencing projects; sequence information greatly facilitates the identification of natural product genes, the function of which can be demonstrated by molecular biological and biochemical approaches. When a set of genes involved in the formation of the same secondary metabolite are recognized, a biosynthesis can be proposed. Down the road, such advances should be useful for enhanced production of secondary metabolites of interest and the development of second-generation compounds with improved pharmacodynamic and pharmacokinetic characteristics.Thus, advances in
Aspergillus
secondary metabolite research in the post-genomic era will bring an understanding of meroterpenoids biosynthesis at the genetic level which should facilitate engineering of second generation molecules and increasing production of first generation compounds.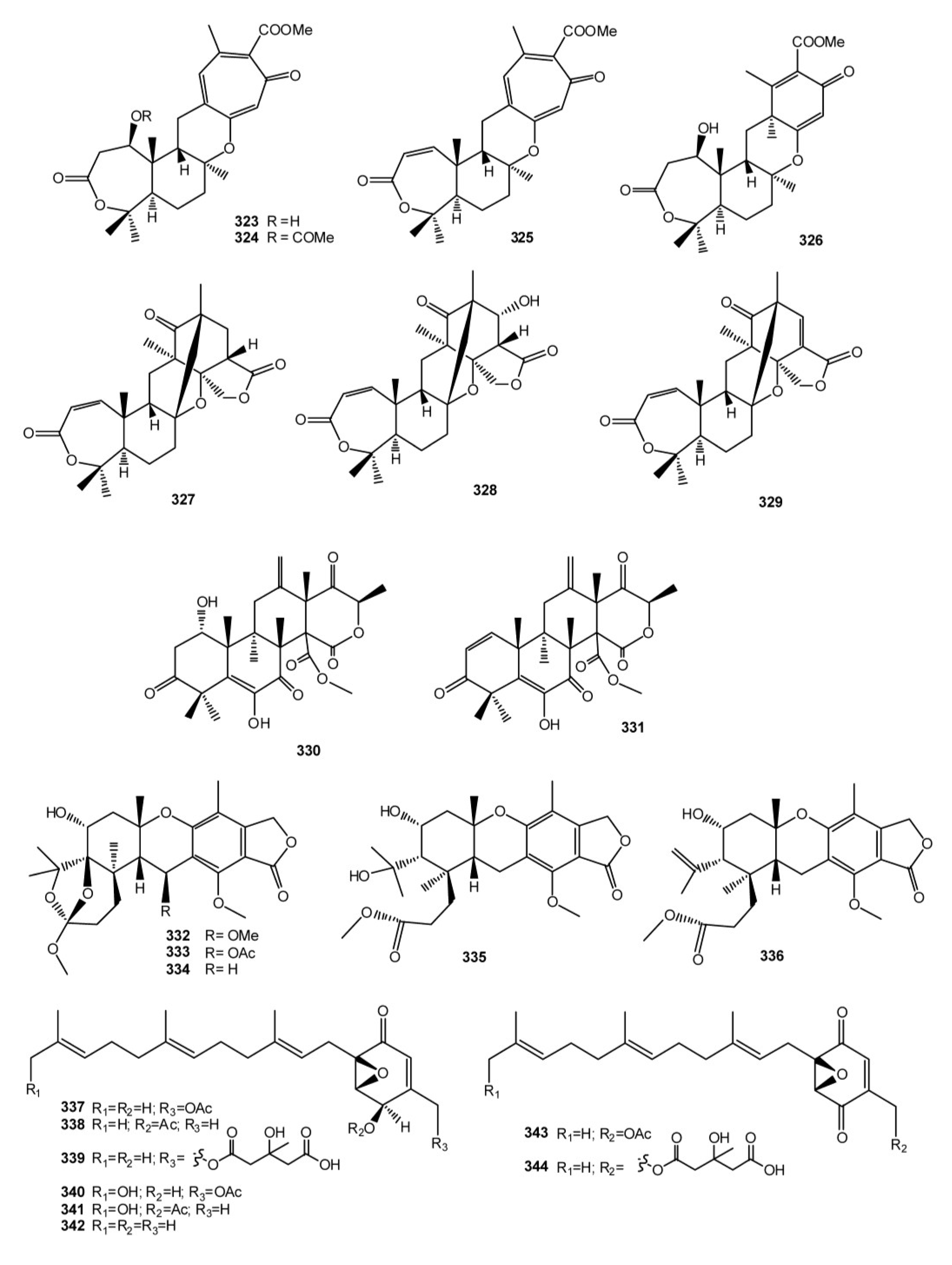 Acknowledgments
This work was supported by the European Commission through the FP7 Projects no. 229893 (NatPharma) and 311848 (BlueGenics), and by the Italian Ministero dell'Università e della Ricerca (MIUR) (PRIN2009: Sostanze naturali ed analoghi sintetici in grado di interferire con target biologici coinvolti nel controllo della crescita tumorale).
Conflict of Interest
The authors declare no conflict of interest.
© 2013 by the authors; licensee MDPI, Basel, Switzerland. This article is an open access article distributed under the terms and conditions of the Creative Commons Attribution license (http://creativecommons.org/licenses/by/3.0/).