Immunomodulatory Effect of Marine Cembrane-Type Diterpenoids on Dendritic Cells
1
Department of Life Science and Institute of Biotechnology, National Dong Hwa University, Hualien 974, Taiwan
2
Graduate Institute of Marine Biotechnology, National Dong Hwa University, Pingtung 944, Taiwan
3
Graduate Institute of Immunology, College of Medicine, National Taiwan University, Taipei 100, Taiwan
*
Author to whom correspondence should be addressed.
Received: 26 February 2013 / Revised: 22 March 2013 / Accepted: 27 March 2013 / Published: 22 April 2013
Abstract
Dendritic cells (DCs) are antigen presenting cells, which can present antigens to T-cells and play an important role in linking innate and adaptive immunity. DC maturation can be induced by many stimuli, including pro-inflammatory cytokines and bacterial products, such as lipopolysaccharides (LPS). Here, we examined the immunomodulatory effects of marine cembrane compounds, (9E,13E)-5-acetoxy-6-hydroxy-9,13-dimethyl-3- methylene-3,3a,4,5,6,7,8,11,12,14a-decahydro-2H-cyclotrideca[b]furan-2-one (1), (9E,13E)- 5-acetoxy-6-acetyl-9,13-dimethyl-3-methylene-3,3a,4,5,6,7,8,11,12,14a-decahydro-2H-cyclotrideca[b]furan-2-one (2), lobocrassin B (3), (−)14-deoxycrassin (4), cembranolide B (5) and 13-acetoxysarcocrassolide (6) isolated from a soft coral, Lobophytum crassum, on mouse bone marrow-derived dendritic cells (BMDCs). The results revealed that cembrane-type diterpenoids, especially lobocrassin B, effectively inhibited LPS-induced BMDC activation by inhibiting the production of TNF-α. Pre-treatment of BMDCs with Lobocrassin B for 1 h is essential to prohibit the following activation induced by various toll-like receptor (TLR) agonists, such as LPS, zymosan, lipoteichoic acid (LTA) and Pam2CSK4. Inhibition of NF-κB nuclear translocation by lobocrassin B, which is a key transcription factor for cytokine production in TLR signaling, was evident as assayed by high-content image analysis. Lobocrassin B attenuated DC maturation and endocytosis as the expression levels of MHC class II and the co-stimulatory molecules were downregulated, which may affect the function of DCs to initiate the T-cell responses. Thus, lobocrassin B may have the potential in treatment of immune dysregulated diseases in the future.
View Full-Text
►

▼

Figures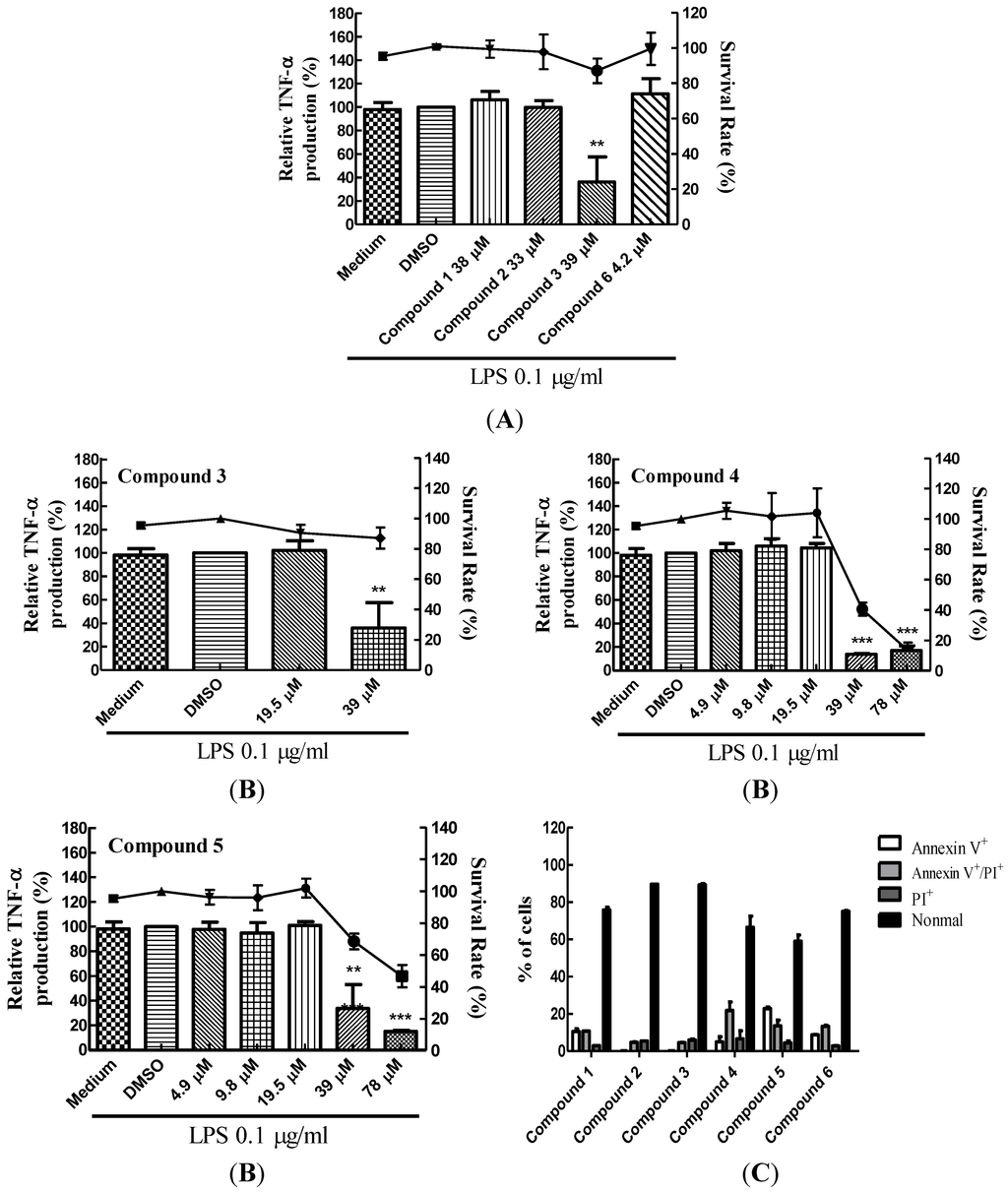 Figure 1

Share & Cite This Article
MDPI and ACS Style
Lin, C.-Y.; Lu, M.-C.; Su, J.-H.; Chu, C.-L.; Shiuan, D.; Weng, C.-F.; Sung, P.-J.; Huang, K.-J. Immunomodulatory Effect of Marine Cembrane-Type Diterpenoids on Dendritic Cells. Mar. Drugs 2013, 11, 1336-1350.
Related Articles
Comments
[Return to top]