The Deep-Sea Natural Products, Biogenic Polyphosphate (Bio-PolyP) and Biogenic Silica (Bio-Silica), as Biomimetic Scaffolds for Bone Tissue Engineering: Fabrication of a Morphogenetically-Active Polymer
1
ERC Advanced Investigator Grant Research Group at Institute for Physiological Chemistry, University Medical Center of the Johannes Gutenberg University, Duesbergweg 6, D-55128 Mainz, Germany
2
National Research Center for Geoanalysis, Chinese Academy of Geological Sciences, 26 Baiwanzhuang Dajie, 100037 Beijing, China
3
Department of Materials Science and Engineering, Tsinghua University, 100084 Beijing, China
4
Department and Clinic for Oral and Maxillofacial Surgery, Baldingerstraße, D-35033 Marburg, Germany
*
Author to whom correspondence should be addressed.
Received: 10 January 2013 / Revised: 4 February 2013 / Accepted: 6 February 2013 / Published: 8 March 2013
Abstract
Bone defects in human, caused by fractures/nonunions or trauma, gain increasing impact and have become a medical challenge in the present-day aging population. Frequently, those fractures require surgical intervention which ideally relies on autografts or suboptimally on allografts. Therefore, it is pressing and likewise challenging to develop bone substitution materials to heal bone defects. During the differentiation of osteoblasts from their mesenchymal progenitor/stem cells and of osteoclasts from their hemopoietic precursor cells, a lineage-specific release of growth factors and a trans-lineage homeostatic cross-talk via signaling molecules take place. Hence, the major hurdle is to fabricate a template that is functioning in a way mimicking the morphogenetic, inductive role(s) of the native extracellular matrix. In the last few years, two naturally occurring polymers that are produced by deep-sea sponges, the biogenic polyphosphate (bio-polyP) and biogenic silica (bio-silica) have also been identified as promoting morphogenetic on both osteoblasts and osteoclasts. These polymers elicit cytokines that affect bone mineralization (hydroxyapatite formation). In this manner, bio-silica and bio-polyP cause an increased release of BMP-2, the key mediator activating the anabolic arm of the hydroxyapatite forming cells, and of RANKL. In addition, bio-polyP inhibits the progression of the pre-osteoclasts to functionally active osteoclasts. Based on these findings, new bioinspired strategies for the fabrication of bone biomimetic templates have been developed applying 3D-printing techniques. Finally, a strategy is outlined by which these two morphogenetically active polymers might be used to develop a novel functionally active polymer.
View Full-Text
►

▼

Figures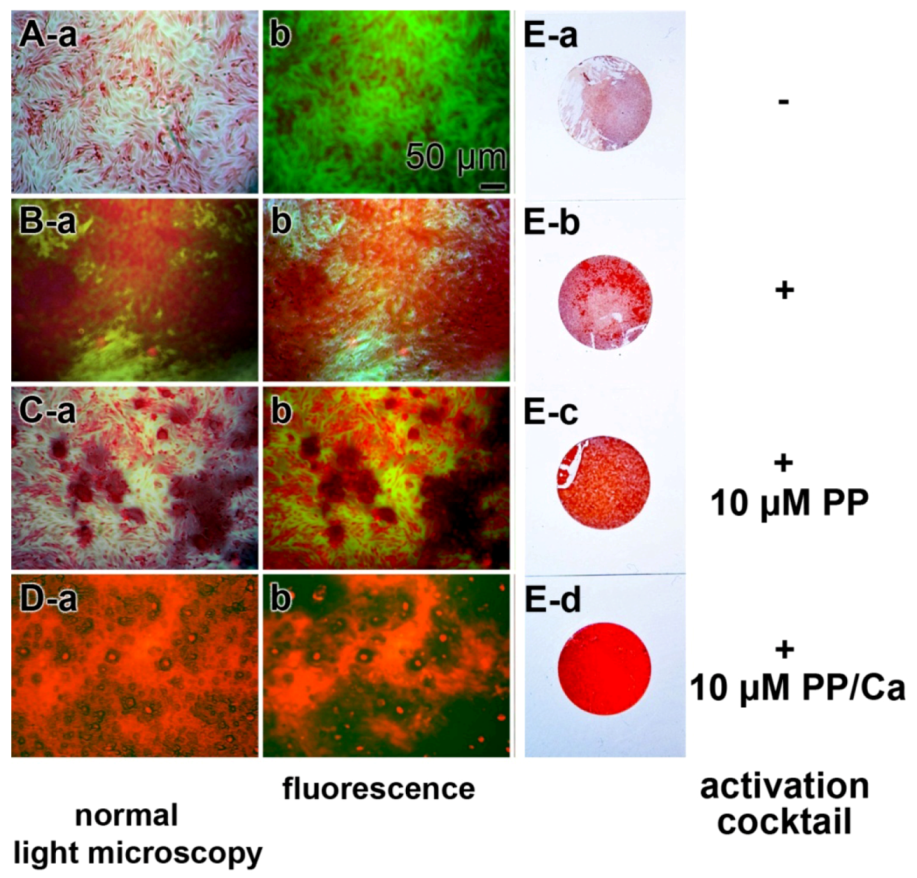 Figure 1

Share & Cite This Article
MDPI and ACS Style
Wang, X.; Schröder, H.C.; Feng, Q.; Draenert, F.; Müller, W.E.G. The Deep-Sea Natural Products, Biogenic Polyphosphate (Bio-PolyP) and Biogenic Silica (Bio-Silica), as Biomimetic Scaffolds for Bone Tissue Engineering: Fabrication of a Morphogenetically-Active Polymer. Mar. Drugs 2013, 11, 718-746.
Related Articles
Comments
[Return to top]