Bioprospecting Marine Plankton
1
Environmental and Evolutionary Genomics Section, Institut de Biologie de l'Ecole Normale Supérieure (IBENS), Centre National de la Recherche Scientifique (CNRS) UMR8197 INSERM U1024, 46 rue d'Ulm, Paris CEDEX 05 75230, France
2
Kinase Inhibitor Specialized Screening facility (KISSf), Station Biologique de Roscoff, Centre National de la Recherche Scientifique (CNRS) USR 3151 (Protein Phosphorylation and Human Diseases), CS 90074, Roscoff CEDEX 29688, France
3
Greentech France, Biopôle Clermont Limagne, Saint Beauzire 63360, France
4
Soliance France, Centre de Biotechnologie Marine, Anse de Pors Gelin-Ile Grande, Plemeur-Bodou 22560, France
5
Roscoff Culture Collection, Station Biologique de Roscoff, Centre National de la Recherche Scientifique (CNRS) USR 3151, Place Georges Teissier, CS 90074, Roscoff CEDEX 29688, France
6
EPPO Laboratory, Station Biologique de Roscoff, Centre National de la Recherche Scientifique (CNRS) USR 3151, Place Georges Teissier, CS 90074, Roscoff CEDEX 29688, France
*
Authors to whom correspondence should be addressed.
Received: 10 July 2013 / Revised: 6 September 2013 / Accepted: 9 October 2013 / Published: 14 November 2013
Abstract
The ocean dominates the surface of our planet and plays a major role in regulating the biosphere. For example, the microscopic photosynthetic organisms living within provide 50% of the oxygen we breathe, and much of our food and mineral resources are extracted from the ocean. In a time of ecological crisis and major changes in our society, it is essential to turn our attention towards the sea to find additional solutions for a sustainable future. Remarkably, while we are overexploiting many marine resources, particularly the fisheries, the planktonic compartment composed of zooplankton, phytoplankton, bacteria and viruses, represents 95% of marine biomass and yet the extent of its diversity remains largely unknown and underexploited. Consequently, the potential of plankton as a bioresource for humanity is largely untapped. Due to their diverse evolutionary backgrounds, planktonic organisms offer immense opportunities: new resources for medicine, cosmetics and food, renewable energy, and long-term solutions to mitigate climate change. Research programs aiming to exploit culture collections of marine micro-organisms as well as to prospect the huge resources of marine planktonic biodiversity in the oceans are now underway, and several bioactive extracts and purified compounds have already been identified. This review will survey and assess the current state-of-the-art and will propose methodologies to better exploit the potential of marine plankton for drug discovery and for dermocosmetics.
View Full-Text
►

▼

Figures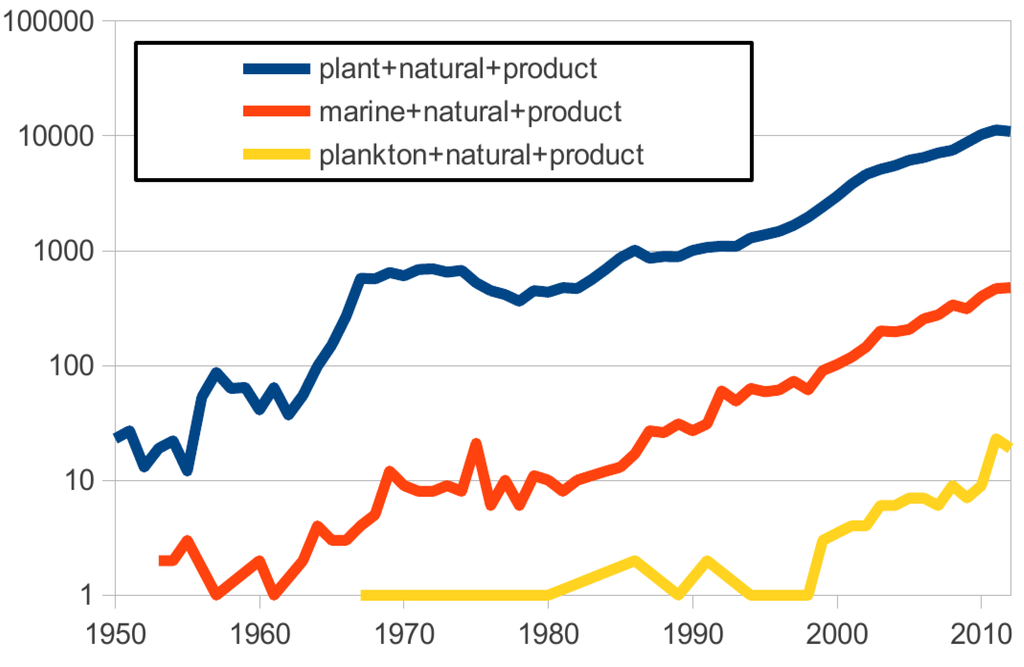 Figure 1

Share & Cite This Article
MDPI and ACS Style
Abida, H.; Ruchaud, S.; Rios, L.; Humeau, A.; Probert, I.; De Vargas, C.; Bach, S.; Bowler, C. Bioprospecting Marine Plankton. Mar. Drugs 2013, 11, 4594-4611.
Related Articles
Comments
[Return to top]