Antinociceptive and Anti-Inflammatory Activities of Crude Methanolic Extract of Red Alga
Bryothamnion triquetrum
1
LaFI-Laboratory of Pharmacology and Immunity, Institute of Biological Sciences and Health, Federal University of Alagoas, Maceió 57020-720, AL, Brazil
2
Laboratory of Technology Pharmaceutical, Federal University of Paraíba, João Pessoa 58051-900, PB, Brazil
3
Laboratory of Marine Algae, Department of Systematics and Ecology, Federal University of Paraíba, João Pessoa 58051-900, PB, Brazil
*
Authors to whom correspondence should be addressed.
Received: 25 June 2012 / Revised: 6 August 2012 / Accepted: 4 September 2012 / Published: 17 September 2012
Abstract
The marine environment is an extraordinary reservoir of bioactive natural products, many of which exhibit chemical and structural features not found in terrestrial natural products. In this regard, the aim of this study was to investigate the possible antinociceptive and anti-inflammatory activities of a crude methanolic extract of the red alga
Bryothamnion triquetrum
(BT-MeOH) in murine models. Groups of Swiss mice of both sexes (25–30 g) were used throughout the experiments. The potential antinociceptive of BT-MeOH was evaluated by means of the following tests: acetic acid-induced writhing, hot-plate test and glutamate- and formalin-induced nociception. The anti-inflammatory activity of BT-MeOH was investigated using the zymosan A-induced peritonitis test. The tests were conducted using 100 mg/kg (p.o.) BT-MeOH, 33.3 mg/kg (p.o.) dipyrone, 35.7 mg/kg (p.o.) indomethacin and 5.7 mg/kg (s.c.) morphine. The extract and all standard drugs were administered 40 min before the nociceptive/inflammatory stimulus. In the acetic acid-induced writhing test, BT-MeOH and dipyrone inhibited the nociceptive response by 55.9% (22.2 ± 2.0 writhings;
p
< 0.01) and 80.9% (9.6 ± 2.1 writhings;
p
< 0.01). In the hot-plate test, BT-MeOH did not increase the latency time of the animals in the time evaluated. In addition, BT-MeOH inhibited glutamate-induced nociception by 50.1%. While BT-MeOH did not inhibit the neurogenic phase in formalin-induced nociception, the inflammatory phase was inhibited by 53.1% (66.8 ± 14.2 s;
p
< 0.01). Indomethacin inhibited the inflammatory phase by 60.2% (56.8 ± 8.7 s;
p
< 0.01). In the zymosan-induced peritonitis test, BT-MeOH inhibited 55.6% (6.6 ± 0.2 × 10
6
leukocytes/mL;
p
< 0.01) of leukocyte migration, while indomethacin inhibited 78.1% (3.2 ± 0.1 × 10
6
leukocytes/mL;
p
< 0.01). Based on the results obtained in this study, we conclude that BT-MeOH has peripheral antinociceptive and anti-inflammatory activities. However, more studies need to be conducted to confirm these properties.
View Full-Text
►

▼

Figures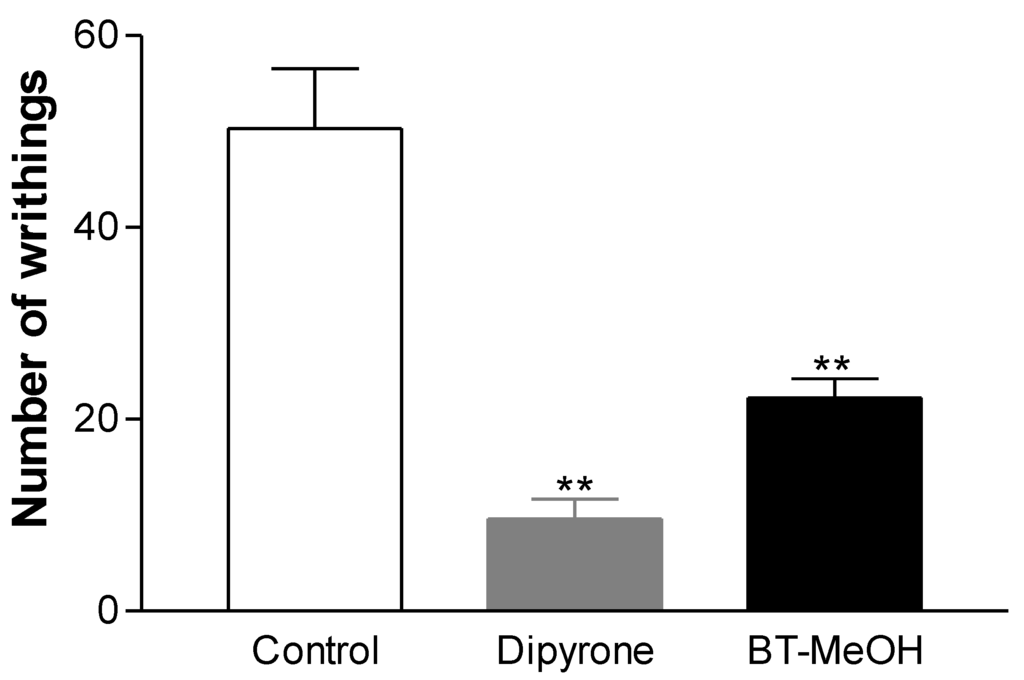 Figure 1

Share & Cite This Article
MDPI and ACS Style
Cavalcante-Silva, L.H.A.; Barbosa Brito da Matta, C.; De Araújo, M.V.; Barbosa-Filho, J.M.; Pereira de Lira, D.; De Oliveira Santos, B.V.; De Miranda, G.E.C.; Alexandre-Moreira, M.S. Antinociceptive and Anti-Inflammatory Activities of Crude Methanolic Extract of Red Alga Bryothamnion triquetrum. Mar. Drugs 2012, 10, 1977-1992.
Related Articles
Comments
[Return to top]