Antioxidant and Anti-Protease Activities of Diazepinomicin from the Sponge-Associated
Micromonospora

Strain RV115

1

Julius-von-Sachs-Institute for Biological Sciences, University of Würzburg, Julius-von-Sachs-Platz 3, Würzburg 97082, Germany

2

Institute of Organic Chemistry, Eberhard-Karls-Universität, Auf der Morgenstelle 18, Tübingen 72076, Germany

3

Department of Toxicology, University of Würzburg, Würzburg 97078, Germany

4

Institute of Pharmacy and Biochemistry, University of Mainz, Staudinger Weg 5, Mainz 55128, Germany

*

Author to whom correspondence should be addressed.

†

Permanent address: Department of Pharmacognosy, Faculty of Pharmacy, Minia University, Minia 61519, Egypt.

‡

Permanent address: Department of Analytical Chemistry, Faculty of Pharmacy, Minia University, Minia 61519, Egypt.

Received: 24 July 2012 / Revised: 6 September 2012 / Accepted: 17 September 2012 / Published: 8 October 2012
Abstract
Diazepinomicin is a dibenzodiazepine alkaloid with an unusual structure among the known microbial metabolites discovered so far. Diazepinomicin was isolated from the marine sponge-associated strain
Micromonospora
sp. RV115 and was identified by spectroscopic analysis and by comparison to literature data. In addition to its interesting preclinical broad-spectrum antitumor potential, we report here new antioxidant and anti-protease activities for this compound. Using the ferric reducing antioxidant power (FRAP) assay, a strong antioxidant potential of diazepinomicin was demonstrated. Moreover, diazepinomicin showed a significant antioxidant and protective capacity from genomic damage induced by the reactive oxygen species hydrogen peroxide in human kidney (HK-2) and human promyelocytic (HL-60) cell lines. Additionally, diazepinomicin inhibited the proteases rhodesain and cathepsin L at an IC
50
of 70–90 µM. It also showed antiparasitic activity against trypomastigote forms of
Trypanosoma brucei
with an IC
50
of 13.5 µM. These results showed unprecedented antioxidant and anti-protease activities of diazepinomicin, thus further highlighting its potential as a future drug candidate.
View Full-Text
►

▼

Figures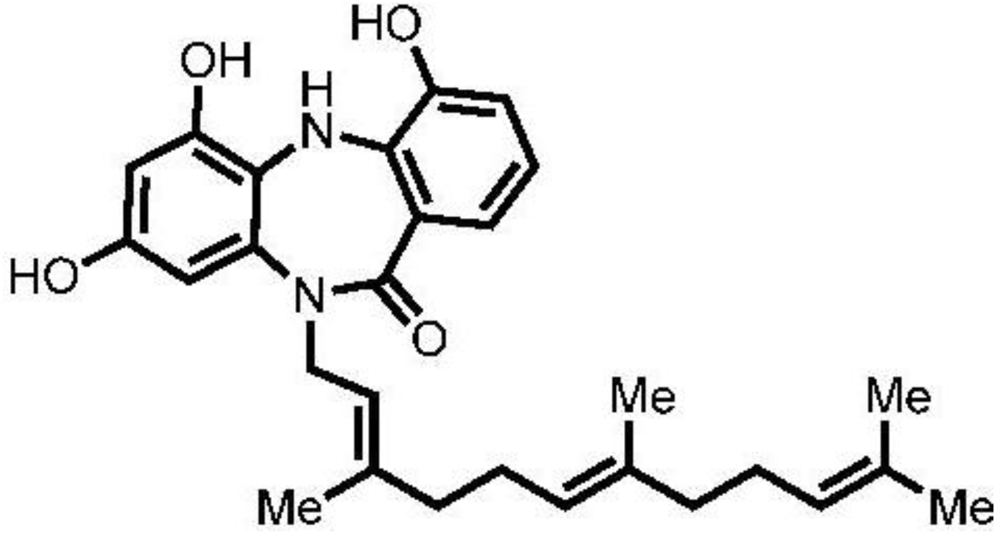 Figure 1

Share & Cite This Article
MDPI and ACS Style
Abdelmohsen, U.R.; Szesny, M.; Othman, E.M.; Schirmeister, T.; Grond, S.; Stopper, H.; Hentschel, U. Antioxidant and Anti-Protease Activities of Diazepinomicin from the Sponge-Associated Micromonospora Strain RV115. Mar. Drugs 2012, 10, 2208-2221.
Related Articles
Comments
[Return to top]