Fucoxanthin Attenuates Rifampin-Induced Cytochrome P450 3A4 (
CYP3A4

) and Multiple Drug Resistance 1 (

MDR1

) Gene Expression Through Pregnane X Receptor (PXR)-Mediated Pathways in Human Hepatoma HepG2 and Colon Adenocarcinoma LS174T Cells

1

Department of Food Science and Biotechnology, National Chung Hsing University, Taichung 402, Taiwan

2

Department of Pharmacy, College of Pharmacy, China Medical University, Taichung 404, Taiwan

3

Department of Emergency, Toxicology Center, China Medical University Hospital, Taichung 404, Taiwan

*

Authors to whom correspondence should be addressed.

†

These authors contributed equally to this work.

Received: 7 December 2011 / Revised: 10 January 2012 / Accepted: 16 January 2012 / Published: 23 January 2012
Abstract
Pregnane X receptor (PXR) has been reported to regulate the expression of drug-metabolizing enzymes, such as the cytochrome P450 3A (CYP3A) family and transporters, such as multiple drug resistance 1 (MDR1). Fucoxanthin, the major carotenoid in brown sea algae, is a putative chemopreventive agent. In this study, we determined whether fucoxanthin could overcome drug resistance through attenuation of rifampin-induced
CYP3A4
and
MDR1
gene expression by PXR-mediated pathways in HepG2 hepatoma cells. We found that fucoxanthin (1–10 μM) significantly attenuated rifampin (20 μM)-induced CYP3A4, MDR1 mRNA and CYP3A4 protein expression at 24 h of incubation. Mechanistically, fucoxanthin strongly attenuated the PXR-mediated CYP3A4 promoter activity in HepG2 cells. In addition, fucoxanthin attenuated constitutive androstane receptor (CAR)- and rPXR-mediated CYP3A4 promoter activity in this cell line. Using the mammalian two-hybrid assay, we found that fucoxanthin significantly decreased the interaction between PXR and SRC-1, a PXR co-activator. Thus, fucoxanthin can decrease rifampin-induced CYP3A4 and MDR1 expression through attenuation of PXR-mediated CYP3A4 promoter activation and interaction between PXR and co-activator. These findings could lead to potentially important new therapeutic and dietary approaches to reduce the frequency of adverse drug reactions.
View Full-Text
►

▼

Figures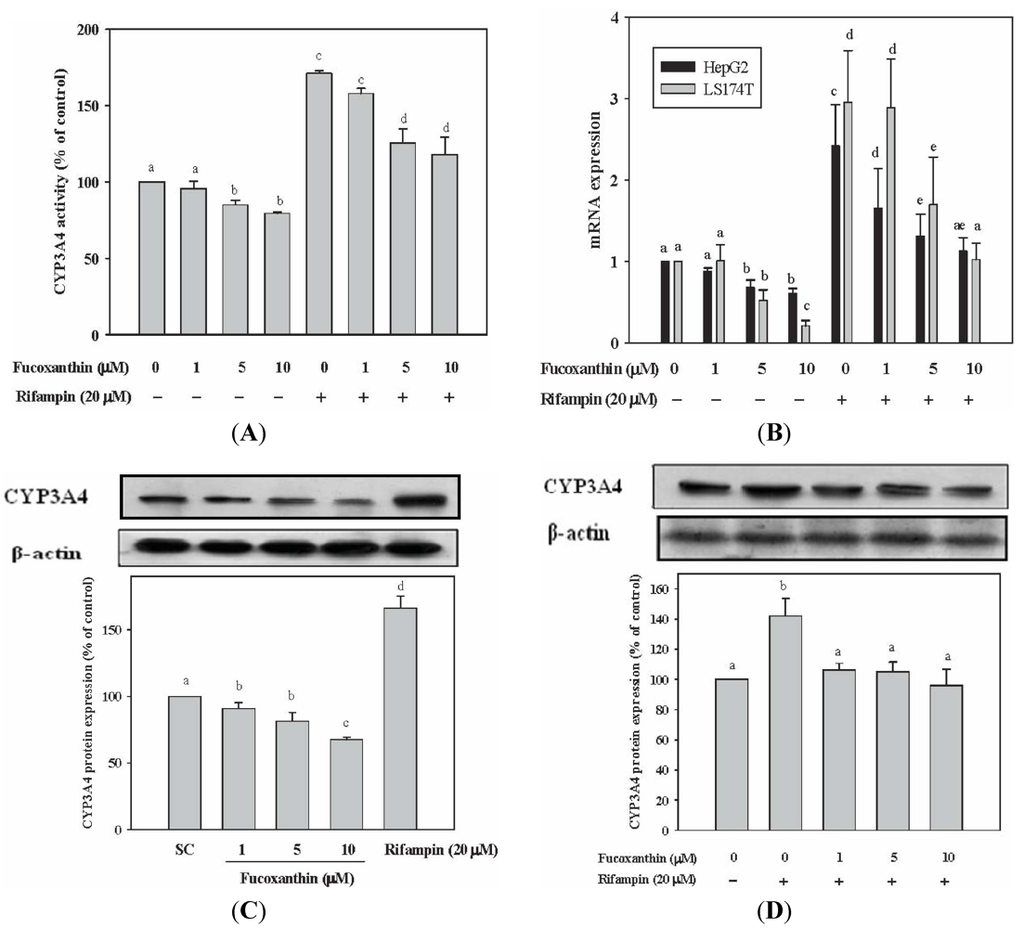 Figure 1

Share & Cite This Article
MDPI and ACS Style
Liu, C.-L.; Lim, Y.-P.; Hu, M.-L. Fucoxanthin Attenuates Rifampin-Induced Cytochrome P450 3A4 (CYP3A4) and Multiple Drug Resistance 1 (MDR1) Gene Expression Through Pregnane X Receptor (PXR)-Mediated Pathways in Human Hepatoma HepG2 and Colon Adenocarcinoma LS174T Cells. Mar. Drugs 2012, 10, 242-257.
Related Articles
Comments
[Return to top]