Open Access This article is
freely available
re-usable
Review
TRPV1: A Target for Rational Drug Design
1
Institute for Computational Molecular Science, Temple University, Philadelphia, PA 19122, USA
2
New Jersey Medical School, Rutgers University, Newark, NJ 07103, USA
*
Authors to whom correspondence should be addressed.
Academic Editors: Arpad Szallasi and Susan M. Huang
Received: 13 July 2016 / Accepted: 18 August 2016 / Published: 23 August 2016
Abstract
:
Transient Receptor Potential Vanilloid 1 (TRPV1) is a non-selective, Ca2+ permeable cation channel activated by noxious heat, and chemical ligands, such as capsaicin and resiniferatoxin (RTX). Many compounds have been developed that either activate or inhibit TRPV1, but none of them are in routine clinical practice. This review will discuss the rationale for antagonists and agonists of TRPV1 for pain relief and other conditions, and strategies to develop new, better drugs to target this ion channel, using the newly available high-resolution structures.
Keywords:
TRPV1; capsaicin; vanilloid; pain; nociception
Acknowledgments
Research in the authors' laboratories were funded by National Science Foundation Grants ACI-1440059 (to V.C.) and NIH Grants R01NS055159 and R01GM093290 (to T.R.).
Conflicts of Interest
The authors declare no conflict of interest.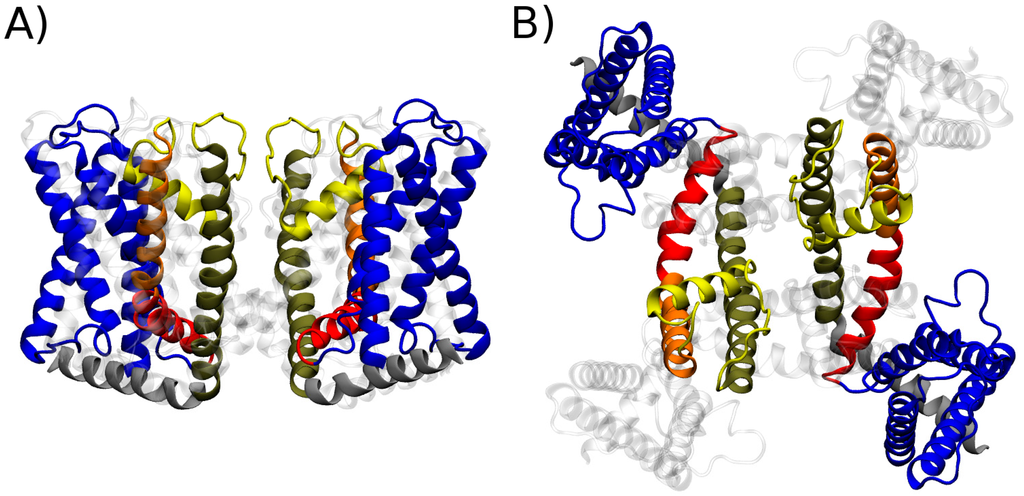 Figure 1. Molecular architecture of the Transient Receptor Potential Vanilloid 1 channel (TRPV1). Cartoon representation of the structure of the transmembrane region of TRPV1 as determined via cryoEM in lipid nanodiscs: (A) side view; and (B) top view. For clarity, only two subunits are highlighted in solid color while the other two are rendered as grey shading. Different colors highlight the major structural elements described in the text: S1–S4 domain (blue), linker domain (red), S5 (orange), pore helix and selectivity filter (yellow), S6 (brown) and TRP domain (grey).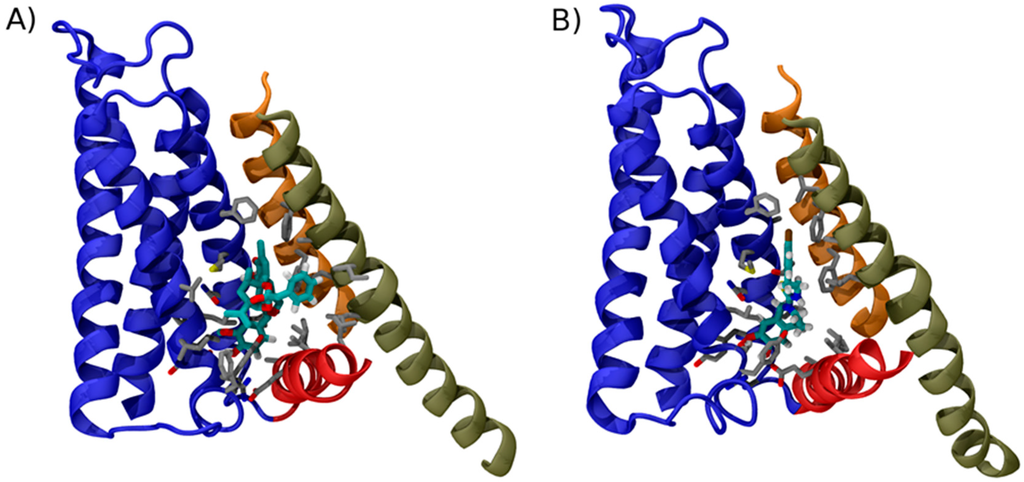 Figure 2.
Binding mode of TRPV1 modulators. Structure of TRPV1 in complex with: RTX (
A
); and capsazepine
(B
). For clarity only the structural element surrounding the vanilloid binding site are shown in cartoon representation using the same color code used in
Figure 1
. Amino acid side chains contacting the ligands are shown as sticks; to highlight the location of ligand in the two structures, the carbon atoms of RTX and capsezepine are highlighted by the cyan color. Note how the conformations of RTX and capsazepine are very similar, except for a phenyl group, which, in RTX, contacts the side chains of S6.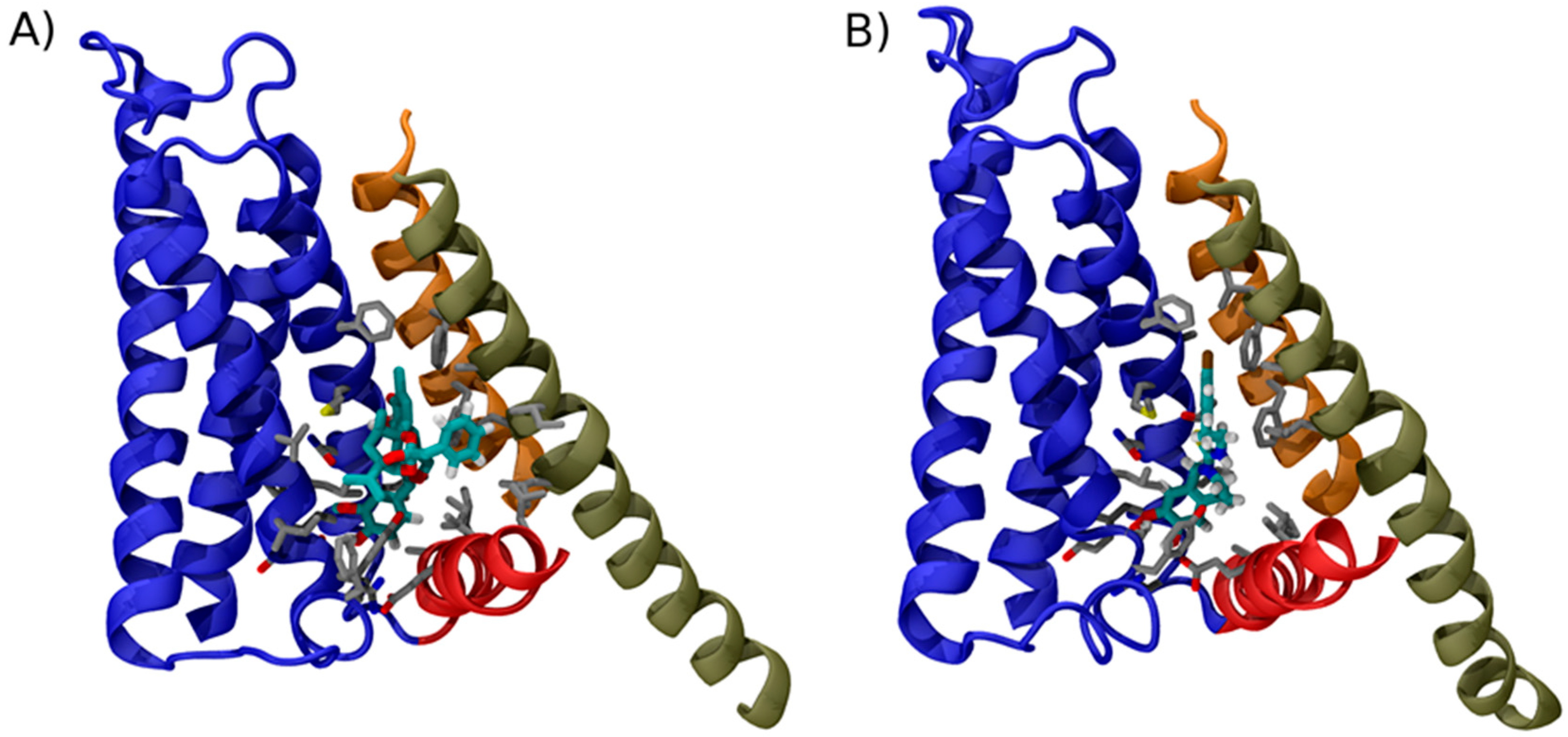 © 2016 by the authors. Licensee MDPI, Basel, Switzerland. This article is an open access article distributed under the terms and conditions of the Creative Commons Attribution (CC-BY) license ( http://creativecommons.org/licenses/by/4.0/).