A Perspective on the Comparative Antileukemic Activity of 5-Aza-2′-deoxycytidine (Decitabine) and 5-Azacytidine (Vidaza)
Département de Pharmacologie, Service d' Hématologie et Oncologie, Centre de Recherche, CHU-Saint-Justine, Université de Montréal, Montréal, Québec H3T 1C5, Canada
Received: 31 May 2012 / Revised: 16 August 2012 / Accepted: 17 August 2012 / Published: 21 August 2012
Abstract
5-Aza-2′-deoxycytidine (5-AZA-CdR, decitabine, Dacogen®) and 5-azacytidine (5-AC, Vidaza®) are epigenetic agents that have been approved for the clinical treatment of the hematological malignancy myelodysplastic syndrome (MDS) and are currently under clinical evaluation for the treatment of acute myeloid leukemia (AML). Most investigators currently classify 5-AZA-CdR and 5-AC as inhibitors of DNA methylation, which can reactivate tumor suppressor genes silenced by this epigenetic event. Examination of the pharmacology of these analogues reveals important differences with respect to their molecular mechanism of action. The action of 5-AZA-CdR is due to its incorporation into DNA. 5-AC is a riboside analogue that is incorporated primarily into RNA. A small fraction of 5-AC is converted to its deoxyribose form by ribonucleotide reductase and subsequently incorporated into DNA. The incorporation of 5-AC into RNA can interfere with the biological function of RNA and result in an inhibition protein synthesis. Microarray analysis revealed that both these analogues target the expression of different cohorts of genes. Preclinical studies show that 5-AZA-CdR is a more effective antileukemic agent than 5-AC. One explanation for this observation is that 5-AC blocks the progression of some leukemic cells from G
1
into S phase, and this protects these cells from the chemotherapeutic action of this riboside analogue related to its incorporation
into DNA. However, differences in chemotherapeutic efficacy of these related analogues have not been clearly demonstrated in clinical trials in patients with hematological malignancies. These observations should be taken into consideration in the design of new clinical trials using 5-AZA-CdR or 5-AC in patients with MDS and AML.
View Full-Text
►

▼

Figures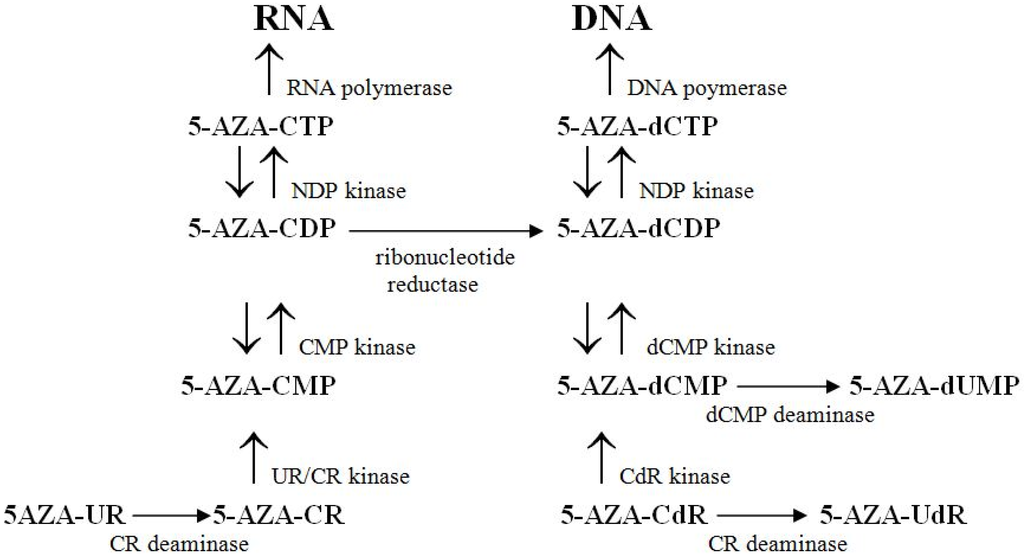 Figure 1

Share & Cite This Article
MDPI and ACS Style
Momparler, R.L. A Perspective on the Comparative Antileukemic Activity of 5-Aza-2′-deoxycytidine (Decitabine) and 5-Azacytidine (Vidaza). Pharmaceuticals 2012, 5, 875-881.
Related Articles
Comments
[Return to top]