Use of Generics—A Critical Cost Containment Measure for All Healthcare Professionals in Europe?
1
Institute for Pharmacological Research 'Mario Negri', Via Giuseppe La Masa 19, 20156 Milan, Italy
2
Prescribing Research Group, University of Liverpool Management School, Chatham Street, Liverpool L69 7ZH, UK
3
Department of Laboratory Medicine, Division of Clinical Pharmacology, Karolinska Institutet, Karolinska University Hospital Huddinge, SE-141 86, Stockholm, Sweden
4
Division of Pharmacoepidemiology and Pharmacoeconomics, Brigham and Women's Hospital and Harvard Medical School, 1620 Tremont Street, suite 3030. Boston, MA 02120, USA
5
Centre for Pharmacoepidemiology, Karolinska Institute, Karolinska University Hospital, Stockholm, Sweden
6
Information Services Healthcare Information Group, NHS Scotland, 1 South Gyle Crescent, Edinburgh EH12 9EB, UK
7
Hauptverband der Österreichischen Sozialversicherungsträger, Kundmanngasse 21, A-1031 Wien, Austria
8
Faculty of Medicine, Department of Pathology, Forensic Medicine and Pharmacology, University of Vilnius, M. K. Čiurlionio g. 21/27, Vilnius, Lithuania
9
Medicines Reimbursement Department, National Health Insurance Fund, Kalvarijų Str. 147, Vilnius, Lithuania
10
Republic Institute for Health Insurance, Jovana Marinovica 2, 11000 Belgrade, Serbia
11
State Agency of Medicines, Nooruse 1, 50411 Tartu, Estonia
12
Pharmaceutical Drug Department, Azienda Sanitaria Locale of Verona, Verona, Italy
13
IRDES, 10, rue Vauvenargues, 75018 Paris, France
14
University of Heidelberg, Institute of Pharmacology, D-69120 Heidelberg, Germany
15
Center for Health Evaluation & Research, National Association of Pharmacies (ANF), Rua Marechal Saldanha, n.º 1, 1249-069 Lisboa, Portugal
16
Department of Pharmacology, Medical School of Ankara University, Sihhiye, Ankara 06100, Turkey
17
HTA Consulting, Starowiślna Str. 17/3, 31-038 Cracow, Poland
18
Barcelona Health Region, Catalan Health Service, Esteve Terrades 30, 08023 Barcelona, Spain
*
Author to whom correspondence should be addressed.
Received: 1 July 2010 / Revised: 27 July 2010 / Accepted: 4 August 2010 / Published: 5 August 2010
Abstract
Pharmaceutical expenditures in ambulatory care rose rapidly in Europe in the 1990s and early 2000s. This was typically faster than other components of healthcare spending, leading to reforms to moderate future growth. A number of these centered on generic medicines with measures to lower reimbursed prices as well as enhance their prescribing and dispensing. The principal objective of this paper is to review additional measures that some European countries can adopt to further reduce reimbursed prices for generics. Secondly, potential approaches to address concerns with generics when they arise to maximize savings. Measures to enhance the prescribing of generics will also briefly be discussed. A narrative review of the extensive number of publications and associated references from the co-authors was conducted supplemented with known internal or web-based articles. In addition, health authority and health insurance databases, principally from 2001 to 2007, were analyzed to assess the impact of the various measures on price reductions for generic omeprazole and generic simvastatin
vs.
pre-patent loss prices, as well as overall efficiency in Proton Pump Inhibitor (PPI) and statin prescribing. The various initiatives generally resulted in considerable lowering of the prices of generics as well as specifically for generic omeprazole and generic simvastatin
vs.
pre-patent loss prices. At one stage in the UK, generic simvastatin was just 2% of the originator price. These measures also led to increased efficiency for PPI and statin prescribing with reimbursed expenditure for the PPIs and statins either falling or increasing at appreciably lower rates than increases in utilization. A number of strategies have also been introduced to address patient and physician concerns with generics to maximize savings. In conclusion, whilst recent reforms have been successful, European countries must continue learning from each other to fund increased volumes and new innovative drugs as resource pressures grow. Policies regarding generics and their subsequent impact on reimbursement and utilization of single sourced products will continue to play a key role to release valuable resources. However, there must continue to be strategies to address concerns with generics when they exist.
View Full-Text
►

▼

Figures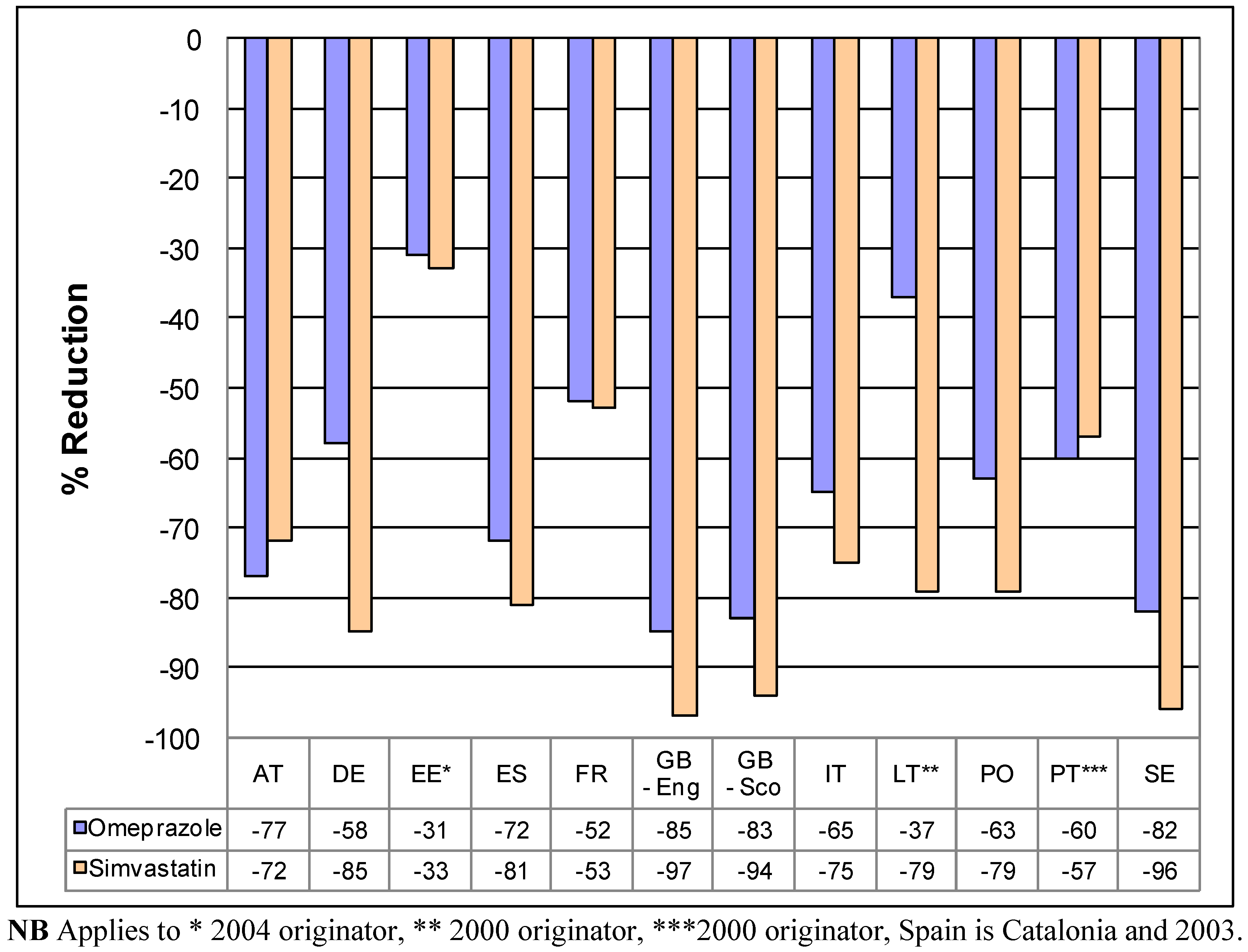 Figure 1

Share & Cite This Article
MDPI and ACS Style
Godman, B.; Shrank, W.; Wettermark, B.; Andersen, M.; Bishop, I.; Burkhardt, T.; Garuolienè, K.; Kalaba, M.; Laius, O.; Joppi, R.; Sermet, C.; Schwabe, U.; Teixeira, I.; Tulunay, F.C.; Wendykowska, K.; Zara, C.; Gustafsson, L.L. Use of Generics—A Critical Cost Containment Measure for All Healthcare Professionals in Europe? Pharmaceuticals 2010, 3, 2470-2494.
Related Articles
Comments
[Return to top]