Neuroprotective Effects of β-Caryophyllene against Dopaminergic Neuron Injury in a Murine Model of Parkinson's Disease Induced by MPTP
1
Departamento de Farmacobiología CUCEI, Universidad de Guadalajara, 44430 Guadalajara, Mexico
2
Laboratorio de Microscopía de Alta Resolución, Departamento de Neurociencias, Centro Universitario de Ciencias de la Salud, Universidad de Guadalajara, 44340 Guadalajara, Mexico
3
Institute of Biochemistry and Molecular Medicine, NCCR Trans Cure, University of Bern, CH-3012 Bern, Switzerland
4
Laboratorio de Neurobiología Celular y Molecular, Centro de Investigación Biomédica de Occidente (CIBO), Instituto Mexicano del Seguro Social, 44421 Guadalajara, Mexico
5
Laboratorio de Inmunodeficiencias y Retrovirus Humanos, Centro de Investigación Biomédica de Occidente, Instituto Mexicano del Seguro Social, 44421 Guadalajara, Mexico
6
Laboratorio de Regeneración y Desarrollo Neural, Instituto de Neurobiología, Departamento de Biología Celular y Molecular, CUCBA, Universidad de Guadalajara, 44340 Guadalajara, Mexico
7
Unitat de Farmacologia i Farmacognòsia, Facultat de Farmàcia i Ciencias de l'Alimentació, Universitat de Barcelona, 08028 Barcelona, Spain
8
Biomedical Research Networking Center in Neurodegenerative Diseases (CIBERNED), 28031 Madrid, Spain
*
Author to whom correspondence should be addressed.
Received: 14 June 2017 / Revised: 30 June 2017 / Accepted: 3 July 2017 / Published: 6 July 2017
Abstract
Parkinson's disease (PD) is one of the most common neurodegenerative disorders and is characterized by the loss of dopaminergic neurons in the substantia nigra (SN). Although the causes of PD are not understood, evidence suggests that its pathogenesis is associated with oxidative stress and inflammation. Recent studies have suggested a protective role of the cannabinoid signalling system in PD. β-caryophyllene (BCP) is a natural bicyclic sesquiterpene that is an agonist of the cannabinoid type 2 receptor (CB2R). Previous studies have suggested that BCP exerts prophylactic and/or curative effects against inflammatory bowel disease through its antioxidative and/or anti-inflammatory action. The present study describes the neuroprotective effects of BCP in a 1-methyl-4-phenyl-1,2,3,6-tetrahydropyridine (MPTP)-induced murine model of PD, and we report the results of our investigation of its neuroprotective mechanism in neurons and glial cells. In the murine model, BCP pretreatment ameliorated motor dysfunction, protected against dopaminergic neuronal losses in the SN and striatum, and alleviated MPTP-induced glia activation. Additionally, BCP inhibited the levels of inflammatory cytokines in the nigrostriatal system. The observed neuroprotection and inhibited glia activation were reversed upon treatment with the CB2R selective antagonist AM630, confirming the involvement of the CB2R. These results indicate that BCP acts via multiple neuroprotective mechanisms in our murine model and suggest that BCP may be viewed as a potential treatment and/or preventative agent for PD.
View Full-Text
►

▼

Figures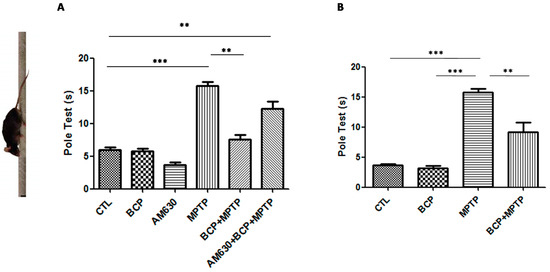 Figure 1
This is an open access article distributed under the
Creative Commons Attribution License
which permits unrestricted use, distribution, and reproduction in any medium, provided the original work is properly cited (CC BY 4.0).

Share & Cite This Article
MDPI and ACS Style
Viveros-Paredes, J.M.; González-Castañeda, R.E.; Gertsch, J.; Chaparro-Huerta, V.; López-Roa, R.I.; Vázquez-Valls, E.; Beas-Zarate, C.; Camins-Espuny, A.; Flores-Soto, M.E. Neuroprotective Effects of β-Caryophyllene against Dopaminergic Neuron Injury in a Murine Model of Parkinson's Disease Induced by MPTP. Pharmaceuticals 2017, 10, 60.
Note that from the first issue of 2016, MDPI journals use article numbers instead of page numbers. See further details here.
Related Articles
Comments
[Return to top]