Open Access This article is
freely available
re-usable
Article
Individual Morphology and Habitat Structure Alter Social Interactions in a Range-Shifting Species
1
Marine Science Program, School of the Earth, Ocean, and Environment, University of South Carolina, Columbia, SC 29208, USA
2
Department of Biology, Brigham Young University, Provo, UT 84602, USA
*
Author to whom correspondence should be addressed.
Received: 11 October 2018 / Accepted: 31 December 2018 / Published: 5 January 2019
Abstract
:
Ecosystem engineers that serve as foundation species shape the ecology and behavior of the species which depend on them. As species shift their geographic ranges into ecosystems they have not previously inhabited, it is important to understand how interactions with novel foundation species alter their behavior. By employing behavioral assays and morphological analyses, we examined how individual morphology and foundation species structure impact the ritualistic aggression behavior of the range shifting mangrove tree crab
Aratus pisonii
between its historic and colonized habitats. Structure of the foundation species of the colonized salt marsh ecosystem increases the incidence and risk of this behavior over the historic mangrove habitat, potentially negating benefits of ritualizing aggression. Further, docks within the salt marsh, which are structurally analogous to mangroves, mitigate some, but not all, of the increased costs of performing ritualized aggression. Crabs in the salt marsh also had relatively larger claws than conspecifics from the dock and mangrove habitats, which has implications for the risk and outcomes of ritualized interactions. These changes to morphology and behavior highlight the impacts that foundation species structure can have on the morphology, ecology, and behavior of organisms and the importance of studying these impacts in range shifting species.
Keywords:
agonistic behavior; analogous habitat;
Aratus pisonii
; colonized ecosystem; engineered structures; mangrove; physical ecosystem engineers; range shift; salt marsh
Supplementary Materials
The following are available online at
https://www.mdpi.com/1424-2818/11/1/6/s1
, Table S1: Full statistical result of the simplest model by AIC of all aggression assay tests, Table S2: Morphological measurements of crabs from each habitat.
Author Contributions
Conceptualization, Z.J.C. and B.D.G.; Data curation, Z.J.C.; Formal analysis, Z.J.C.; Funding acquisition, Z.J.C.; Investigation, Z.J.C., S.K.N. and I.C.W.; Methodology, Z.J.C. and B.D.G.; Project administration, Z.J.C. and B.D.G.; Resources, Z.J.C.; Supervision, B.D.G.; Visualization, Z.J.C. and B.D.G.; Writing—original draft, Z.J.C.; Writing—review & editing, Z.J.C. and B.D.G.
Funding
This work was supported by an Animal Behavior Society Student Research Grant and a SPARC Graduate Research Grant from the Office of the Vice President for Research at the University of South Carolina.
Acknowledgments
The authors thank the Smithsonian Marine Station at Fort Pierce, FL and the Guana Tolomato Matanzas National Estuarine Research Reserve of St. Augustine, FL for aid and assistance. This work was supported by an Animal Behavior Society Student Research Grant and a SPARC Graduate Research Grant from the Office of the Vice President for Research at the University of South Carolina. This is Smithsonian Marine Station contribution number 1103.
Conflicts of Interest
The authors declare no conflict of interest.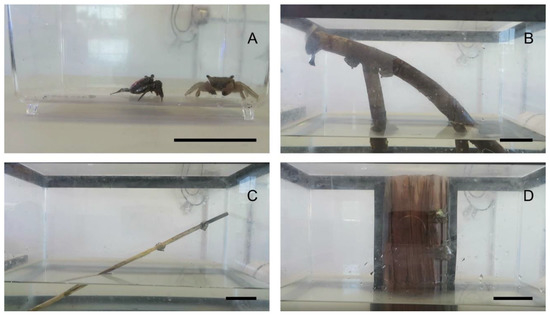 Figure 1. Representations of assays performed on (A) neutral structure, (B) mangrove structure, (C) salt marsh structure, and (D) dock structure. Scale bars represent 5 cm.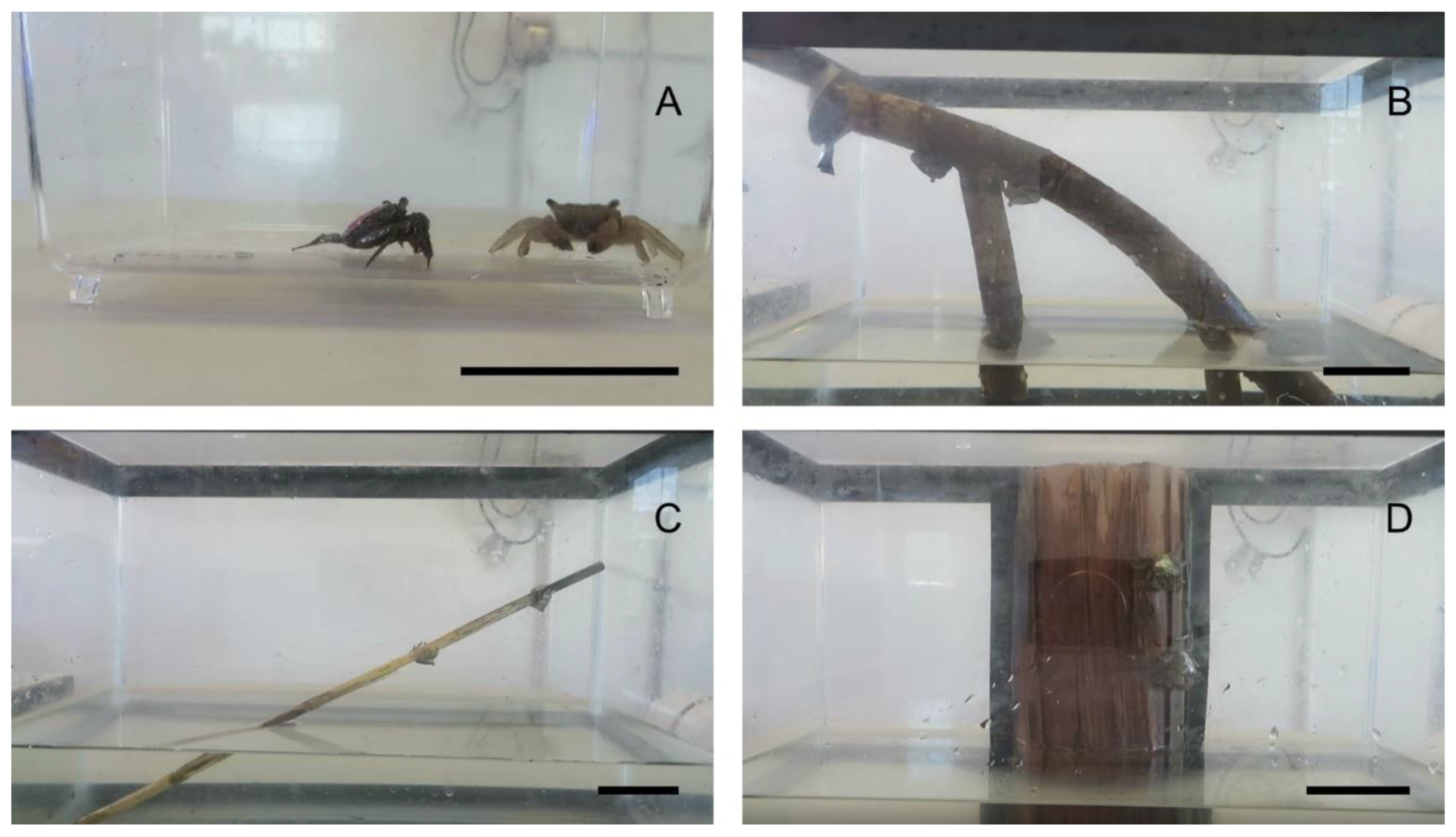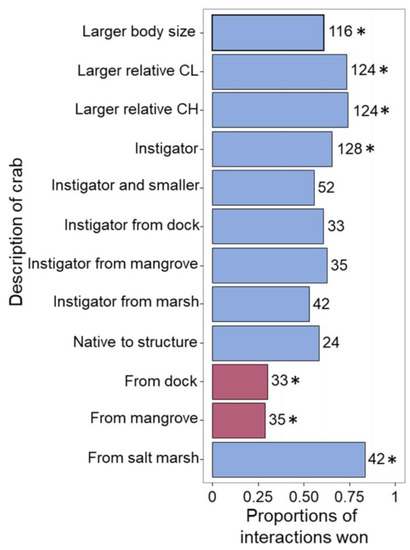 Figure 2. Proportion of interactions won by a variety of categories of competitor. Numbers represent the number of interactions examined while asterisks (*) represent significant effects (α = 0.05). Blue bars represent proportions above 0.5 while red bars represent those below 0.5.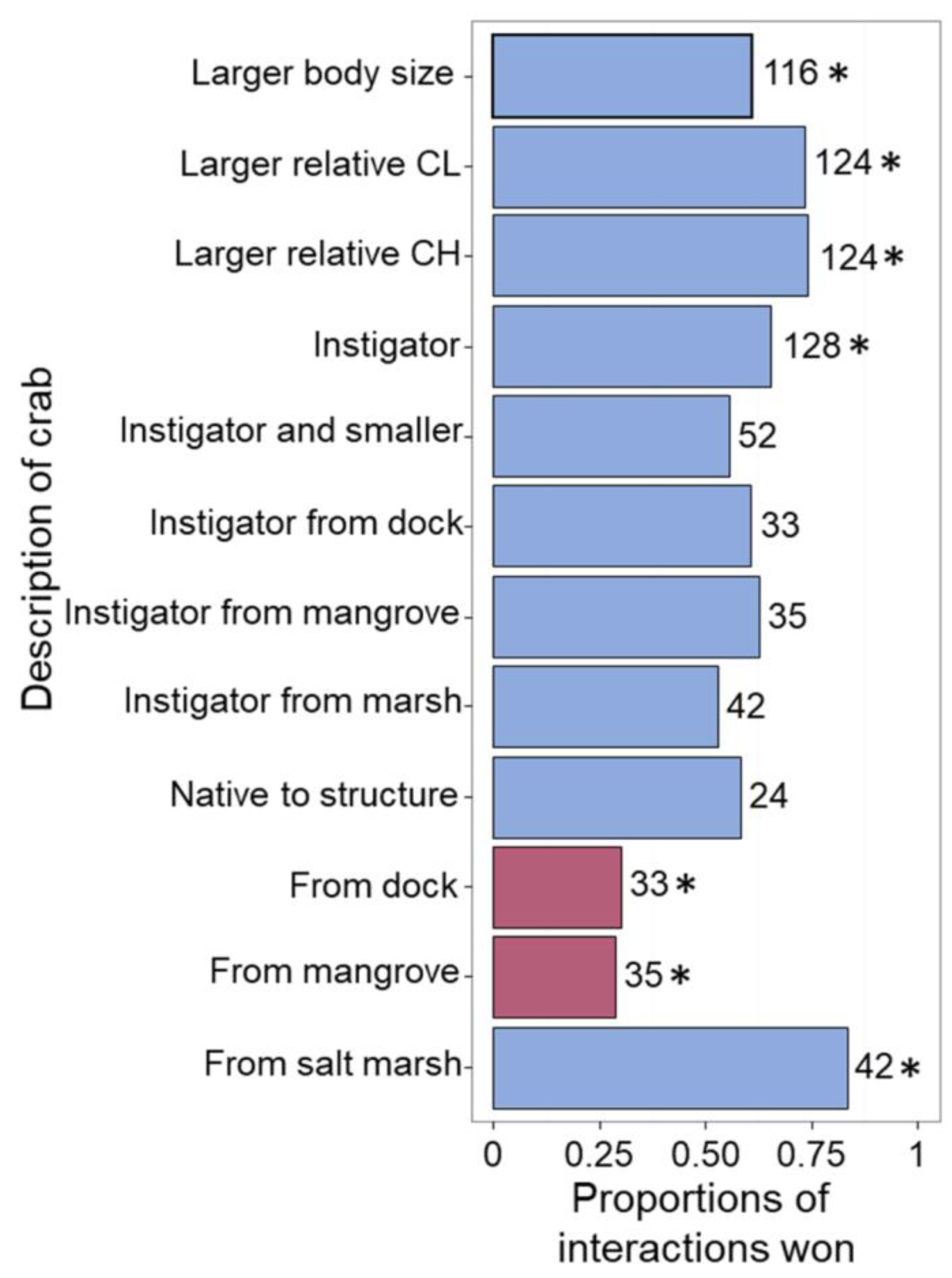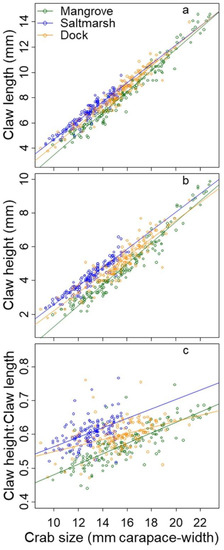 Figure 3.
Relationships between
A. pisonii
size and (
a
) claw length, (
b
) claw height, and (
c
) claw-height:claw-length ratio.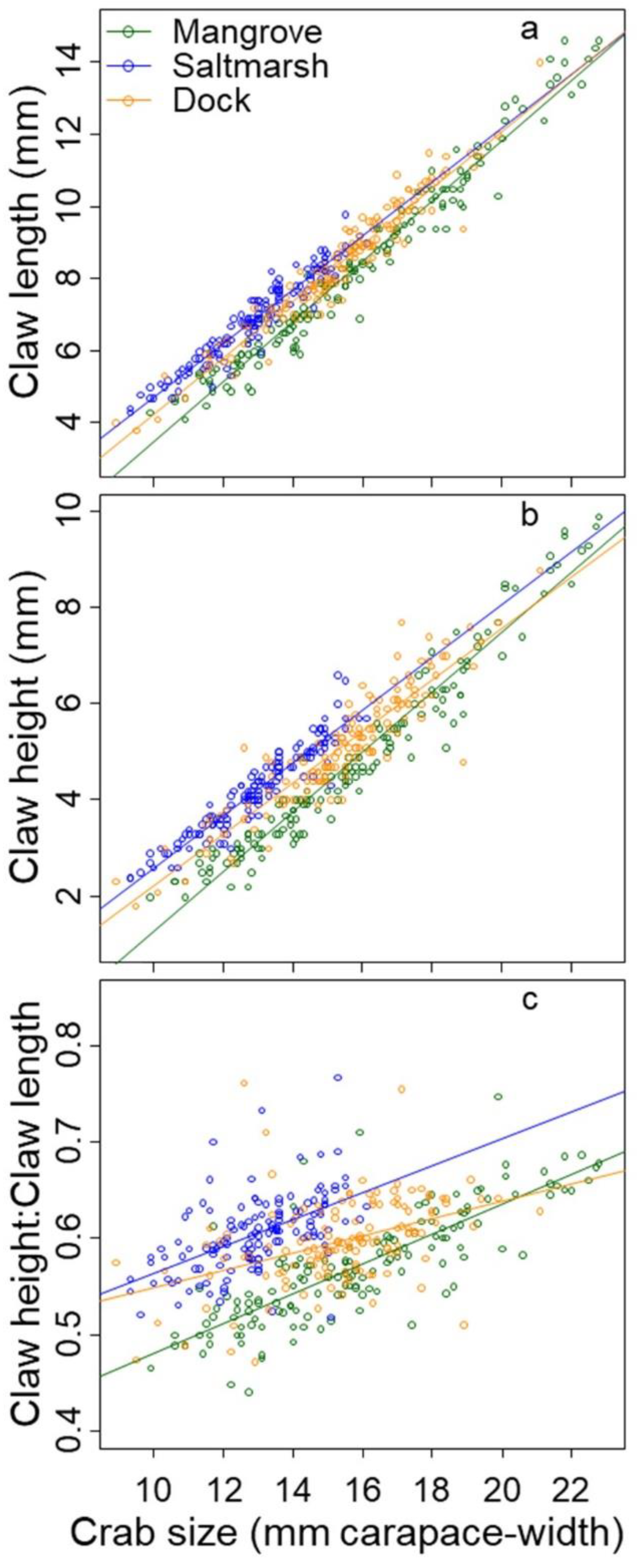 Figure 4.
Summary of the effects of foundation structure and morphology on
A. pisonii
ritualistic aggression behavior. A green arrow indicates a higher chance of winning an interaction while a red arrow indicates a lower chance of winning.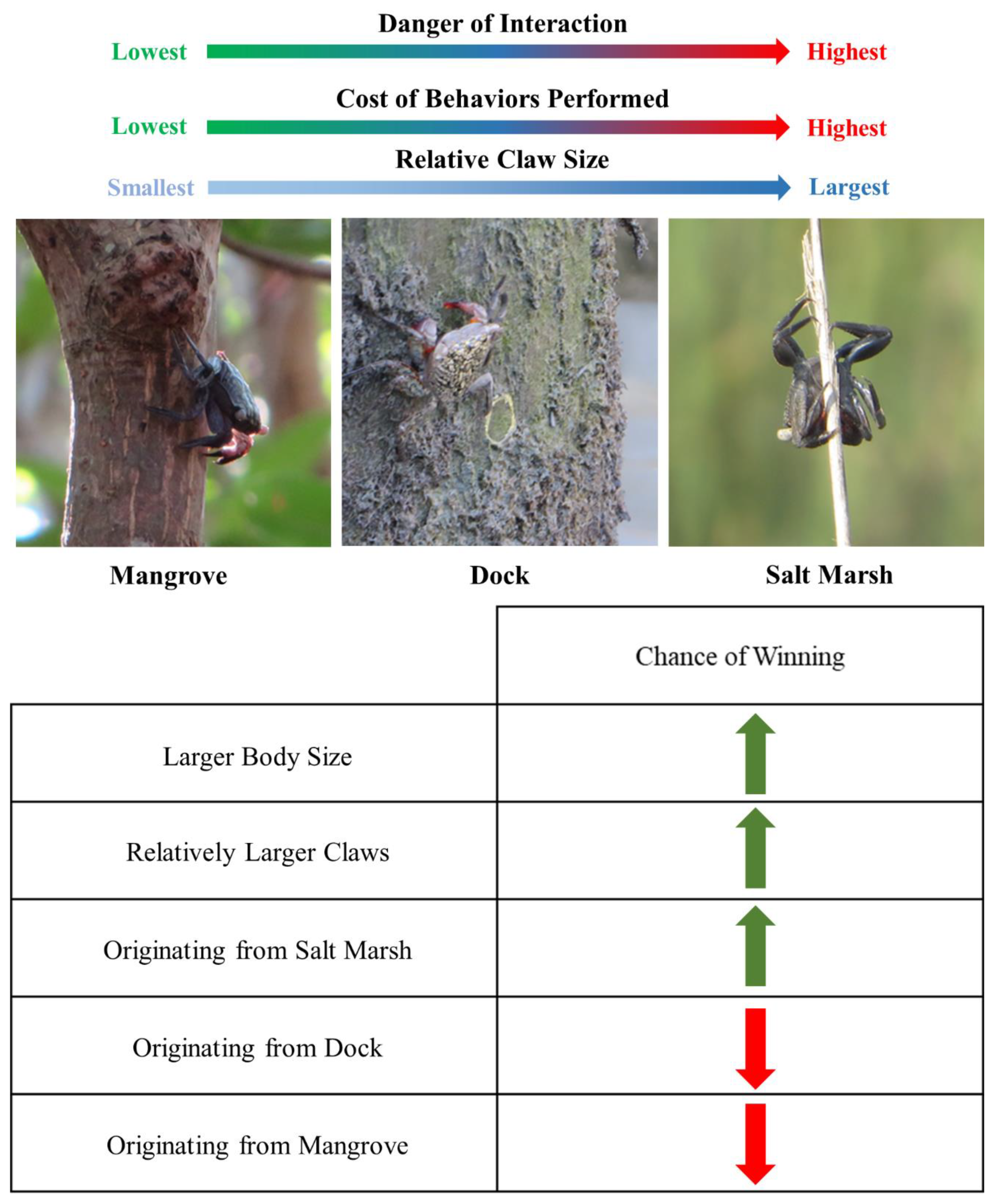 Habitat
Site
Lat-Long
Mangrove
Pepper Park
27°29′42″ N
80°18′12″ W
Mangrove
Round Island Park
27°33′33″ N
80°19′53″ W
Mangrove
Oslo Road
27°35′14″ N
80°21′55″ W
Mangrove
North Causeway
27°28′28″ N
80°19′12″ W
Salt marsh
GTM NERR
30°0′49″ N
81°20′42″ W
Salt marsh
Anastasia State Park
29°52′40″ N
81°16′32″ W
Salt marsh
Vilano Marsh
29°55′16″ N
81°17′57″ W
Dock
Palm Valley
30°07′57″ N
81°23′08″ W
Dock
Yacht Club
29°53′09″ N
81°17′08″ W
Dock
Vilano Dock
29°56′33″ N
81°18′32″ W

Table 2.
Ethogram of behaviors in the
A. pisonii
ritualized aggression progression. Adapted from [
16
].
| Behavior | Description | Progression Order | Cost-Ranking (low to high) |
| --- | --- | --- | --- |
| Shield Posture | Body held high off the substrate with claws pointed down in a shield-like manner perpendicular to structure | 1 | 1 |
| Pre-display | Vigorous vibration of claws followed by raising of claws from shield position in an arc above the crab and back to shield posture. May be repeated many times | 2 | 2 |
| Fighting | Opponents grasp chelae and push each other. A fight was considered to begin when claws touched and end when claws separated | 3 | 3 |
| Post-display | Display behavior performed by winner of interaction. May occur with or independently from chasing behavior | 4 | -- |
| Chasing | Following a retreating opponent; performed by winning competitor | 4 | -- |
| Retreating | The purposeful backing away from an opponent; performed by losing competitor | 4 | -- |
Measure of Claw Size
Habitat
Relationship to Body Size
Adjusted r2
Claw Length (CL)
Mangrove
CL = 0.832 × body_size − 4.817
0.964
Salt Marsh
CL = 0.745 × body_size − 2.717
0.916
Dock
CL = 0.781 × body_size − 3.536
0.928
Claw Height (CH)
Mangrove
CH = 0.620 × body_size − 4.932
0.947
Salt Marsh
CH = 0.545 × body_size − 2.841
0.890
Dock
CH = 0.534 × body_size − 3.123
0.836
Claw Height-Claw Length Ratio (CH:CL)
Mangrove
CH:CL = 0.015 × body_size + 0.327
0.660
Salt Marsh
CH:CL = 0.014 × body_size + 0.424
0.288
Dock
CH:CL = 0.009 × body_size + 0.458
0.173

© 2019 by the authors. Licensee MDPI, Basel, Switzerland. This article is an open access article distributed under the terms and conditions of the Creative Commons Attribution (CC BY) license (http://creativecommons.org/licenses/by/4.0/).