Open Access This article is
freely available
re-usable
Short Note
Digyaindoleacid A: 2-(1-(4-Hydroxyphenyl)-3-oxobut-1-en-2-yloxy)-3-(1
H
-indol-3-yl)propanoic Acid, a Novel Indole Alkaloid
1
Marine and Plant Research Laboratory of Ghana, Department of Chemistry, School of Physical and Mathematical Sciences, University of Ghana, P.O. Box LG 56 Legon-Accra, Ghana
2
Department of Bioengineering, Munzur University, 62000 Tunceli, Turkey
3
Department of Biochemistry, Cell and Molecular Biology, University of Ghana, P.O. Box LG 54 Legon-Accra, Ghana
4
Noguchi Memorial Institute for Medical Research (NMIMR), College of Health Sciences, University of Ghana, P.O. Box LG 581 Legon, Ghana
5
Marine Biodiscovery Centre, Department of Chemistry, University of Aberdeen, Old Aberdeen AB24 3UE, Scotland, UK
*
Author to whom correspondence should be addressed.
Received: 22 August 2019 / Accepted: 12 September 2019 / Published: 14 September 2019
Abstract
:
Digyaindoleacid A (
1
) is one of the novel alkaloids produced by the Ghanaian
Paenibacillus
sp. DE2SH (GenBank Accession Number: MH091697) isolated from the mangrove rhizosphere soils of the
Pterocarpus santalinoides
tree growing in the wetlands of the Digya National Park, Brong Ahafo Region, Ghana. This compound was isolated on HPLC at t
R
≈ 60 min and its structure determined by MS, 1D, and 2D-NMR data. When tested against
Trypanosoma brucei
subsp.
brucei
strain GUTat 3.1,
1
produced a half-maximal inhibitory concentration (IC
50
) 5.21 μM compared to the standard diminazene aceturate (IC
50
= 1.86 μM). In the presence of normal mouse macrophages RAW 264.7,
1
displayed a higher selectivity towards
T. brucei
subsp.
brucei
(selectivity indices (SI) = 30.2) with low toxicity. This result is interesting given that the drug diminazene aceturate is considerably toxic and
1
is a natural product isolate. The structure of
1
incorporates the backbone of the amino acid tryptophan which is crucial in the metabolism of
Trypanosoma brucei
subsp.
brucei
strain GUTat 3.1. It is possible that
1
, could interfere with the normal uptake and metabolism of tryptophan in the parasite. However,
1
(IC
50
= 135.41 μM) produced weak antileishmanial activity when tested against
Leishmania donovani
(Laveran and Mesnil) Ross (D10).
Keywords:
tryptophan; trypanosomiasis; antitrypanosomals; leishmaniasis; antileishmanials; cell cycle; cell viability; spectroscopy; spectrometry
Supplementary Materials
The supplementary materials are available online.
Author Contributions
K.K. and H.D. collected mangrove sediments and isolated the strain DE2SH. A.S.C. and M.C. identified the exact taxonomy of the strain. M.J. and H.D. provided access to facilities for mass spectrometry and data interpretation. K.K. performed chemical profiling to identify the major metabolite. S.K., G.M.T. and T.M. performed seed culture, large scale culture, isolation and purification of compound. K.K. measured all NMR, IR and UV, analyzed the results and integration of data to give the complete structure of the compound. A.K.D. and F.A.A. performed all the bioassay tests. K.K. wrote the article.
Funding
K.K. wishes to thank the Centre for African Wetlands (CAW), University of Ghana, for providing seed funding to enable the collection of sediments for microbe isolation and The World Academy of Sciences (TWAS) Research Grant Award_17-512 RG/CHE/AF/AC_G. K.K. is also very grateful to the Cambridge-Africa Partnership for Research Excellence (CAPREx), which is funded by the Carnegie Corporation of New York, for a postdoctoral fellowship. K.K. also appreciates the Cambridge–Africa ALBORADA Research Fund for support and the Medical Research Council (MRC)/Department for International Development (DFID) African Research Leaders MR/S00520X/1 Award. S.K. wishes to thank the Carnegie Building a New Generation of Academics (BANGA)-Africa Project Award for a PhD scholarship and M.T. is grateful for an MPhil full scholarship from the TWAS Research Grant Award_17-512 RG/CHE/AF/AC_G.
Acknowledgments
All the authors extend their gratitude to the Department of Chemistry, University of Ghana for providing the NMR facility.
Conflicts of Interest
The authors declare no conflict of interests for this article.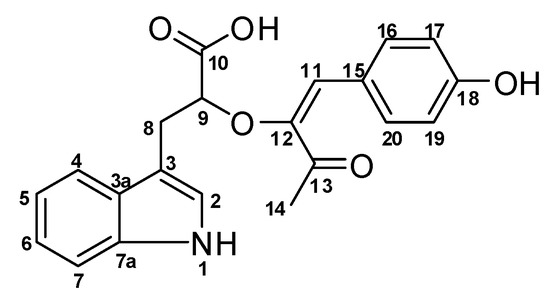 Figure 1.
Structure of 2-(1-(4-hydroxyphenyl)-3-oxobut-1-en-2-yloxy)-3-(1
H
-indol-3-yl)propanoic acid (
1
).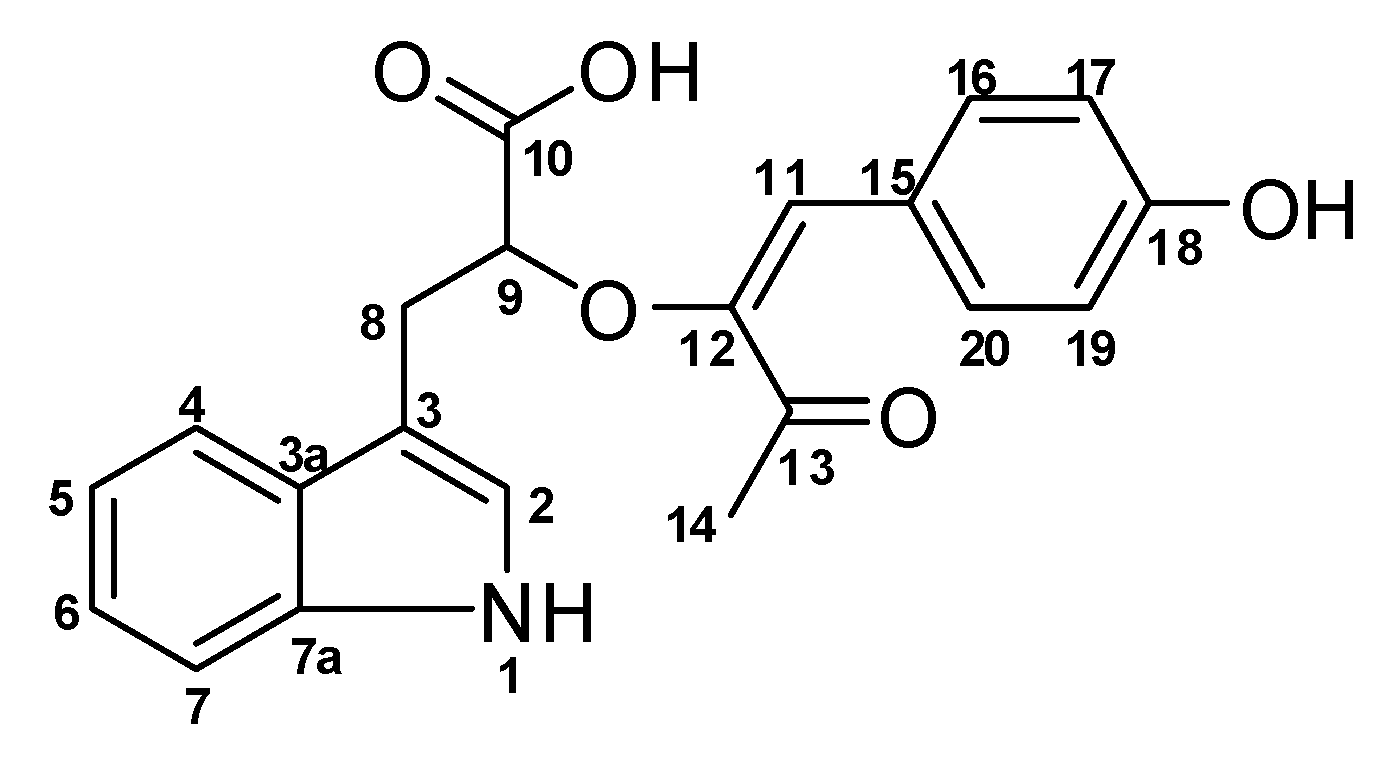 Figure 2. Key COSY and TOCSY correlations (bold lines) show all the spin systems present in compound 1.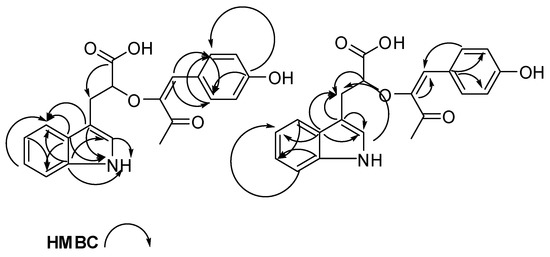 Figure 3. Key HMBC correlations (single arrows) show how the individual spin systems are connected through heteroatoms and quaternaries.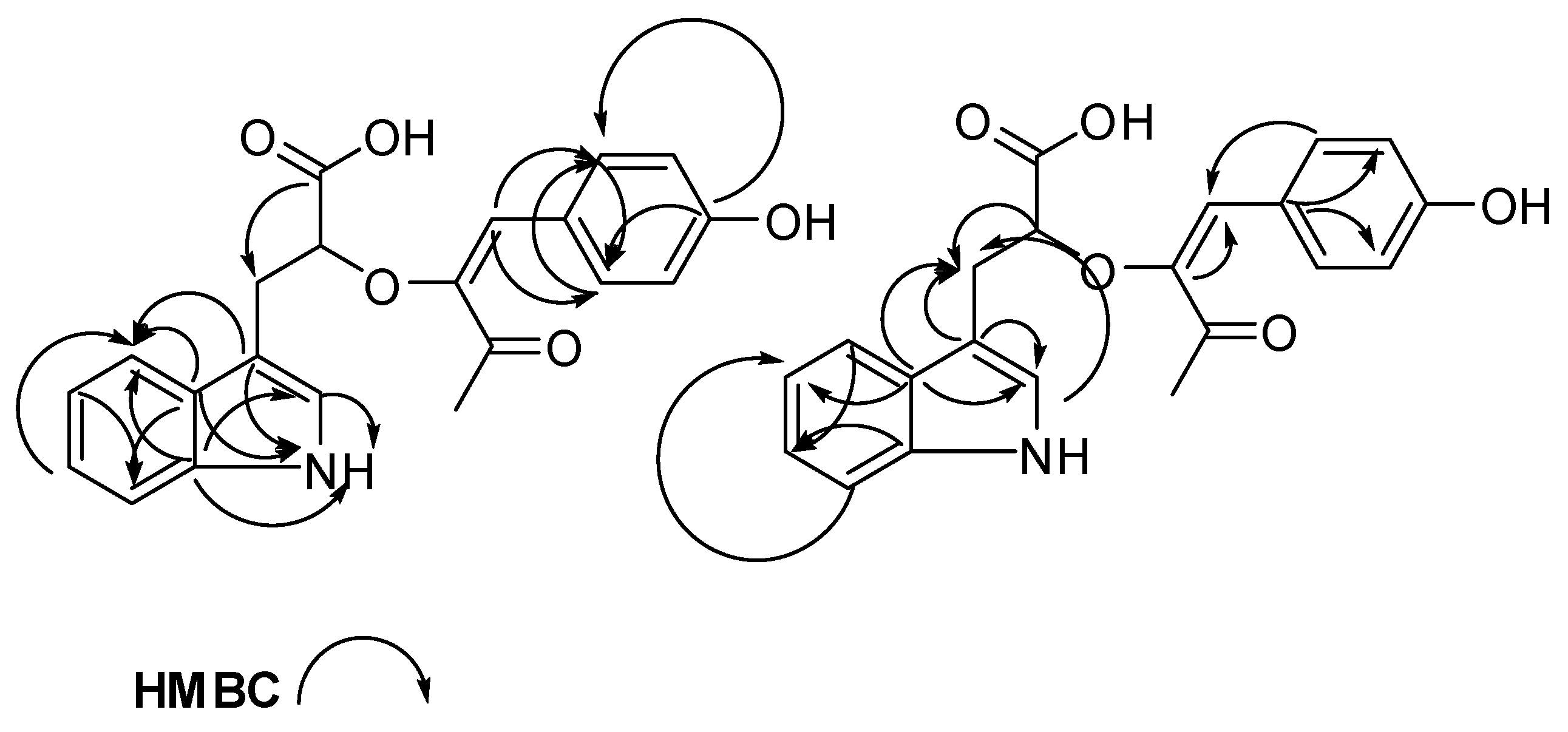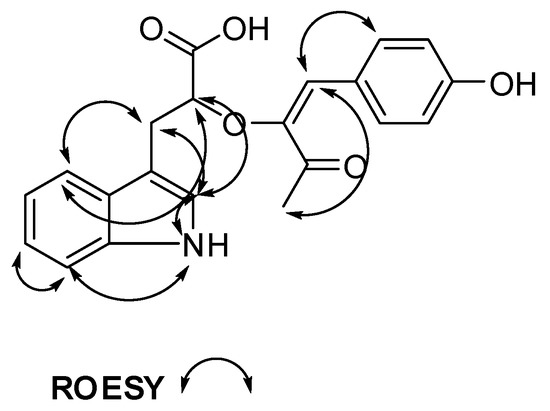 Figure 4. Key ROESY correlations (double arrows) provide further confirmation of the structure of compound 1.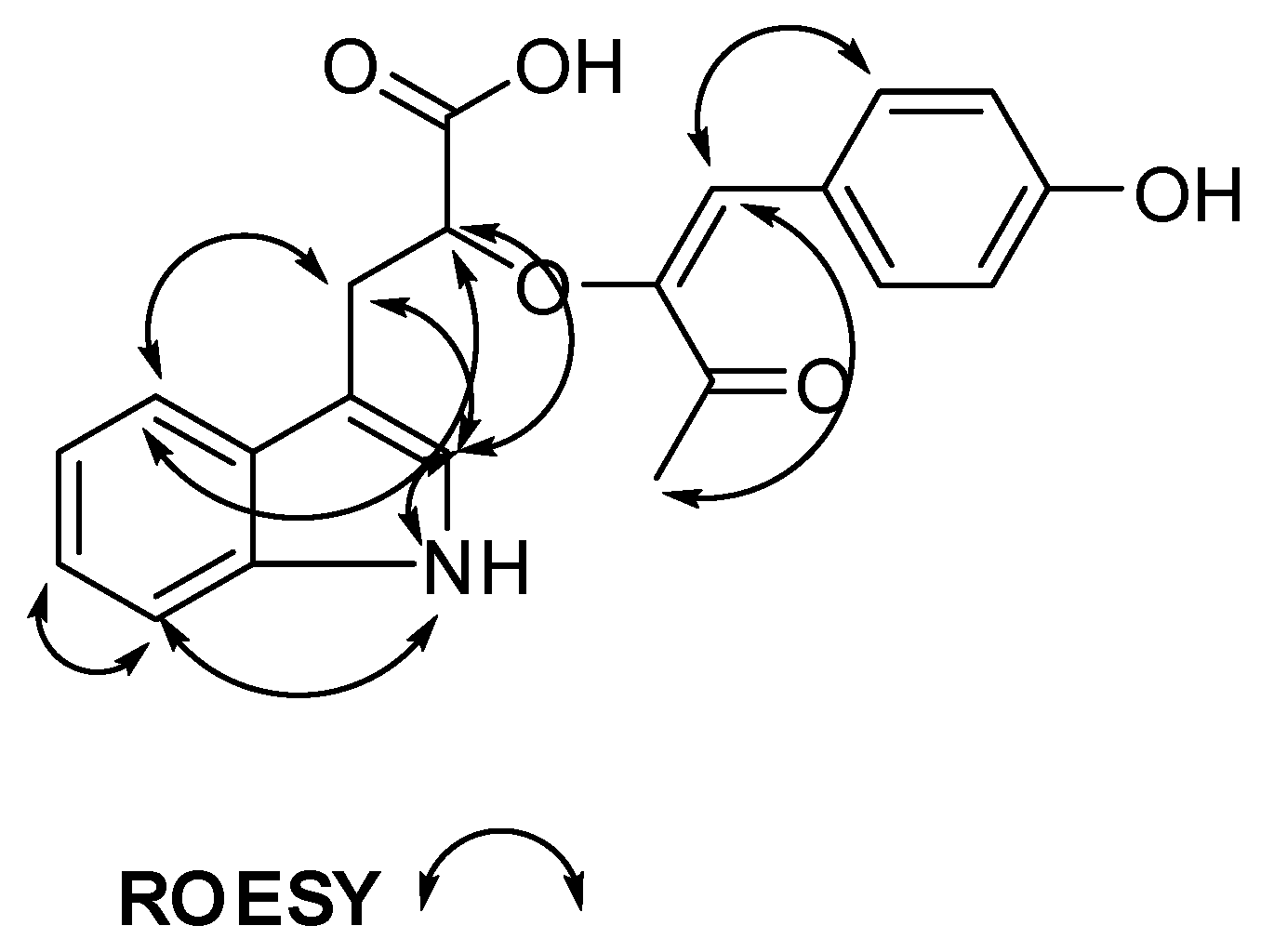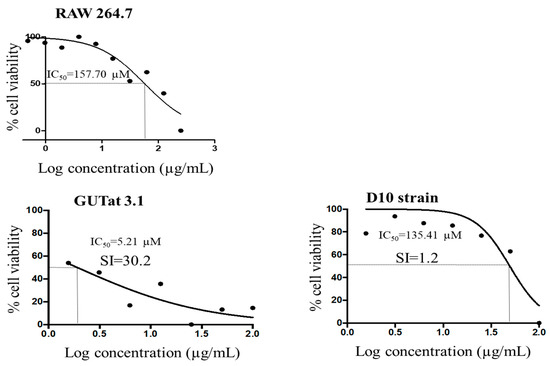 Figure 5.
Dose-response curves for compound
1
: Half-maximal inhibitory concentration (IC
50
) values were calculated from cell viability analysis in
T. brucei
subsp.
brucei
(GUTat 3.1),
Leishmania donovani
(Laveran and Mesnil) Ross (D10) and mouse macrophages (RAW 264.7). Selectivity indices (SI = 30.2, 1.2) were calculated as ratios of the IC
50
in the respective parasites to that in macrophages.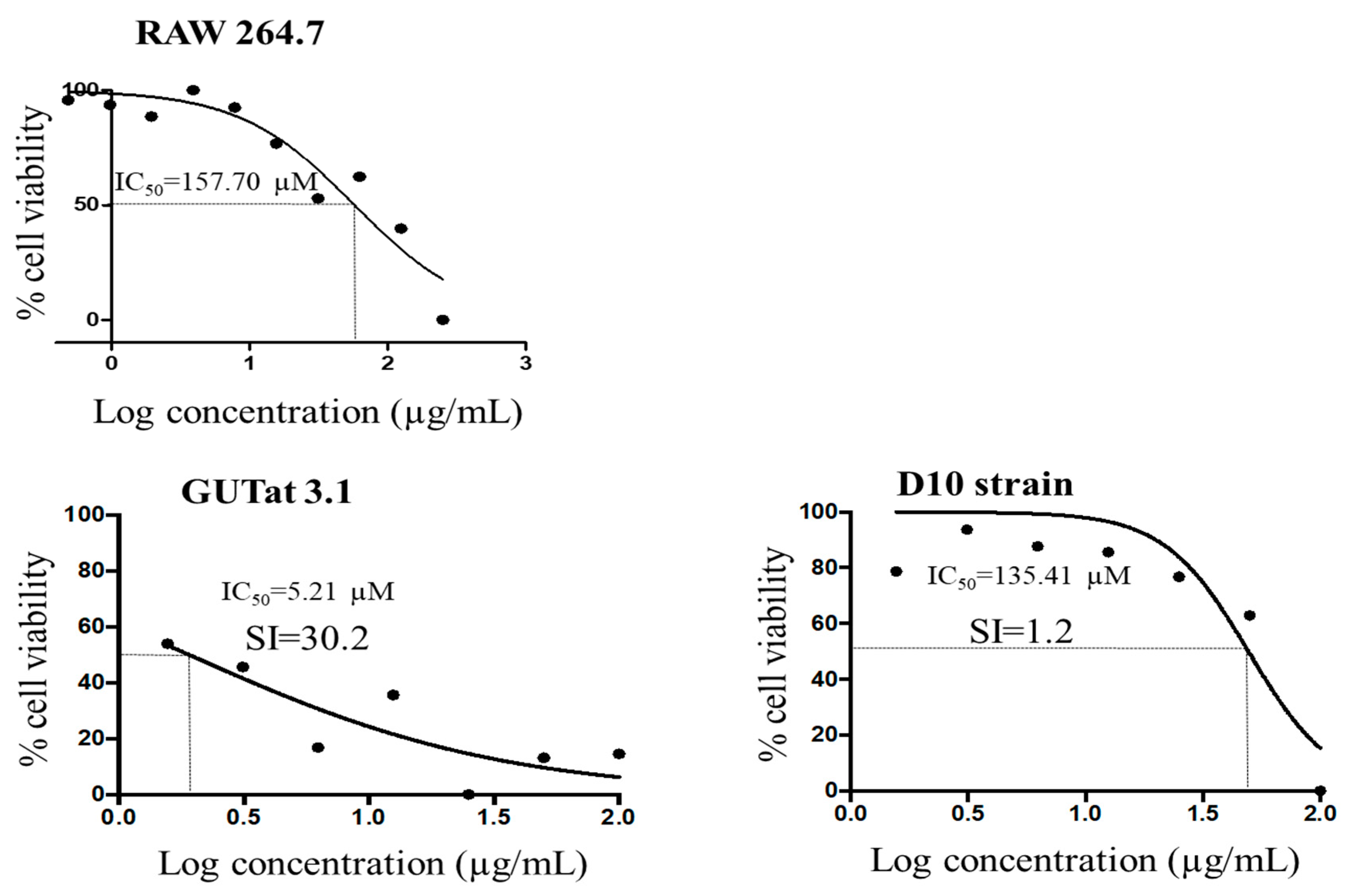 #
δC mult
δH mult (

J

Hz)
1H-1H COSY
HMBC
TOCSY
1 NH
10.67, s
2
C-2, C-3, C-3a, C-7a
2
123.1, CH
7.10, s
1NH
C-3, C-3a, C-7a
1NH
3
111.8, C
3a
127.7, C
4
118.6, CH
7.53, d (7.9)
5
C-3, C-3a, C-6, C-7a
7, 6, 5
5
117.8, CH
6.93, t (7.9)
4
C-3a, C-7
4
6
120.4, CH
7.02, t (7.9)
7
C-4, C-7a
4, 7, 5
7
110.9, CH
7.30, d (7.9)
6
C-3a, C-5
4, 6, 5
7a
135.8, C
8
30.4, CH2
3.10, m
2.73, dd (14.5, 8.4)
9
C-2, C-3, C-3a, C-9, C-10
9
9
71.4, CH
3.92, m
8
8
10
176.0, C
10 OH
4.15, br
11
114.3, CH
6.53, s
C-12, C-16, C-20, C-13
12
146.3, C
13
194.7, C
14
23.8, CH3
2.38, s
C-13
15
125.7, C
16
131.5, CH
7.69, d (8.5)
17
C-11, C-20, C-18
17
17
115.3, CH
6.77, d (8.4)
16
C-15
16
18
157.4, C
19
115.3, CH
6.77, d (8.4)
20
C-15
20
20
131.5, CH
7.69, d (8.5)
19
C-11, C-16, C-18
19

© 2019 by the authors. Licensee MDPI, Basel, Switzerland. This article is an open access article distributed under the terms and conditions of the Creative Commons Attribution (CC BY) license (http://creativecommons.org/licenses/by/4.0/).