A Ternary Nickel(II) Schiff Base Complex Containing Di-Anionic and Neutral Forms of a Dithiocarbazate Schiff Base
1
Department of Chemistry, Faculty of Science, Universiti Putra Malaysia, UPM Serdang 43400, Selangor Darul Ehsan, Malaysia
2
Discipline of Chemistry, School of Environmental and Life Sciences, University of Newcastle, University Drive, Callaghan, NSW 2308, Australia
3
Materials Synthesis and Characterization Laboratory, Institute of Advanced Technology, Universiti Putra Malaysia, Serdang 43400, Selangor, Malaysia
4
Research Centre for Crystalline Materials, School of Science and Technology, Sunway University, No. 5 Jalan Universiti, Bandar Sunway 47500, Selangor Darul Ehsan, Malaysia
*
Authors to whom correspondence should be addressed.
Received: 9 April 2019 / Revised: 18 April 2019 / Accepted: 22 April 2019 / Published: 23 April 2019
Abstract
The title Ni
II
complex, Ni(L)(LH
2
) (
1
), where LH
2
is
S
-2-methybenzyl-β-
N
-(2-hydroxy-3-methoxybenzylmethylene) dithiocarbazate, was isolated from the reaction of Ni(acetate)
2
·4H
2
O and two molar equivalents of LH
2
. The complex was characterized by elemental analysis, spectroscopy (IR and UV) as well as by a single-crystal X-ray structure determination. The nickel(II) center is coordinated within a
cis
-NOS
2
donor set that defines a square planar geometry. Three donor atoms, i.e., N, O, and S, are provided by a doubly deprotonated
S
-2-methybenzyl-β-
N
-(2-hydroxy-3-methoxybenzylmethylene) dithiocarbazate ligand while the fourth donor, i.e., a thione-S, comes from the neutral form of the dithiocarbazate ligand. In the LH
2
ligand, an intramolecular hydroxy-O-H⋯N(imine) hydrogen bond is found. There is also an intra-ligand, charge assisted amine-N-H⋯O(phenoxide) hydrogen bond. A notable feature of the molecular packing is the formation of supramolecular chains sustained by π…π stacking interactions whereby the interacting rings are the five- and six-membered chelate and methoxybenzene rings. The chains are connected into a three-dimensional architecture by methyl-C-H⋯O(methoxy), methoxy-C-H⋯S(ester), and tolyl-C-H⋯
π
(tolyl) interactions.
View Full-Text
►

▼

Figures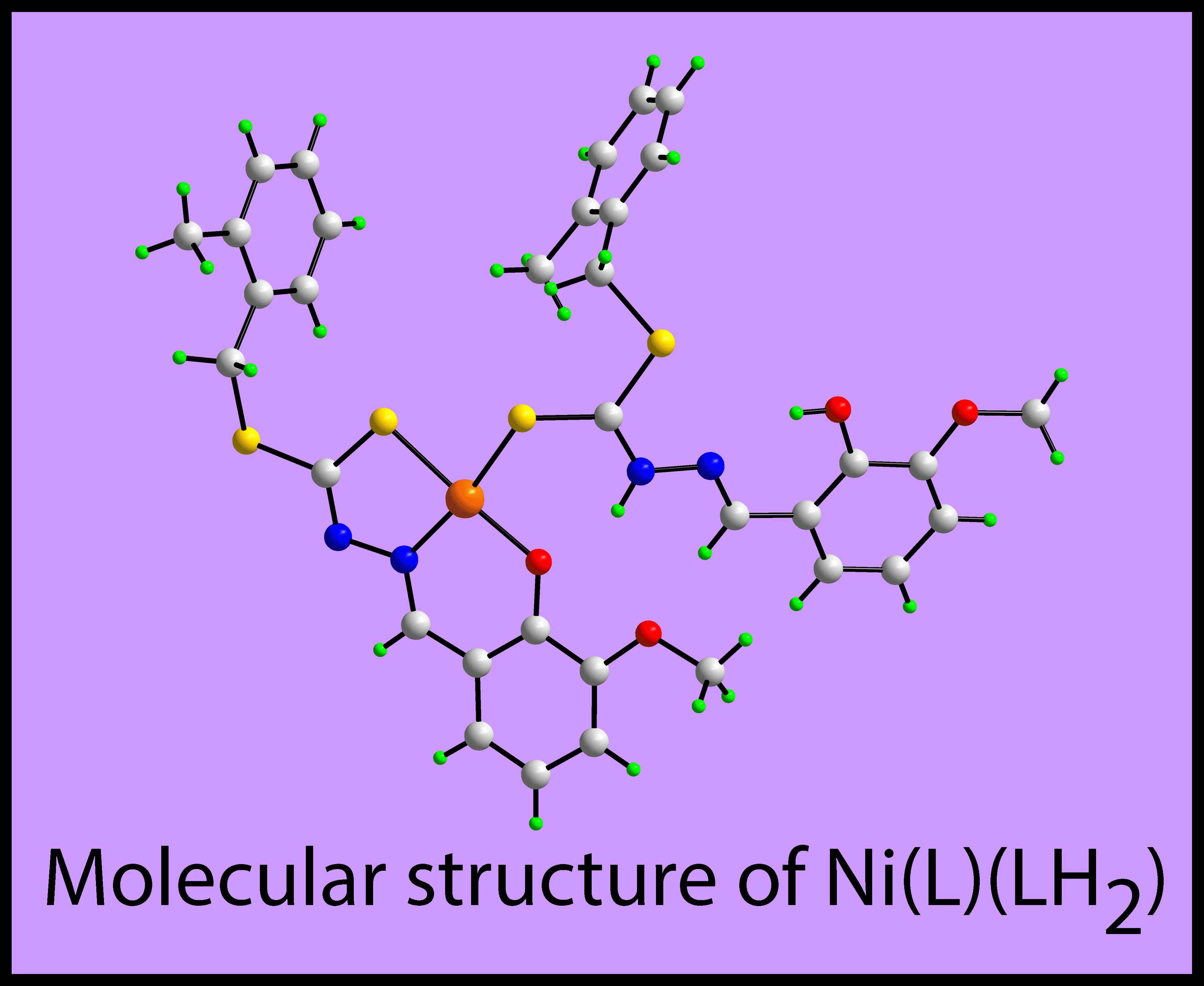 Graphical abstract
This is an open access article distributed under the
Creative Commons Attribution License
which permits unrestricted use, distribution, and reproduction in any medium, provided the original work is properly cited (CC BY 4.0).

Share & Cite This Article
MDPI and ACS Style
Yusof, E.N.M.; Nasri, N.M.; Ravoof, T.B.S.A.; Tiekink, E.R. A Ternary Nickel(II) Schiff Base Complex Containing Di-Anionic and Neutral Forms of a Dithiocarbazate Schiff Base. Molbank 2019, 2019, M1057.
Note that from the first issue of 2016, MDPI journals use article numbers instead of page numbers. See further details here.
Related Articles
Comments
[Return to top]