Revisiting Histone Deacetylases in Human Tumorigenesis: The Paradigm of Urothelial Bladder Cancer
1
Section of Cell Biology and Biophysics, Department of Biology, School of Science, National and Kapodistrian University of Athens, 15701 Athens, Greece
2
Harvard Medical School, Massachusetts General Hospital Cancer Center, Charlestown, Boston, MA 021004, USA
3
Section of Biochemistry and Molecular Biology, Department of Biology, School of Science, National and Kapodistrian University of Athens, 15701 Athens, Greece
4
Center of Basic Research, Biomedical Research Foundation of the Academy of Athens, 11527 Athens, Greece
5
Division of Pharmaceutical Chemistry, Department of Pharmacy, National and Kapodistrian University of Athens, 15701 Athens, Greece
6
Laboratory of Molecular Carcinogenesis and Rare Disease Genetics, Institute of Biosciences and Applications, National Center for Scientific Research "Demokritos", 15310 Athens, Greece
*
Author to whom correspondence should be addressed.
†
These authors contributed equally to this work.
Received: 6 February 2019 / Revised: 7 March 2019 / Accepted: 8 March 2019 / Published: 14 March 2019
Abstract
Urinary bladder cancer is a common malignancy, being characterized by substantial patient mortality and management cost. Its high somatic-mutation frequency and molecular heterogeneity usually renders tumors refractory to the applied regimens. Hitherto, methotrexate-vinblastine-adriamycin-cisplatin and gemcitabine-cisplatin represent the backbone of systemic chemotherapy. However, despite the initial chemosensitivity, the majority of treated patients will eventually develop chemoresistance, which severely reduces their survival expectancy. Since chromatin regulation genes are more frequently mutated in muscle-invasive bladder cancer, as compared to other epithelial tumors, targeted therapies against chromatin aberrations in chemoresistant clones may prove beneficial for the disease. "Acetyl-chromatin" homeostasis is regulated by the opposing functions of histone acetyltransferases (HATs) and histone deacetylases (HDACs). The HDAC/SIRT (super-)family contains 18 members, which are divided in five classes, with each family member being differentially expressed in normal urinary bladder tissues. Since a strong association between irregular HDAC expression/activity and tumorigenesis has been previously demonstrated, we herein attempt to review the accumulated published evidences that implicate HDACs/SIRTs as critical regulators in urothelial bladder cancer. Moreover, the most extensively investigated HDAC inhibitors (HDACis) are also analyzed, and the respective clinical trials are also described. Interestingly, it seems that HDACis should be preferably used in drug-combination therapeutic schemes, including radiation.
View Full-Text
►

▼

Figures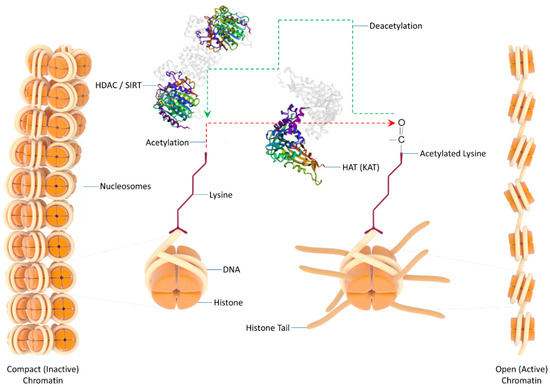 Figure 1
This is an open access article distributed under the
Creative Commons Attribution License
which permits unrestricted use, distribution, and reproduction in any medium, provided the original work is properly cited (CC BY 4.0).

Share & Cite This Article
MDPI and ACS Style
Giannopoulou, A.F.; Velentzas, A.D.; Konstantakou, E.G.; Avgeris, M.; Katarachia, S.A.; Papandreou, N.C.; Kalavros, N.I.; Mpakou, V.E.; Iconomidou, V.; Anastasiadou, E.; Kostakis, I.K.; Papassideri, I.S.; Voutsinas, G.E.; Scorilas, A.; Stravopodis, D.J. Revisiting Histone Deacetylases in Human Tumorigenesis: The Paradigm of Urothelial Bladder Cancer. Int. J. Mol. Sci. 2019, 20, 1291.
Note that from the first issue of 2016, MDPI journals use article numbers instead of page numbers. See further details here.
Related Articles
Comments
[Return to top]