Pericytes as a Source of Osteogenic Cells in Bone Fracture Healing
1
Department of Physiology and Cell Biology, Tokyo Medical and Dental University, Graduate School, Tokyo 113-8519, Japan
2
Department of Biochemistry and Biophysics, Tokyo Medical and Dental University, Graduate School, Tokyo 113-8510, Japan
3
Division of Carcinogenesis, The Cancer Institute, Japanese Foundation for Cancer Research (JFCR), Tokyo 135-8550, Japan
4
Department of Orthopaedic Surgery, Tokyo Medical and Dental University, Graduate School, Tokyo 113-8519, Japan
5
Division of Endocrinology, Toranomon Hospital Endocrine Center, Tokyo 105-8470, Japan
*
Author to whom correspondence should be addressed.
Received: 17 December 2018 / Revised: 25 January 2019 / Accepted: 25 February 2019 / Published: 2 March 2019
Abstract
Pericytes are mesenchymal cells that surround the endothelial cells of small vessels in various organs. These cells express several markers, such as NG2, CD146, and PDGFRβ, and play an important role in the stabilization and maturation of blood vessels. It was also recently revealed that like mesenchymal stem cells (MSCs), pericytes possess multilineage differentiation capacity, especially myogenic, adipogenic, and fibrogenic differentiation capacities. Although some previous studies have reported that pericytes also have osteogenic potential, the osteogenesis of pericytes can still be further elucidated. In the present study, we established novel methods for isolating and culturing primary murine pericytes. An immortalized pericyte line was also established. Multilineage induction of the pericyte line induced osteogenesis, adipogenesis, and chondrogenesis of the cells in vitro. In addition, pericytes that were injected into the fracture site of a bone fracture mouse model contributed to callus formation. Furthermore, in vivo pericyte-lineage-tracing studies demonstrated that endogenous pericytes also differentiate into osteoblasts and osteocytes and contribute to bone fracture healing as a cellular source of osteogenic cells. Pericytes can be a promising therapeutic candidate for treating bone fractures with a delayed union or nonunion as well as bone diseases causing bone defects.
View Full-Text
►

▼

Figures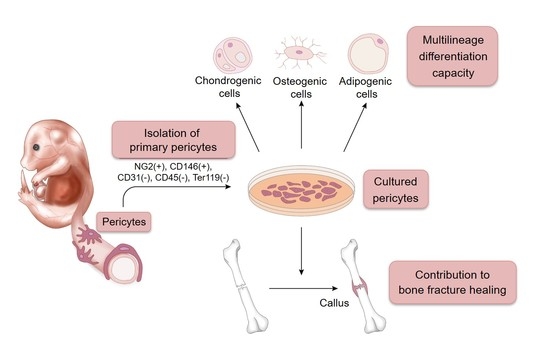 Graphical abstract
This is an open access article distributed under the
Creative Commons Attribution License
which permits unrestricted use, distribution, and reproduction in any medium, provided the original work is properly cited (CC BY 4.0).

Share & Cite This Article
MDPI and ACS Style
Supakul, S.; Yao, K.; Ochi, H.; Shimada, T.; Hashimoto, K.; Sunamura, S.; Mabuchi, Y.; Tanaka, M.; Akazawa, C.; Nakamura, T.; Okawa, A.; Takeda, S.; Sato, S. Pericytes as a Source of Osteogenic Cells in Bone Fracture Healing. Int. J. Mol. Sci. 2019, 20, 1079.
Note that from the first issue of 2016, MDPI journals use article numbers instead of page numbers. See further details here.
Related Articles
Comments
[Return to top]