Cell Metabolism Control Through O-GlcNAcylation of STAT5: A Full or Empty Fuel Tank Makes a Big Difference for Cancer Cell Growth and Survival
1
Institute of Animal Breeding and Genetics, University of Veterinary Medicine Vienna, 1210 Vienna, Austria
2
Ludwig Boltzmann Institute for Cancer Research, 1090 Vienna, Austria
3
Biolution GmbH, 1030 Vienna, Austria
4
Key Laboratory of Human Disease Comparative Medicine, the Ministry of Health, Institute of Laboratory Animal Sciences (ILAS), Beijing 100730, China
5
Chinese Academy of Medical Science (CAMS) and Peking Union Medical College (PUMC), Beijing 100006, China
6
Division of Gastroenterology, Hepatology and Nutrition, Cincinnati Children's Hospital Medical Center (CCHMC), Cincinnati, OH 45229-3026, USA
7
Department of Integrative Biology and Physiology, University of Minnesota Medical School, Minneapolis, MN 55455, USA
8
Medical University Vienna, Vienna 1090, Austria
*
Author to whom correspondence should be addressed.
Received: 31 January 2019 / Revised: 21 February 2019 / Accepted: 22 February 2019 / Published: 27 February 2019
Abstract
O-GlcNAcylation is a post-translational modification that influences tyrosine phosphorylation in healthy and malignant cells. O-GlcNAc is a product of the hexosamine biosynthetic pathway, a side pathway of glucose metabolism. It is essential for cell survival and proper gene regulation, mirroring the metabolic status of a cell. STAT3 and STAT5 proteins are essential transcription factors that can act in a mutational context-dependent manner as oncogenes or tumor suppressors. They regulate gene expression for vital processes such as cell differentiation, survival, or growth, and are also critically involved in metabolic control. The role of STAT3/5 proteins in metabolic processes is partly independent of their transcriptional regulatory role, but is still poorly understood. Interestingly, STAT3 and STAT5 are modified by O-GlcNAc in response to the metabolic status of the cell. Here, we discuss and summarize evidence of O-GlcNAcylation-regulating STAT function, focusing in particular on hyperactive STAT5A transplant studies in the hematopoietic system. We emphasize that a single O-GlcNAc modification is essential to promote development of neoplastic cell growth through enhancing STAT5A tyrosine phosphorylation. Inhibition of O-GlcNAcylation of STAT5A on threonine 92 lowers tyrosine phosphorylation of oncogenic STAT5A and ablates malignant transformation. We conclude on strategies for new therapeutic options to block O-GlcNAcylation in combination with tyrosine kinase inhibitors to target neoplastic cancer cell growth and survival.
View Full-Text
►

▼

Figures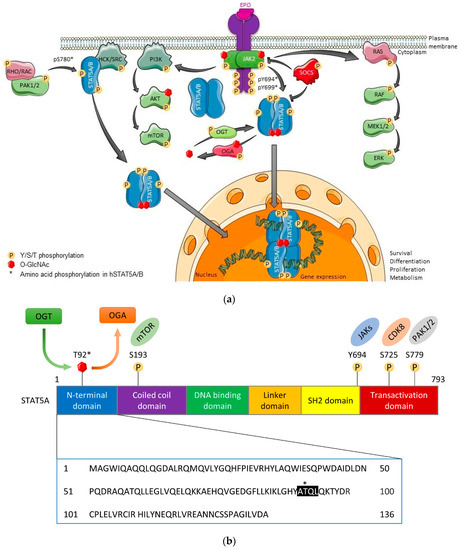 Figure 1
This is an open access article distributed under the
Creative Commons Attribution License
which permits unrestricted use, distribution, and reproduction in any medium, provided the original work is properly cited (CC BY 4.0).

Share & Cite This Article
MDPI and ACS Style
Rauth, M.; Freund, P.; Orlova, A.; Grünert, S.; Tasic, N.; Han, X.; Ruan, H.-B.; Neubauer, H.A.; Moriggl, R. Cell Metabolism Control Through O-GlcNAcylation of STAT5: A Full or Empty Fuel Tank Makes a Big Difference for Cancer Cell Growth and Survival. Int. J. Mol. Sci. 2019, 20, 1028.
Note that from the first issue of 2016, MDPI journals use article numbers instead of page numbers. See further details here.
Related Articles
Comments
[Return to top]