Open Access This article is
freely available
re-usable
Review
Exosomes and the Future of Immunotherapy in Pancreatic Cancer
1
Instituto de Investigação e Inovação em Saúde, Universidade do Porto, Portugal (i3S), 4200-135 Porto, Portugal
2
Institute of Molecular Pathology & Immunology of the University of Porto (IPATIMUP), 4200-135 Porto, Portugal
3
Medical Faculty of the University of Porto (FMUP), 4200-319 Porto, Portugal
*
Author to whom correspondence should be addressed.
Received: 16 January 2019 / Accepted: 25 January 2019 / Published: 29 January 2019
Abstract
:
Pancreatic ductal adenocarcinoma (PDAC) is a devastating disease, associated with a late diagnosis and a five-year survival rate of 8%. Currently available treatments fall short in improving the survival and quality of life of PDAC patients. The only possible curative option is still the surgical resection of the tumor. Exosomes are extracellular vesicles secreted by cells that transport proteins, lipids, and nucleic acids to other cells, triggering phenotypic changes in the recipient cells. Tumor cells often secrete increased amounts of exosomes. Tumor exosomes are now accepted as important players in the remodeling of PDAC tumor stroma, particularly in the establishment of an immunosuppressive microenvironment. This has sparked the interest in their usefulness as mediators of immunomodulatory effects for the treatment of PDAC. In fact, exosomes are now under study to understand their potential as nanocarriers to stimulate an immune response against cancer. This review highlights the latest findings regarding the function of exosomes in tumor-driven immunomodulation, and the challenges and advantages associated with the use of these vesicles to potentiate immunotherapy in PDAC.
Keywords:
pancreatic cancer; exosomes; immunotherapy
Funding
The laboratory is supported by FEDER—Fundo Europeu de Desenvolvimento Regional funds through the COMPETE 2020—Operacional Programme for Competitiveness and Internationalization (POCI), Portugal 2020, and by FCT—Fundacao para a Ciencia e a Tecnologia/Ministerio da Ciencia, Tecnologia e Inovacao in the framework of the projects "Institute for Research and Innovation in Health Sciences" POCI-01-0145-FEDER-007274 and POCI-01-0145-FEDER-32189; and by Norte Portugal Regional Programme (NORTE 2020), under the PORTUGAL 2020 Partnership Agreement, through the European Regional Development Fund (ERDF), in the framework of the project NORTE- 01-0145-FEDER-000029; and Fundacao AstraZeneca 2017 FAZ Ciencia Award. SM is supported by FCT (IF/00543/2013).
Conflicts of Interest
S.A.M. has ownership interests (patents). No potential conflicts of interest were disclosed by the other author.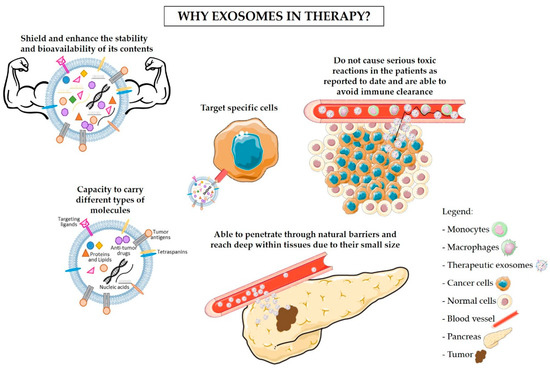 Figure 1. Advantages of using exosomes in therapy. Exosomes are natural carriers of proteins, lipids, and nucleic acids, being crucial for the communication between cells. Therefore, exosomes-based therapy is a promising approach for the treatment of cancer since exosomes can carry and deliver anti-cancer and immunomodulatory drugs, tumor antigens, and siRNA molecules to specifically target cancer cells without causing serious toxic reactions. Exosomes can be produced using the patient's own cells to prevent the occurrence of an immune reaction to the carriers. Moreover, exosomes act as a shield, protecting their contents from being degraded before reaching the target cells. Their small size also enables them to penetrate through natural barriers and reach deep within tissues.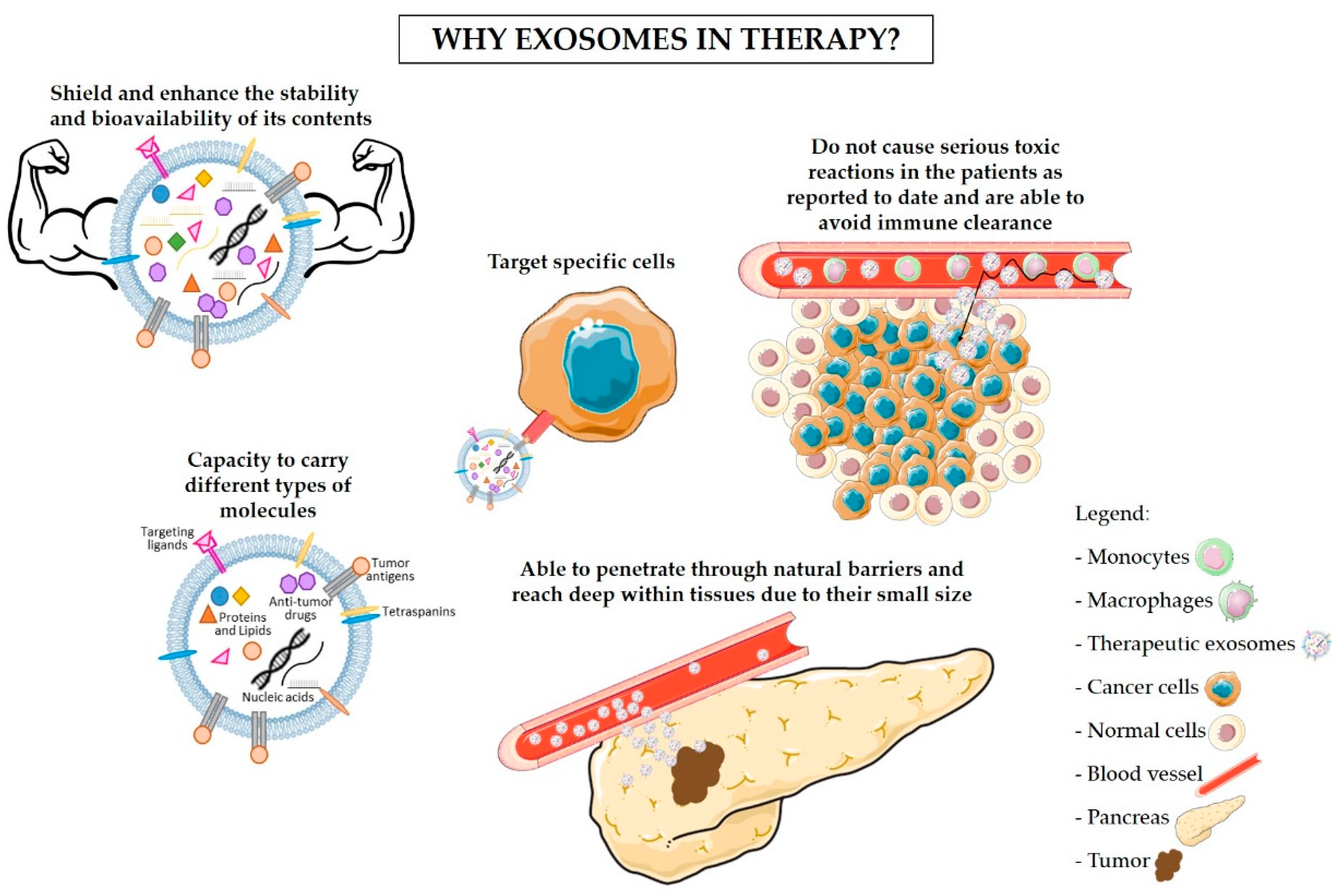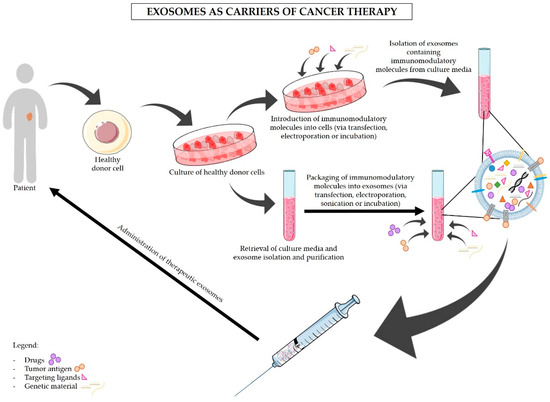 Figure 2. Exosomes as carriers of cancer therapy. Exosomes are potential tools for the delivery of chemotherapy, antigens, and immunotherapy drugs to cancer cells. These exosomes can be isolated from the patient's own cells, bioengineered to carry specific anti-cancer drugs, tumor-specific antigens, targeting ligands, or genetic material and then administered in the form of exosome-based anti-cancer vaccines. Black arrows are indicative of the work flow for exosomes manipulation and isolation necessary for their use in cancer therapy.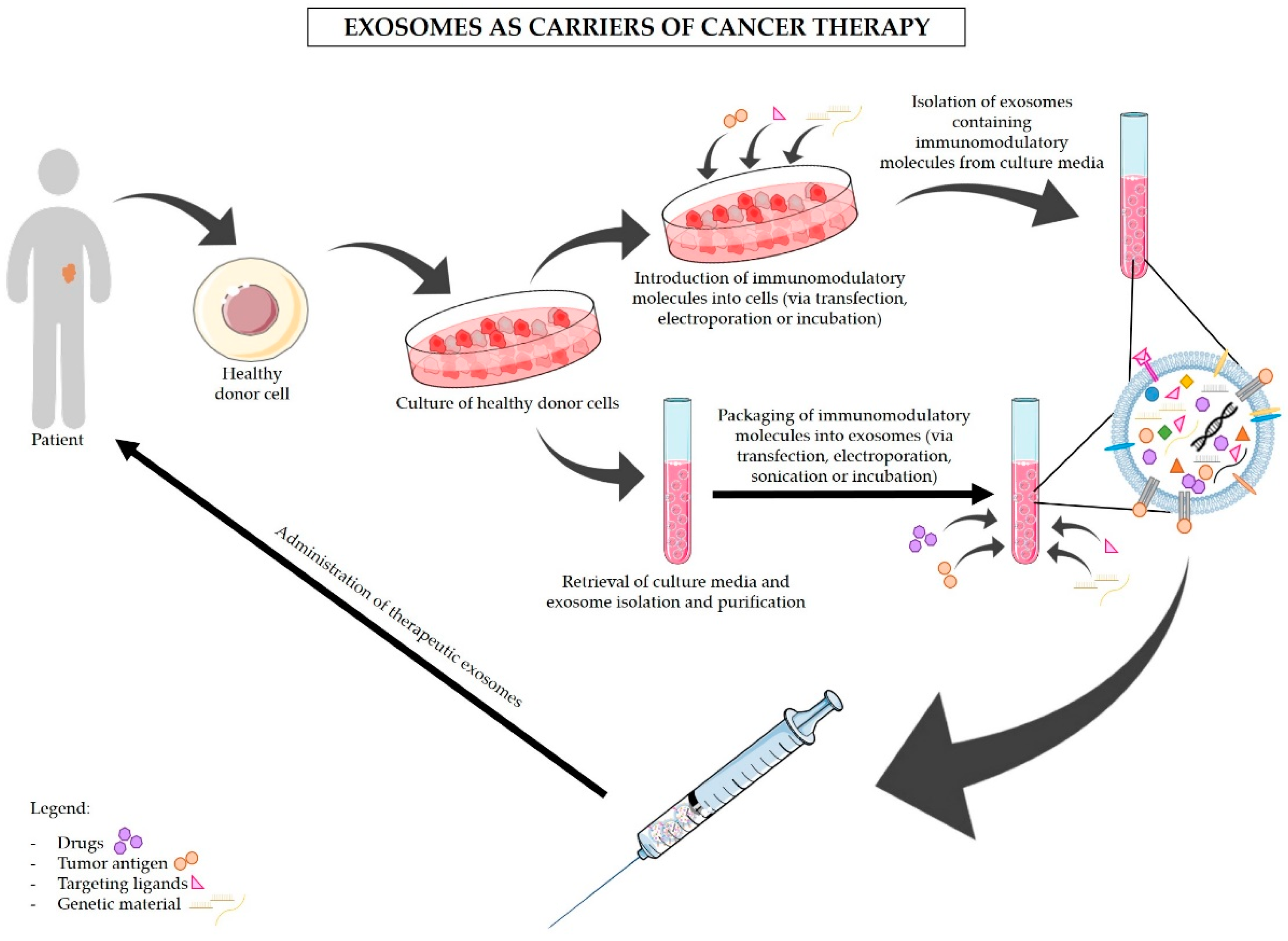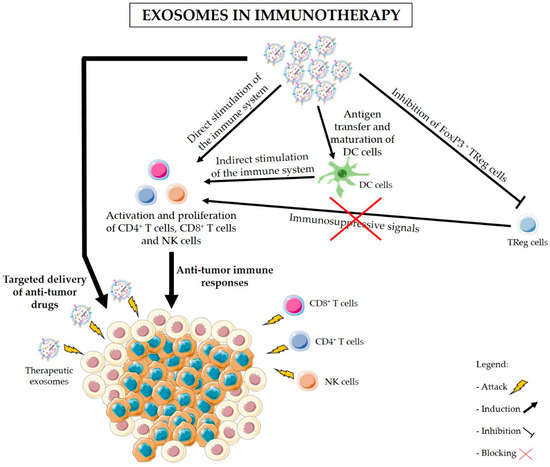 Figure 3. Exosomes in immunotherapy. In addition to exosome-mediated delivery of anti-cancer drugs to target cancer cells, exosomes can be used in immunotherapy to achieve a sustained and specific immune response against cancer cells. Exosomes can present tumor antigens to dendritic cells (DC cells) and promote DC maturation. Mature DCs can then stimulate the activation of cytotoxic T cells and natural killer (NK) cells to kill cancer cells expressing those antigens. T cells and NK cells can also be directly stimulated by exosomes. Nevertheless, tumors possess a characteristic immunosuppressive microenvironment which inhibits the infiltration and activation of T cells or NK cells and, thus, protecting cancer cells against immune attacks. Hence, the use of exosomes-based therapy to inhibit regulatory T cells (TReg cells) and block immunosuppressive signals to T cells also represents a prospective approach in cancer immunotherapy. The combination of immunostimulatory drugs with the inhibition of immunosuppression by TReg cells might be the key for the effective treatment of PDAC.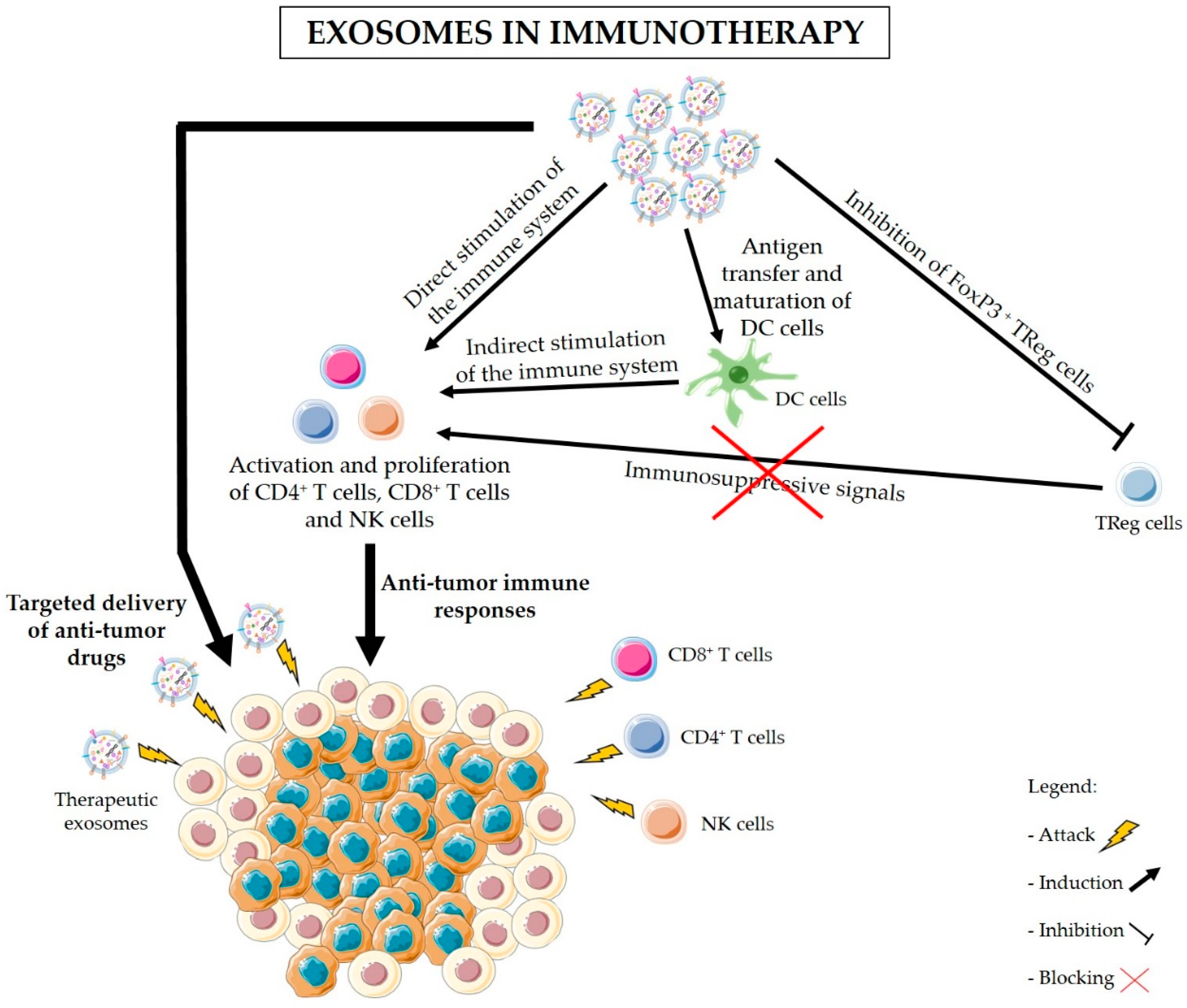 Function in Cancer
Specific Role
References
Help Tumor Cells to Evade the Immune System
Activate NK cells
[55]
Prevent DC antigen presentation
[57,59]
Favor an immunosuppressive phenotype in macrophages
[67]
Induce differentiation of myeloid cells towards MDSCs
[70]
Induce proliferation of TReg cells
[60]
Prevent proliferation and activation of effector T cells
[62,64]
Drive Tumor Development and Progression
Induce tumor growth and transformation and inhibit cancer cell death
[75,76,77,78]
Stimulate angiogenesis
[51,79]
Contribute to drug resistance
[80,81]
Extracellular matrix remodeling
[82,83]
Promote EMT
[84,85]
Induce metabolic reprograming
[86]
Promote metastasis
Educate the cells and trigger inflammatory responses at the metastatic site
[71,72]
Promote the recruitment of suppressive immune cells to promote the formation of a pre-metastatic niche
[71,72,73,74]
Abbreviations: dendritic cells, DCs; epithelial–mesenchymal transition, EMT; myeloid-derived suppressor cells, MDSCs; natural killer cells, NK cells; regulatory T cells, TReg cells.
Treatment Options
Cell of Origin
Type of Modification/Effect
Research
Main Findings
Ref
Delivery of immuno-stimulatory molecules
Small molecules
Reticulocytes
Incubation of exosomal solution with doxorubicin
Delivery of doxorubicin to tumor cells via exosomes anchored to superparamagnetic nanoparticles
Doxorubicin was more effectively delivered to tumor cells via exosomes which were anchored to superparamagnetic nanoparticles; mice inoculated subcutaneously with H22 hepatocarcinoma cells presented decreased tumor growth when treated with these exosomes.
[101]
Murine macrophages (i.e., RAW 264.7 cell line)
Sonication to load paclitaxel into exosomes
Study the efficacy of paclitaxel for the treatment of multiple drug resistant cancers when delivered via exosomes
Exosomes-delivered paclitaxel successfully reached tumor cells and inhibited the growth of pulmonary metastases in vivo (in mice injected via intra-tail vein with 3LL-M27 cells).
[124]
Antibodies and antigens
Monocyte-derived, IFNγ-maturated DCs
Passive intracellular sorting of MHC molecules
Presentation of cancer antigens to cytotoxic immune cells via MHC-I and MHC-II expressed on the surface of DC-derived exosomes
Exosomes derived from IFNγ-maturated DCs stimulate the activation of NK cells, but not T cells; such effect is sufficient to improve the rate of progression-free survival in unresectable non-small cell lung cancer patients. However, these DC-derived exosomes were only effective as maintenance immunotherapy in less than 50% of the patient cohort.
[113]
Monocyte-derived, immature DCs
Pulsing of exosomal MHC-I proteins with Mart1 via acid elution
Presentation of cancer antigens to cytotoxic immune cells via MHC-I expressed on the surface of DC-derived exosomes
Exosomes containing MHC-I/Mart1 complexes are able to activate CD8+ T cells.
[125]
Mouse bone marrow-derived DCs
Treatment of DCs with exosomes isolated from UNKC6141 murine pancreatic cancer cells
Study the activation of immune responses and survival in pancreatic cancer orthotopic mice models treated with tumor exosomes-loaded DCs
Tumor exosomes-loaded DCs were able to activate and recruit effector T cells to pancreatic cancer and improve prognosis when administered together with ATRA, sunitinib, or gemcitabine.
[117]
HLA-DR15-positive human B cells
Incubation of cells and exosomes with Hsp65 antigen or antigenic peptide.
Study whether B cell-derived exosomes are able to activate T cells via MHC-mediated presentation of Hsp65 antigen
Exosomes incubated with Hsp65 or derived from the medium of B cells pre-incubated with Hsp65 were able to activate T cells.
[112]
siRNA and RNAi
Human plasma cells
Electroporation of siRNA
Delivery of siRNA against MAPK1 to monocytes and T cells
Electroporated exosomes are able to enter human monocytes and lymphocytes (in vitro), deliver siRNA and successfully downregulate MAPK-1 transcription.
[109]
Human foreskin fibroblast cell line (i.e., BJ cell line)
Electroporation of RNAi molecules
Delivery of RNAi molecules against the mutant KRASG12D to pancreatic cancer cells
BJ-derived exosomes expressing RNAi against KRASG12D are able to specifically target mouse pancreatic cancer cells in vivo, diminishing the expression of KRASG12D and considerably diminishing cancer proliferation and metastasis, which resulted in an increase in mice overall survival.
[25]
miRNA
Human pancreatic ductal adenocarcinoma cell line Panc-1
Transfection of DNA plasmids for miR-155 and miR-125b2 into Panc-1 cells
Study phenotype changes on J774A.1 murine macrophages when treated with exosomes that overexpress miR-155 and miR-125b2
M2 macrophages treated with exosomes derived from the transfected Panc-1 cells were reprogrammed back to an M1, anti-tumor phenotype.
[118]
Blocking exosomes biogenesis and secretion
GW4869
All cells
Inhibition of exosomes biogenesis
Study the combination of gemcitabine with an inhibitor of exosomes biogenesis as a treatment option
GW4869 prevented chemoresistance caused by the increased amount of exosomes released by CAFs that were exposed to gemcitabine.
[80]
Inhibition of Rab27a
4T1 murine breast cancer cells
Infection with shRNA-expressing lentiviruses
Study of the role of Rab27a in exosomes secretion as well as in breast cancer growth and metastasis.
Blockade of Rab27a and, thus, of exosomes secretion decreased tumor growth and lung metastasis in mice inoculated with metastatic 4T1 cells.
[119]
Abbreviations: all-trans retinoic acid, ATRA; cancer-associated fibroblasts, CAFs; dendritic cells, DC; heat shock protein 65, Hsp65; interferon, IFN; major histocompatibility complex, MHC; mitogen-activated protein kinase 1, MAPK-1; natural killer, NK.

© 2019 by the authors. Licensee MDPI, Basel, Switzerland. This article is an open access article distributed under the terms and conditions of the Creative Commons Attribution (CC BY) license (http://creativecommons.org/licenses/by/4.0/).