Alpha-5 Integrin Mediates Simvastatin-Induced Osteogenesis of Bone Marrow Mesenchymal Stem Cells
1
Department of Nursing, Asia University, Taichung 413, Taiwan
2
Department of Medical Research, China Medical University Hospital, China Medical University,Taichung 404, Taiwan
3
Orthopaedic Research Center, College of Medicine, Kaohsiung Medical University, Kaohsiung 807, Taiwan
4
Department of Orthopedics, Kaohsiung Medical University Hospital, Kaohsiung Medical University, Kaohsiung 807, Taiwan
5
Department of Physiology, College of Medicine, Kaohsiung Medical University, Kaohsiung 807, Taiwan
6
Graduate Institute of Medicine, College of Medicine, Kaohsiung Medical University, Kaohsiung 807, Taiwan
7
Department of Marine Biotechnology and Resources, National Sun Yat-sen University, Kaohsiung 804, Taiwan
8
Department of Medical Research, Kaohsiung Medical University Hospital, Kaohsiung 807, Taiwan
9
Department of Orthopedics, College of Medicine, Kaohsiung Medical University, Kaohsiung 807, Taiwan
10
Department of Orthopedics, Kaohsiung Municipal Ta-Tung Hospital, Kaohsiung Medical University, Kaohsiung 801, Taiwan
11
Division of Adult Reconstruction Surgery, Department of Orthopedics, Kaohsiung Medical University Hospital, Kaohsiung Medical University, Kaohsiung 807, Taiwan
*
Author to whom correspondence should be addressed.
Received: 12 December 2018 / Revised: 17 January 2019 / Accepted: 20 January 2019 / Published: 24 January 2019
Abstract
Simvastatin (SVS) promotes the osteogenic differentiation of mesenchymal stem cells (MSCs) and has been studied for MSC-based bone regeneration. However, the mechanism underlying SVS-induced osteogenesis is not well understood. We hypothesize that α5 integrin mediates SVS-induced osteogenic differentiation. Bone marrow MSCs (BMSCs) derived from BALB/C mice, referred to as D1 cells, were used. Alizarin red S (calcium deposition) and alkaline phosphatase (ALP) staining were used to evaluate SVS-induced osteogenesis of D1 cells. The mRNA expression levels of α5 integrin and osteogenic marker genes (bone morphogenetic protein-2 (BMP-2), runt-related transcription factor 2 (Runx2), collagen type I, ALP and osteocalcin (OC)) were detected using quantitative real-time PCR. Surface-expressed α5 integrin was detected using flow cytometry analysis. Protein expression levels of α5 integrin and phosphorylated focal adhesion kinase (p-FAK), which is downstream of α5 integrin, were detected using Western blotting. siRNA was used to deplete the expression of α5 integrin in D1 cells. The results showed that SVS dose-dependently enhanced the gene expression levels of osteogenic marker genes as well as subsequent ALP activity and calcium deposition in D1 cells. Upregulated p-FAK was accompanied by an increased protein expression level of α5 integrin after SVS treatment. Surface-expressed α5 integrin was also upregulated after SVS treatment. Depletion of α5 integrin expression significantly suppressed SVS-induced osteogenic gene expression levels, ALP activity, and calcium deposition in D1 cells. These results identify a critical role of α5 integrin in SVS-induced osteogenic differentiation of BMSCs, which may suggest a therapeutic strategy to modulate α5 integrin/FAK signaling to promote MSC-based bone regeneration.
View Full-Text
►

▼

Figures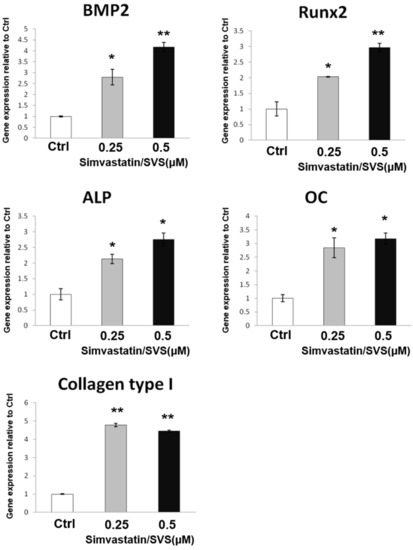 Figure 1
This is an open access article distributed under the
Creative Commons Attribution License
which permits unrestricted use, distribution, and reproduction in any medium, provided the original work is properly cited (CC BY 4.0).

Share & Cite This Article
MDPI and ACS Style
Shao, P.-L.; Wu, S.-C.; Lin, Z.-Y.; Ho, M.-L.; Chen, C.-H.; Wang, C.-Z. Alpha-5 Integrin Mediates Simvastatin-Induced Osteogenesis of Bone Marrow Mesenchymal Stem Cells. Int. J. Mol. Sci. 2019, 20, 506.
Note that from the first issue of 2016, MDPI journals use article numbers instead of page numbers. See further details here.
Related Articles
Comments
[Return to top]