Interleukin-10 Facilitates Glutamatergic Synaptic Transmission and Homeostatic Plasticity in Cultured Hippocampal Neurons
1
Institute of Theoretical and Experimental Biophysics of the Russian Academy of Sciences, Pushchino, Moscow 142290, Russia
2
Alzheimer's Center at Temple, Lewis Katz School of Medicine, Temple University, Philadelphia, PA 19140, USA
*
Author to whom correspondence should be addressed.
Received: 7 March 2019 / Revised: 27 June 2019 / Accepted: 7 July 2019 / Published: 9 July 2019
Abstract
Anti-inflammatory cytokines are known to exert neuroprotective action ameliorating aberrant neuronal network activity associated with inflammatory responses. Yet, it is still not fully understood if anti-inflammatory cytokines play a significant role in the regulation of synaptic activity under normal conditions. Thus, the aim of our study was to investigate the effect of Interleukin-10 (IL-10) on neuronal synaptic transmission and plasticity. For this we tested the effect of IL-10 on miniature excitatory postsynaptic currents (mEPSC) and intracellular Ca
2+
responses using whole-cell patch clamp and fluorescence microscopy in 13–15 DIV primary hippocampal neuroglial culture. We found that IL-10 significantly potentiated basal glutamatergic excitatory synaptic transmission within 15 min after application. Obtained results revealed a presynaptic nature of the effect, as IL-10 in a dose-dependent manner significantly increased the frequency but not the amplitude of mEPSC. Further, we tested the effect of IL-10 on mEPSC in a model of homeostatic synaptic plasticity (HSP) induced by treatment of primary hippocampal culture with 1 µM of tetrodotoxin (TTX) for a 24 h. It was found that 15 min application of IL-10 at established HSP resulted in enhanced mEPSC frequency, thus partially compensating for a decrease in the mEPSC frequency associated with TTX-induced HSP. Next, we studied if IL-10 can influence induction of HSP. We found that co-incubation of IL-10 with 1 µM of TTX for 24 h induced synaptic scaling, significantly increasing the amplitude of mEPSC and Ca
2+
responses to application of the AMPA agonist, 5-Fluorowillardiine, thus facilitating a compensatory postsynaptic mechanism at HSP condition. Our results indicate that IL-10 potentiates synaptic activity in a dose- and time-dependent manner exerting both presynaptic (short-term exposure) and postsynaptic (long-term exposure) action. Obtained results demonstrate involvement of IL-10 in the regulation of basal glutamatergic synaptic transmission and plasticity at normal conditions.
View Full-Text
►

▼

Figures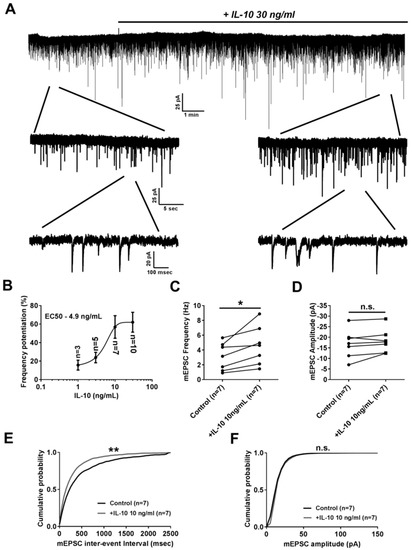 Figure 1
This is an open access article distributed under the
Creative Commons Attribution License
which permits unrestricted use, distribution, and reproduction in any medium, provided the original work is properly cited (CC BY 4.0).

Share & Cite This Article
MDPI and ACS Style
Nenov, M.N.; Konakov, M.V.; Teplov, I.Y.; Levin, S.G. Interleukin-10 Facilitates Glutamatergic Synaptic Transmission and Homeostatic Plasticity in Cultured Hippocampal Neurons. Int. J. Mol. Sci. 2019, 20, 3375.
Note that from the first issue of 2016, MDPI journals use article numbers instead of page numbers. See further details here.
Related Articles
Comments
[Return to top]