Integrated Approach Reveals Role of Mitochondrial Germ-Line Mutation F18L in Respiratory Chain, Oxidative Alterations, Drug Sensitivity, and Patient Prognosis in Glioblastoma
1
Brain Tumour Research Centre, Institute of Biological and Biomedical Sciences, School of Pharmacy and Biomedical Sciences, University of Portsmouth, Portsmouth PO1 2DT, UK
2
Centre for Enzyme Innovation, Institute of Biological and Biomedical Sciences, School of Biological Sciences, University of Portsmouth, Portsmouth PO1 2DY, UK
3
Institute of Cosmology and Gravitation, University of Portsmouth, Portsmouth PO1 3FX, UK
4
Academic Unit of Reproductive and Developmental Medicine, University of Sheffield, Sheffield S10 2SF, UK
5
Department of Life Sciences, Natural History Museum, London SW7 5BD, UK
6
Core Research Laboratories, Natural History Museum, London SW7 5BD, UK
7
Department of Neurosurgery, Kings College Hospital, London SE5 9RS, UK
8
Neurometabolic Unit, National Hospital for Neurology, London WC1N 3BG, UK
9
Department of Chemical Pathology, Great Ormond Street Hospital for Children NHS Foundation Trust, London WC1N 3JH, UK
10
UCL Great Ormond Street Institute of Child Health, London WC1N 1EH, UK
11
Institute for Integrative Biology of the Cell, 91190 Gif-sur-Yvette, France
12
School of Pharmacy and Biomolecular Sciences, Liverpool John Moores University, Liverpool L3 3AF, UK
*
Authors to whom correspondence should be addressed.
Received: 18 June 2019 / Revised: 4 July 2019 / Accepted: 5 July 2019 / Published: 9 July 2019
Abstract
Glioblastoma is the most common and malignant primary brain tumour in adults, with a dismal prognosis. This is partly due to considerable inter- and intra-tumour heterogeneity. Changes in the cellular energy-producing mitochondrial respiratory chain complex (MRC) activities are a hallmark of glioblastoma relative to the normal brain, and associate with differential survival outcomes. Targeting MRC complexes with drugs can also facilitate anti-glioblastoma activity. Whether mutations in the mitochondrial DNA (mtDNA) that encode several components of the MRC contribute to these phenomena remains underexplored. We identified a germ-line mtDNA mutation (m. 14798T > C), enriched in glioblastoma relative to healthy controls, that causes an amino acid substitution F18L within the core mtDNA-encoded cytochrome b subunit of MRC complex III. F18L is predicted to alter corresponding complex III activity, and sensitivity to complex III-targeting drugs. This could in turn alter reactive oxygen species (ROS) production, cell behaviour and, consequently, patient outcomes. Here we show that, despite a heterogeneous mitochondrial background in adult glioblastoma patient biopsy-derived cell cultures, the F18L substitution associates with alterations in individual MRC complex activities, in particular a 75% increase in MRC complex II_III activity, and a 34% reduction in CoQ10, the natural substrate for MRC complex III, levels. Downstream characterisation of an F18L-carrier revealed an 87% increase in intra-cellular ROS, an altered cellular distribution of mitochondrial-specific ROS, and a 64% increased sensitivity to clomipramine, a repurposed MRC complex III-targeting drug. In patients, F18L-carriers that received the current standard of care treatment had a poorer prognosis than non-carriers (373 days vs. 415 days, respectively). Single germ-line mitochondrial mutations could predispose individuals to differential prognoses, and sensitivity to mitochondrial targeted drugs. Thus, F18L, which is present in blood could serve as a useful non-invasive biomarker for the stratification of patients into prognostically relevant groups, one of which requires a lower dose of clomipramine to achieve clinical effect, thus minimising side-effects.
View Full-Text
►

▼

Figures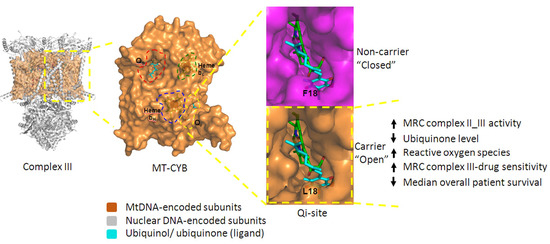 Graphical abstract
This is an open access article distributed under the
Creative Commons Attribution License
which permits unrestricted use, distribution, and reproduction in any medium, provided the original work is properly cited (CC BY 4.0).

Share & Cite This Article
MDPI and ACS Style
Keatley, K.; Stromei-Cleroux, S.; Wiltshire, T.; Rajala, N.; Burton, G.; Holt, W.V.; Littlewood, D.T.J.; Briscoe, A.G.; Jung, J.; Ashkan, K.; Heales, S.J.; Pilkington, G.J.; Meunier, B.; McGeehan, J.E.; Hargreaves, I.P.; McGeehan, R.E. Integrated Approach Reveals Role of Mitochondrial Germ-Line Mutation F18L in Respiratory Chain, Oxidative Alterations, Drug Sensitivity, and Patient Prognosis in Glioblastoma. Int. J. Mol. Sci. 2019, 20, 3364.
Note that from the first issue of 2016, MDPI journals use article numbers instead of page numbers. See further details here.
Related Articles
Comments
[Return to top]