Photosensitive Melanopsin-Containing Retinal Ganglion Cells in Health and Disease: Implications for Circadian Rhythms
1
Department of Physiology, Genetics and Microbiology, University of Alicante, 03690 Alicante, Spain
2
Department of Optics, Pharmacology and Anatomy, University of Alicante, 03690 Alicante, Spain
3
Department of Ophthalmology, University of Murcia, 30120 Murcia, Spain
4
Multidisciplinary Institute for Environmental Studies "Ramon Margalef", University of Alicante, 03690 Alicante, Spain
*
Author to whom correspondence should be addressed.
Received: 16 May 2019 / Revised: 26 June 2019 / Accepted: 26 June 2019 / Published: 28 June 2019
Abstract
Melanopsin-containing retinal ganglion cells (mRGCs) represent a third class of retinal photoreceptors involved in regulating the pupillary light reflex and circadian photoentrainment, among other things. The functional integrity of the circadian system and melanopsin cells is an essential component of well-being and health, being both impaired in aging and disease. Here we review evidence of melanopsin-expressing cell alterations in aging and neurodegenerative diseases and their correlation with the development of circadian rhythm disorders. In healthy humans, the average density of melanopsin-positive cells falls after age 70, accompanied by age-dependent atrophy of dendritic arborization. In addition to aging, inner and outer retinal diseases also involve progressive deterioration and loss of mRGCs that positively correlates with progressive alterations in circadian rhythms. Among others, mRGC number and plexus complexity are impaired in Parkinson's disease patients; changes that may explain sleep and circadian rhythm disorders in this pathology. The key role of mRGCs in circadian photoentrainment and their loss in age and disease endorse the importance of eye care, even if vision is lost, to preserve melanopsin ganglion cells and their essential functions in the maintenance of an adequate quality of life.
View Full-Text
►

▼

Figures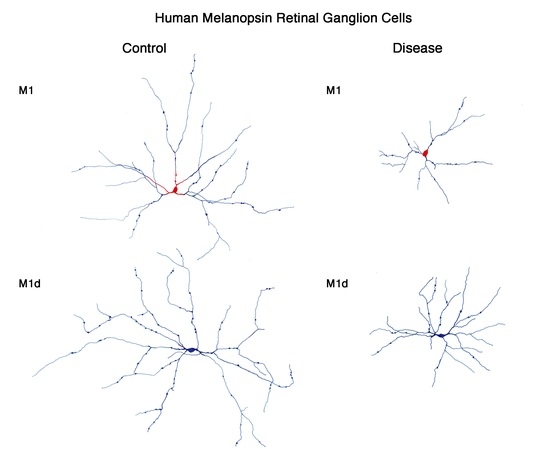 Graphical abstract
This is an open access article distributed under the
Creative Commons Attribution License
which permits unrestricted use, distribution, and reproduction in any medium, provided the original work is properly cited (CC BY 4.0).

Share & Cite This Article
MDPI and ACS Style
Lax, P.; Ortuño-Lizarán, I.; Maneu, V.; Vidal-Sanz, M.; Cuenca, N. Photosensitive Melanopsin-Containing Retinal Ganglion Cells in Health and Disease: Implications for Circadian Rhythms. Int. J. Mol. Sci. 2019, 20, 3164.
Note that from the first issue of 2016, MDPI journals use article numbers instead of page numbers. See further details here.
Related Articles
Comments
[Return to top]