Furosine, a Maillard Reaction Product, Triggers Necroptosis in Hepatocytes by Regulating the RIPK1/RIPK3/MLKL Pathway
1
State Key Laboratory of Animal Nutrition, Institute of Animal Science, Chinese Academy of Agricultural Sciences, Beijing 100193, China
2
Key Laboratory of Quality & Safety Control for Milk and Dairy Products of Ministry of Agriculture and Rural Affairs, Institute of Animal Science, Chinese Academy of Agricultural Sciences, Beijing 100193, China
3
Laboratory of Quality and Safety Risk Assessment for Dairy Products of Ministry of Agriculture and Rural Affairs, Institute of Animal Sciences, Chinese Academy of Agricultural Sciences, Beijing 100193, China
*
Author to whom correspondence should be addressed.
†
These authors contributed equally to this work.
Received: 26 April 2019 / Revised: 11 May 2019 / Accepted: 13 May 2019 / Published: 14 May 2019
Abstract
As one of the typical Maillard reaction products, furosine has been widely reported in a variety of heat-processed food. Though furosine was shown to be toxic on organs, its toxicity mechanism is still unclear. The present study aimed to investigate the toxicity mechanism of furosine in liver tissue. An intragastric gavage mice model (42-day administration, 0.1/0.25/0.5 g/kg of furosine per day) and a mice primary hepatocyte model were employed to investigate the toxicity mechanism of furosine on mice liver tissue. A metabonomics analysis of mice liver, serum, and red blood cells (RBC) was performed. The special metabolic mediator of furosine, lysophosphatidylcholine 18:0 (LPC (18:0)) was identified. Then, the effect of the upstream gene phospholipase A2 gamma (
PLA2-3
) on LPC (18:0), as well as the effect of furosine (100 mg/L) on the receptor-interacting serine/threonine-protein kinase (RIPK)1/RIPK3/mixed lineage kinase domain-like protein (MLKL) pathway and inflammatory factors, was determined in liver tissue and primary hepatocytes. PLA2-3 was found to regulate the level of LPC (18:0) and activate the expression of RIPK1, RIPK3, P-MLKL, and of the inflammatory factors including tumor necrosis factor α (TNF-α) and interleukin (IL-1β), both in liver tissue and in primary hepatocytes. Upon treatment with furosine, the upstream sensor PLA2-3 activated the RIPK1/RIPK3/MLKL necroptosis pathway and caused inflammation by regulating the expression of LPC (18:0), which further caused liver damage.
View Full-Text
►

▼

Figures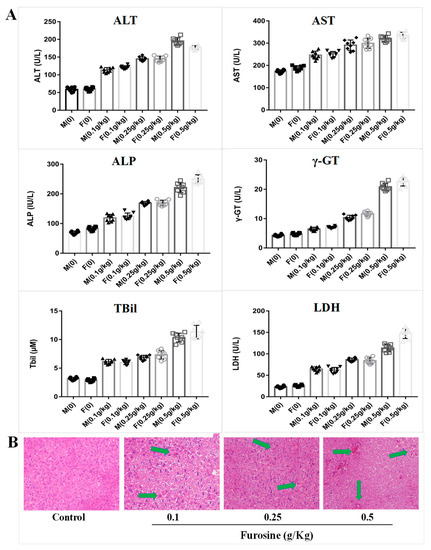 Figure 1
This is an open access article distributed under the
Creative Commons Attribution License
which permits unrestricted use, distribution, and reproduction in any medium, provided the original work is properly cited (CC BY 4.0).

Share & Cite This Article
MDPI and ACS Style
Li, H.; Wang, Y.; Yang, H.; Zhang, Y.; Xing, L.; Wang, J.; Zheng, N. Furosine, a Maillard Reaction Product, Triggers Necroptosis in Hepatocytes by Regulating the RIPK1/RIPK3/MLKL Pathway. Int. J. Mol. Sci. 2019, 20, 2388.
Note that from the first issue of 2016, MDPI journals use article numbers instead of page numbers. See further details here.
Related Articles
Comments
[Return to top]