Implications of Angiogenesis Involvement in Arthritis
1
Graduate Institute of Basic Medical Science, China Medical University, Taichung 40402, Taiwan
2
Department of Orthopedic Surgery, China Medical University Hospital, Taichung 40447, Taiwan
3
Department of Biomedical Sciences Laboratory, Wenzhou Medical University, Dongyang 325035, Zhejiang, China
4
Graduate Institute of Biomedical Science, China Medical University, Taichung 40402, Taiwan
5
School of Medicine, China Medical University, Taichung 40402, Taiwan
6
Chinese Medicine Research Center, China Medical University, Taichung 40402, Taiwan
7
Department of Biotechnology, College of Health Science, Asia University, Taichung 41354, Taiwan
*
Author to whom correspondence should be addressed.
Received: 31 May 2018 / Revised: 25 June 2018 / Accepted: 8 July 2018 / Published: 10 July 2018
Abstract
Angiogenesis, the growth of new blood vessels, is essential in the pathogenesis of joint inflammatory disorders such as rheumatoid arthritis (RA) and osteoarthritis (OA), facilitating the invasion of inflammatory cells and increase in local pain receptors that contribute to structural damage and pain. The angiogenic process is perpetuated by various mediators such as growth factors, primarily vascular endothelial growth factor (VEGF) and hypoxia-inducible factors (HIFs), as well as proinflammatory cytokines, various chemokines, matrix components, cell adhesion molecules, proteases, and others. Despite the development of potent, well-tolerated nonbiologic (conventional) and biologic disease-modifying agents that have greatly improved outcomes for patients with RA, many remain resistant to these therapies, are only partial responders, or cannot tolerate biologics. The only approved therapies for OA include symptom-modifying agents, such as analgesics, non-steroidal anti-inflammatory drugs (NSAIDs), steroids, and hyaluronic acid. None of the available treatments slow the disease progression, restore the original structure or enable a return to function of the damaged joint. Moreover, a number of safety concerns surround current therapies for RA and OA. New treatments are needed that not only target inflamed joints and control articular inflammation in RA and OA, but also selectively inhibit synovial angiogenesis, while preventing healthy tissue damage. This narrative review of the literature in PubMed focuses on the evidence illustrating the therapeutic benefits of modulating angiogenic activity in experimental RA and OA. This evidence points to new treatment targets in these diseases.
View Full-Text
►

▼

Figures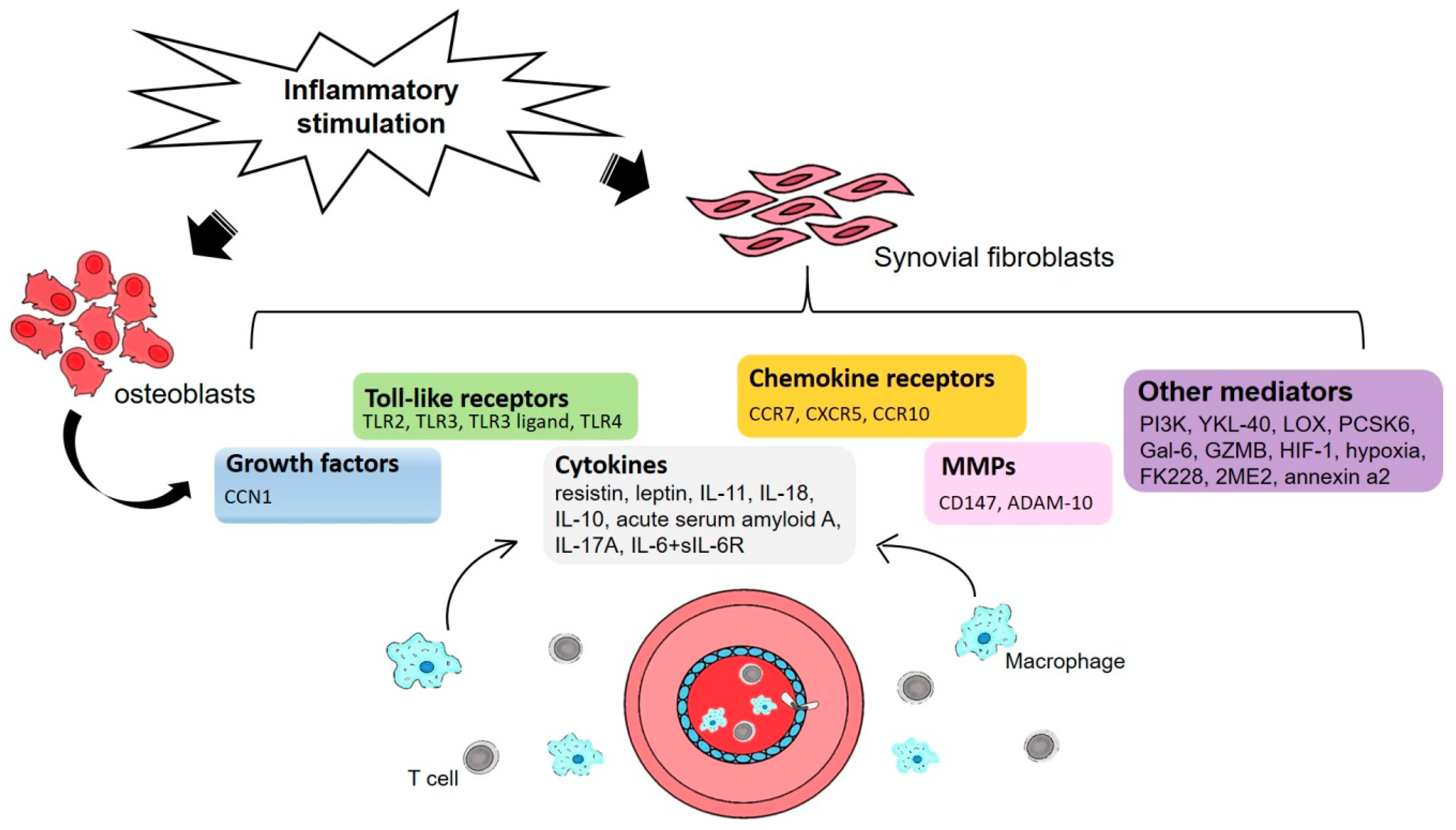 Figure 1
This is an open access article distributed under the
Creative Commons Attribution License
which permits unrestricted use, distribution, and reproduction in any medium, provided the original work is properly cited (CC BY 4.0).

Share & Cite This Article
MDPI and ACS Style
MacDonald, I.J.; Liu, S.-C.; Su, C.-M.; Wang, Y.-H.; Tsai, C.-H.; Tang, C.-H. Implications of Angiogenesis Involvement in Arthritis. Int. J. Mol. Sci. 2018, 19, 2012.
Note that from the first issue of 2016, MDPI journals use article numbers instead of page numbers. See further details here.
Related Articles
Comments
[Return to top]