PD-L1 Nanobody Competitively Inhibits the Formation of the PD-1/PD-L1 Complex: Comparative Molecular Dynamics Simulations
1
College of Pharmacy and Biological Engineering, Sichuan Industrial Institute of Antibiotics, Key Laboratory of Medicinal and Edible Plants Resources Development of Sichuan Education Department, Antibiotics Research and Re-evaluation Key Laboratory of Sichuan Province, Chengdu University, Chengdu 610106, China
2
Ministry of Education Key Laboratory of Protein Science, Tsinghua-Peking Joint Center for Life Sciences, Beijing Advanced Innovation Center for Structural Biology, School of Life Sciences, Tsinghua University, Beijing 100084, China
3
College of Mathematics and Informatics, South China Agricultural University, Guangzhou 510642, China
4
Laboratory of tumor targeted and immune therapy, Clinical Research Center for Breast, State Key Laboratory of Biotherapy, Sichuan University and Collaborative Innovation Center for Biotherapy, Chengdu 610041, China
*
Authors to whom correspondence should be addressed.
†
These authors contributed equally to this work.
Received: 1 June 2018 / Revised: 2 July 2018 / Accepted: 4 July 2018 / Published: 7 July 2018
Abstract
The anti-PD-L1 monoclonal antibody (mAb) targeting PD-1/PD-L1 immune checkpoint has achieved outstanding results in clinical application and has become one of the most popular anti-cancer drugs. The mechanism of molecular recognition and inhibition of PD-L1 mAbs is not yet clear, which hinders the subsequent antibody design and modification. In this work, the trajectories of PD-1/PD-L1 and nanobody/PD-L1 complexes were obtained via comparative molecular dynamics simulations. Then, a series of physicochemical parameters including hydrogen bond, dihedral angle distribution, p
K
a value and binding free energy, and so forth, were all comparatively analyzed to investigate the recognition difference between PD-L1 and PD-1 and nanobody. Both
L
R113 (the amino acid residues in PD-L1 are represented by the lower left sign of L) and
L
R125 residues of PD-L1 undergo significant conformational change after association with mAbs, which dominates a strong electrostatic interaction. Solvation effect analysis revealed that solvent-water enhanced molecular recognition between PD-L1 and nanobody. By combining the analyses of the time-dependent root mean squared fluctuation (RMSF), free energy landscape, clustering and energy decomposition, the potential inhibition mechanism was proposed that the nanobody competitively and specifically bound to the β-sheet groups of PD-L1, reduced the PD-L1's flexibility and finally blocked the formation of PD-1/PD-L1 complex. Based on the simulation results, site-directed mutagenesis of
N
D99 (the amino acid residues in Nano are displayed by the lower left sign of N) and
N
Q116 in the nanobody may be beneficial for improving antibody activity. This work offers some structural guidance for the design and modification of anticancer mAbs based on the structure of the PD-1/PD-L1 complex.
View Full-Text
►

▼

Figures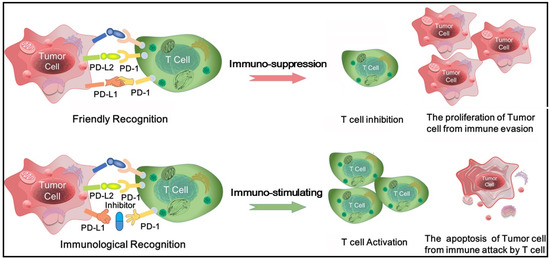 Figure 1
This is an open access article distributed under the
Creative Commons Attribution License
which permits unrestricted use, distribution, and reproduction in any medium, provided the original work is properly cited (CC BY 4.0).

Share & Cite This Article
MDPI and ACS Style
Sun, X.; Yan, X.; Zhuo, W.; Gu, J.; Zuo, K.; Liu, W.; Liang, L.; Gan, Y.; He, G.; Wan, H.; Gou, X.; Shi, H.; Hu, J. PD-L1 Nanobody Competitively Inhibits the Formation of the PD-1/PD-L1 Complex: Comparative Molecular Dynamics Simulations. Int. J. Mol. Sci. 2018, 19, 1984.
Note that from the first issue of 2016, MDPI journals use article numbers instead of page numbers. See further details here.
Related Articles
Comments
[Return to top]