5-Azacitidine Induces Cell Death in a Tissue Culture of
Brachypodium distachyon
1
Department of Plant Anatomy and Cytology, Faculty of Biology and Environmental Protection, University of Silesia in Katowice, 40-032 Katowice, Poland
2
Department of Cell Biology, Faculty of Biology and Environmental Protection, University of Silesia in Katowice, 40-032 Katowice, Poland
3
Department of Animal Histology and Embryology, Faculty of Biology and Environmental Protection, University of Silesia in Katowice, 40-032 Katowice, Poland
4
Department of Genetics, Faculty of Biology and Environmental Protection, University of Silesia in Katowice, 40-032 Katowice, Poland
*
Author to whom correspondence should be addressed.
Received: 24 April 2018 / Revised: 11 June 2018 / Accepted: 12 June 2018 / Published: 19 June 2018
Abstract
Morphological and histological observations revealed that, at a concentration of 50 µM, 5-azacitidine (5-azaC) totally inhibited the induction of embryogenic masses (EM), while the cultivation of explants (zygotic embryos; ZEs) in the presence of 5 µM of 5-azaC led to the formation of a callus with EM in 10% of the cases. Transmission electron microscopy (TEM) analyzes revealed the presence of the morphological and ultrastructural features that are typical for the vacuolar type of cell death in the callus cells that were treated. A TUNEL assay confirmed the presence of DNA double-strand breaks for the callus cells that had been treated with both 5 and 50 µM 5-azaC concentrations. Analysis of the gene expression of selected cell death markers demonstrated a reduced expression of metacaspase, protein executer 1 (EX1), and thioredoxin (TRX) in the callus cells that had been treated compared to the control culture. The strongest increase in the gene activity was characteristic for glutathione S-transferase (GST). Our studies also included an analysis of the distribution of some arabinogalactan proteins (AGPs) and extensin epitopes, which can be used as markers of cells that are undergoing death in a
Brachypodium distachyon
tissue culture.
View Full-Text
►

▼

Figures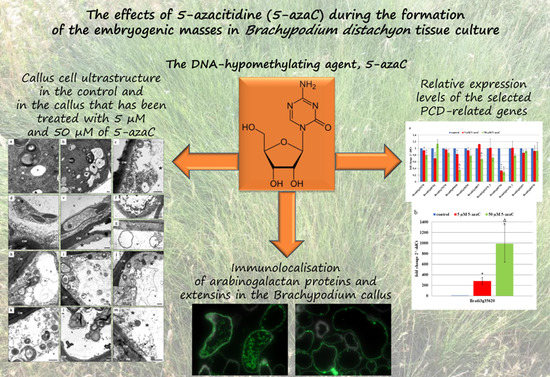 Graphical abstract
This is an open access article distributed under the
Creative Commons Attribution License
which permits unrestricted use, distribution, and reproduction in any medium, provided the original work is properly cited (CC BY 4.0).

Share & Cite This Article
MDPI and ACS Style
Betekhtin, A.; Milewska-Hendel, A.; Chajec, L.; Rojek, M.; Nowak, K.; Kwasniewska, J.; Wolny, E.; Kurczynska, E.; Hasterok, R. 5-Azacitidine Induces Cell Death in a Tissue Culture of Brachypodium distachyon. Int. J. Mol. Sci. 2018, 19, 1806.
Note that from the first issue of 2016, MDPI journals use article numbers instead of page numbers. See further details here.
Related Articles
Comments
[Return to top]