Interleukin-34 Regulates Th1 and Th17 Cytokine Production by Activating Multiple Signaling Pathways through CSF-1R in Chicken Cell Lines
1
Department of Animal Science and Technology, Chung-Ang University, Anseong 17546, Korea
2
Department of Biochemistry and Immunology, National Institute of Veterinary Research, 86 Truong Chinh, Dong Da, Hanoi 100000, Vietnam
3
Animal Biosciences and Biotechnology Laboratory, Agricultural Research Services, United States Department of Agriculture, Beltsville, MD 20705, USA
*
Author to whom correspondence should be addressed.
Received: 16 April 2018 / Revised: 19 May 2018 / Accepted: 2 June 2018 / Published: 5 June 2018
Abstract
Interleukin-34 (IL-34) is a newly recognized cytokine with functions similar to macrophage colony-stimulating factor 1. It is expressed in macrophages and fibroblasts, where it induces cytokine production; however, the mechanism of chicken IL-34 (chIL-34) signaling has not been identified to date. The aim of this study was to analyze the signal transduction pathways and specific biological functions associated with chIL-34 in chicken macrophage (HD11) and fibroblast (OU2) cell lines. We found that IL-34 is a functional ligand for the colony-stimulating factor receptor (CSF-1R) in chicken cell lines. Treatment with chIL-34 increased the expression of Th1 and Th17 cytokines through phosphorylation of tyrosine and serine residues in Janus kinase (JAK) 2, tyrosine kinase 2 (TYK2), signal transducer and activator of transcription (STAT) 1, STAT3, and Src homology 2-containing tyrosine phosphatase 2 (SHP-2), which also led to phosphorylation of NF-κB1, p-mitogen-activated protein kinase kinase kinase 7 (TAK1), MyD88, suppressor of cytokine signaling 1 (SOCS1), and extracellular signal-regulated kinase 1 and 2 (ERK1/2). Taken together, these results suggest that chIL-34 functions by binding to CSF-1R and activating the JAK/STAT, nuclear factor κ B (NF-κB), and mitogen-activated protein kinase signaling pathways; these signaling events regulate cytokine expression and suggest roles for chIL-34 in innate and adaptive immunity.
View Full-Text
►

▼

Figures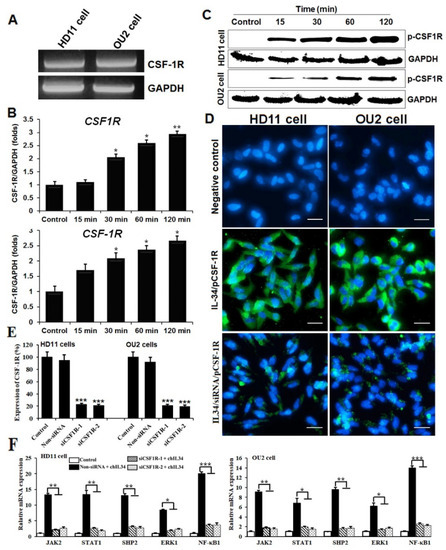 Figure 1
This is an open access article distributed under the
Creative Commons Attribution License
which permits unrestricted use, distribution, and reproduction in any medium, provided the original work is properly cited (CC BY 4.0).

Share & Cite This Article
MDPI and ACS Style
Truong, A.D.; Hong, Y.; Lee, J.; Lee, K.; Kil, D.Y.; Lillehoj, H.S.; Hong, Y.H. Interleukin-34 Regulates Th1 and Th17 Cytokine Production by Activating Multiple Signaling Pathways through CSF-1R in Chicken Cell Lines. Int. J. Mol. Sci. 2018, 19, 1665.
Note that from the first issue of 2016, MDPI journals use article numbers instead of page numbers. See further details here.
Related Articles
Comments
[Return to top]