Hedgehog Signals Mediate Anti-Cancer Drug Resistance in Three-Dimensional Primary Colorectal Cancer Organoid Culture
1
Laboratory of Veterinary Pharmacology, Department of Veterinary Medicine, Faculty of Agriculture, Tokyo University of Agriculture and Technology, 3-5-8 Saiwai-cho, Fuchu, Tokyo 183-8509, Japan
2
Laboratory of Veterinary Pathology, Joint Faculty of Veterinary Medicine, Yamaguchi University, 1677-1 Yoshida, Yamaguchi 753-8515, Japan
3
Laboratory of Veterinary Pharmacology, Joint Faculty of Veterinary Medicine, Yamaguchi University, 1677-1 Yoshida, Yamaguchi 753-8515, Japan
4
Department of Pharmacology, Faculty of Veterinary Medicine, Benha University, Moshtohor, Toukh, Elqaliobiya 13736, Egypt
5
Laboratory of Veterinary Pharmacology, School of Veterinary Medicine, Kitasato University, Higashi 23 bancho 35-1, Towada City, Aomori 034-8628, Japan
6
Department of Translational Research and Developmental Therapeutics against Cancer, School of Medicine, Yamaguchi University, 1-1-1 Ogushi, Ube, Yamaguchi 755-8505, Japan
7
Department of Gastroenterological, Breast and Endocrine Surgery, Graduate School of Medicine, Yamaguchi University, 1-1-1 Ogushi, Ube, Yamaguchi 755-8505, Japan
8
Laboratory of Veterinary Anatomy, Department of Veterinary Medicine, Faculty of Agriculture, Tokyo University of Agriculture and Technology, 3-5-8 Saiwai-cho, Fuchu, Tokyo 183-8509, Japan
*
Author to whom correspondence should be addressed.
Received: 25 March 2018 / Revised: 2 April 2018 / Accepted: 3 April 2018 / Published: 6 April 2018
Abstract
Colorectal cancer is one of the most common causes of cancer death worldwide. In patients with metastatic colorectal cancer, combination treatment with several anti-cancer drugs is employed and improves overall survival in some patients. Nevertheless, most patients with metastatic disease are not cured owing to the drug resistance. Cancer stem cells are known to regulate resistance to chemotherapy. In the previous study, we established a novel three-dimensional organoid culture model from tumor colorectal tissues of human patients using an air–liquid interface (ALI) method, which contained numerous cancer stem cells and showed resistance to 5-fluorouracil (5-FU) and Irinotecan. Here, we investigate which inhibitor for stem cell-related signal improves the sensitivity for anti-cancer drug treatment in tumor ALI organoids. Treatment with Hedgehog signal inhibitors (AY9944, GANT61) decreases the cell viability of organoids compared with Notch (YO-01027, DAPT) and Wnt (WAV939, Wnt-C59) signal inhibitors. Combination treatment of AY9944 or GANT61 with 5-FU, Irinotecan or Oxaliplatin decreases the cell viability of tumor organoids compared with each anti-cancer drug alone treatment. Treatment with AY9944 or GANT61 inhibits expression of stem cell markers c-Myc, CD44 and Nanog, likely through the decrease of their transcription factor, GLI-1 expression. Combination treatment of AY9944 or GANT61 with 5-FU or Irinotecan also prevents colony formation of colorectal cancer cell lines HCT116 and SW480. These findings suggest that Hedgehog signals mediate anti-cancer drug resistance in colorectal tumor patient-derived ALI organoids and that the inhibitors are useful as a combinational therapeutic strategy against colorectal cancer.
View Full-Text
►

▼

Figures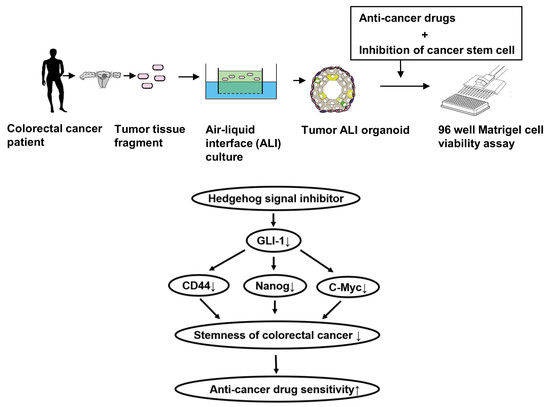 Graphical abstract
This is an open access article distributed under the
Creative Commons Attribution License
which permits unrestricted use, distribution, and reproduction in any medium, provided the original work is properly cited (CC BY 4.0).

Share & Cite This Article
MDPI and ACS Style
Usui, T.; Sakurai, M.; Umata, K.; Elbadawy, M.; Ohama, T.; Yamawaki, H.; Hazama, S.; Takenouchi, H.; Nakajima, M.; Tsunedomi, R.; Suzuki, N.; Nagano, H.; Sato, K.; Kaneda, M.; Sasaki, K. Hedgehog Signals Mediate Anti-Cancer Drug Resistance in Three-Dimensional Primary Colorectal Cancer Organoid Culture. Int. J. Mol. Sci. 2018, 19, 1098.
Note that from the first issue of 2016, MDPI journals use article numbers instead of page numbers. See further details here.
Related Articles
Comments
[Return to top]