Construction of A High-Density Genetic Map and Mapping of Fruit Traits in Watermelon (
Citrullus Lanatus

L.) Based on Whole-Genome Resequencing

Zhengzhou Fruit Research Institute, Chinese Academy of Agricultural Sciences, Zhengzhou 450009, China

*

Author to whom correspondence should be addressed.

†

These authors contributed equally to this work.

Received: 15 September 2018 / Revised: 15 October 2018 / Accepted: 18 October 2018 / Published: 21 October 2018
Abstract
Watermelon (
Citrullus lanatus
L.) is an important horticultural crop that is grown worldwide and has a high economic value. To dissect the loci associated with important horticultural traits and to analyze the genetic and genomic information of this species, a high-density genetic map was constructed based on whole-genome resequencing (WGR), a powerful high-resolution method for single-nucleotide polymorphism (SNP) marker development, genetic map construction, and gene mapping. Resequencing of both parental lines and 126 recombinant inbred lines (RIL) resulted in the detection of 178,762 single-nucleotide polymorphism (SNP) markers in the parental lines at a sequencing depth greater than four-fold. Additionally, 2132 recombination bin markers comprising 103,029 SNP markers were mapped onto 11 linkage groups (LGs). Substantially more SNP markers were mapped to the genetic map compared with other recent studies. The total length of the linkage map was 1508.94 cM, with an average distance of 0.74 cM between adjacent bin markers. Based on this genetic map, one locus for fruit bitterness, one locus for rind color, and one locus for seed coat color with high LOD scores (58.361, 18.353, 26.852) were identified on chromosome 1, chromosome 8, and chromosome 3, respectively. These prominent loci were identified in a region of 6.16 Mb, 2.07 Mb, and 0.37 Mb, respectively. On the basis of current research, the high-density map and mapping results will provide a valuable tool for identifying candidate genes, map-based gene cloning, comparative mapping, and marker-assisted selection (MAS) in watermelon breeding.
View Full-Text
►

▼

Figures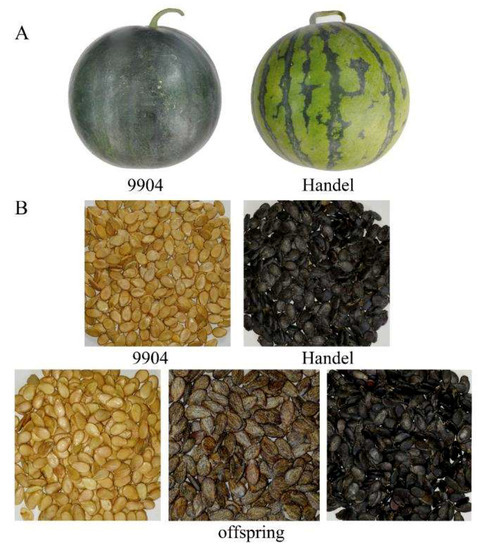 Figure 1
This is an open access article distributed under the
Creative Commons Attribution License
which permits unrestricted use, distribution, and reproduction in any medium, provided the original work is properly cited (CC BY 4.0).

Share & Cite This Article
MDPI and ACS Style
Li, B.; Lu, X.; Dou, J.; Aslam, A.; Gao, L.; Zhao, S.; He, N.; Liu, W. Construction of A High-Density Genetic Map and Mapping of Fruit Traits in Watermelon (Citrullus Lanatus L.) Based on Whole-Genome Resequencing. Int. J. Mol. Sci. 2018, 19, 3268.
Note that from the first issue of 2016, MDPI journals use article numbers instead of page numbers. See further details here.
Related Articles
Comments
[Return to top]