An Ultradian Feeding Schedule in Rats Affects Metabolic Gene Expression in Liver, Brown Adipose Tissue and Skeletal Muscle with Only Mild Effects on Circadian Clocks
1
Laboratory of Endocrinology, Department of Clinical Chemistry, Amsterdam UMC, University of Amsterdam, Amsterdam 1105 AZ, The Netherlands
2
Hypothalamic Integration Mechanisms Group, Netherlands Institute for Neuroscience (NIN), Amsterdam 1105 BA, The Netherlands
3
Circadian Clocks & Metabolism Team, Institute of Cellular and Integrative Neurosciences, UPR3212, Centre National de la Recherche Scientifique (CNRS), University of Strasbourg, Strasbourg 67000, France
4
Melatonin and Seasonal Rhythms Team, Institute of Cellular and Integrative Neurosciences, UPR3212, Centre National de la Recherche Scientifique (CNRS), University of Strasbourg, Strasbourg 67000, France
5
Department of Endocrinology and Metabolism, Amsterdam UMC, University of Amsterdam, Amsterdam 1105 AZ, The Netherlands
*
Author to whom correspondence should be addressed.
†
These authors contributed equally.
Received: 11 September 2018 / Revised: 4 October 2018 / Accepted: 11 October 2018 / Published: 15 October 2018
Abstract
Restricted feeding is well known to affect expression profiles of both clock and metabolic genes. However, it is unknown whether these changes in metabolic gene expression result from changes in the molecular clock or in feeding behavior. Here we eliminated the daily rhythm in feeding behavior by providing 6 meals evenly distributed over the light/dark-cycle. Animals on this 6-meals-a-day feeding schedule retained the normal day/night difference in physiological parameters including body temperature and locomotor activity. The daily rhythm in respiratory exchange ratio (RER), however, was significantly phase-shifted through increased utilization of carbohydrates during the light phase and increased lipid oxidation during the dark phase. This 6-meals-a-day feeding schedule did not have a major impact on the clock gene expression rhythms in the master clock, but did have mild effects on peripheral clocks. In contrast, genes involved in glucose and lipid metabolism showed differential expression. In conclusion, eliminating the daily rhythm in feeding behavior in rats does not affect the master clock and only mildly affects peripheral clocks, but disturbs metabolic rhythms in liver, skeletal muscle and brown adipose tissue in a tissue-dependent manner. Thereby, a clear daily rhythm in feeding behavior strongly regulates timing of peripheral metabolism, separately from circadian clocks.
View Full-Text
►

▼

Figures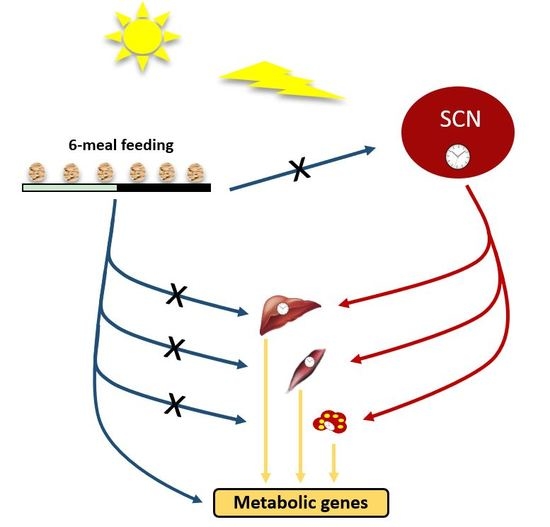 Graphical abstract
This is an open access article distributed under the
Creative Commons Attribution License
which permits unrestricted use, distribution, and reproduction in any medium, provided the original work is properly cited (CC BY 4.0).

Share & Cite This Article
MDPI and ACS Style
De Goede, P.; Sen, S.; Su, Y.; Foppen, E.; Poirel, V.-J.; Challet, E.; Kalsbeek, A. An Ultradian Feeding Schedule in Rats Affects Metabolic Gene Expression in Liver, Brown Adipose Tissue and Skeletal Muscle with Only Mild Effects on Circadian Clocks. Int. J. Mol. Sci. 2018, 19, 3171.
Note that from the first issue of 2016, MDPI journals use article numbers instead of page numbers. See further details here.
Related Articles
Comments
[Return to top]