Regulation of Chemerin and CMKLR1 Expression by Nutritional Status, Postnatal Development, and Gender
1
Departamento de Fisioloxía, Centro de Investigación en Medicina Molecular (CIMUS), Universidade de Santiago de Compostela-Instituto de Investigación Sanitaria de Santiago de Compostela (IDIS), 15782 Santiago de Compostela, Spain
2
CIBER Fisiopatología de la Obesidad y Nutrición (CIBERobn), 15706 Santiago de Compostela, Spain
3
Grupo Fisiopatología Endocrina, Instituto de Investigación Sanitaria de Santiago de Compostela, Complexo Hospitalario Universitario de Santiago (CHUS/SERGAS), 15706 Santiago de Compostela, Spain
†
The two authors contributed equally to this study.
*
Author to whom correspondence should be addressed.
Received: 12 September 2018 / Accepted: 20 September 2018 / Published: 25 September 2018
Abstract
Chemerin (also known as tazarotene-induced gene 2 and retinoic acid receptor responder 2) has been identified as an adipokine that exerts effects on many biological processes, including adipogenesis, angiogenesis, inflammation, immune responses, and food intake. This variety of effects has led to its implication in obesity and co-morbidities including diabetes and a risk of cardiovascular disease. The biological effects are mostly mediated by a so-called G protein-coupled receptor, chemokine-like receptor 1 (CMKLR1). Given the association of chemerin with obesity and related diseases, we decided to study in detail the regulation of chemerin and CMKLR1 expression in white adipose tissue (WAT). Specifically, we focused on their expression levels in physiological and pathophysiological settings involved in energy balance: e.g., fasting, postnatal development, and gender. We used Sprague Dawley rats with different nutritional statuses, levels of hormonal deficiency, and states of development as well as ob/ob (leptin-deficient) mice. We analysed the protein expression of both the ligand and receptor (chemerin and CMKLR1) in gonadal WAT by western blotting. We found that chemerin and CMKLR1 protein levels were regulated in WAT by different conditions associated with metabolic changes such as nutritional status, sex steroids, pregnancy, and food composition. Our data indicate that regulation of the expression of this new adipokine and its receptor by nutritional status and gonadal hormones may be a part of the adaptive mechanisms related to altered fat mass and its metabolic complications.
View Full-Text
►

▼

Figures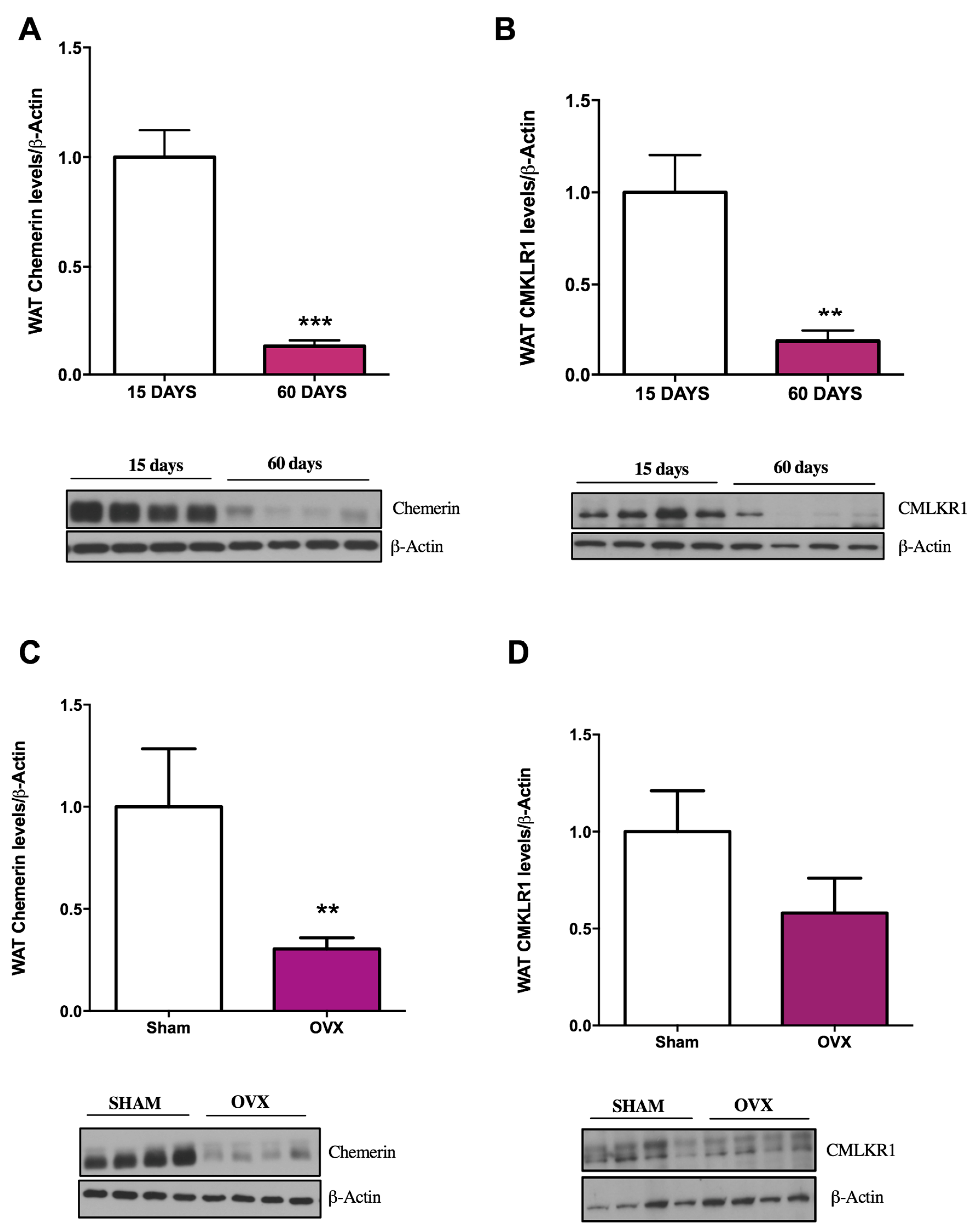 Figure 1
This is an open access article distributed under the
Creative Commons Attribution License
which permits unrestricted use, distribution, and reproduction in any medium, provided the original work is properly cited (CC BY 4.0).

Share & Cite This Article
MDPI and ACS Style
Sanchez-Rebordelo, E.; Cunarro, J.; Perez-Sieira, S.; Seoane, L.M.; Diéguez, C.; Nogueiras, R.; Tovar, S. Regulation of Chemerin and CMKLR1 Expression by Nutritional Status, Postnatal Development, and Gender. Int. J. Mol. Sci. 2018, 19, 2905.
Note that from the first issue of 2016, MDPI journals use article numbers instead of page numbers. See further details here.
Related Articles
Comments
[Return to top]