Electronegative Low-Density Lipoprotein L5 Impairs Viability and NGF-Induced Neuronal Differentiation of PC12 Cells via LOX-1
1
Graduate Institute of Medicine, College of Medicine, Kaohsiung Medical University, Kaohsiung 80708, Taiwan
2
Department of Medical Research, Kaohsiung Medical University Hospital, Kaohsiung 80708, Taiwan
3
Department of Neurology, Faculty of Medicine, College of Medicine, Kaohsiung Medical University, Kaohsiung 80708, Taiwan
4
Department of Neurology, Kaohsiung Medical University Hospital, Kaohsiung 80756, Taiwan
5
Department of Nursing, Hsin-Sheng College of Medical Care and Management, Taoyuan 32544, Taiwan
*
Author to whom correspondence should be addressed.
Received: 20 July 2017 / Revised: 5 August 2017 / Accepted: 7 August 2017 / Published: 11 August 2017
Abstract
There have been striking associations of cardiovascular diseases (e.g., atherosclerosis) and hypercholesterolemia with increased risk of neurodegeneration including Alzheimer's disease (AD). Low-density lipoprotein (LDL), a cardiovascular risk factor, plays a crucial role in AD pathogenesis; further, L5, a human plasma LDL fraction with high electronegativity, may be a factor contributing to AD-type dementia. Although L5 contributing to atherosclerosis progression has been studied, its role in inducing neurodegeneration remains unclear. Here, PC12 cell culture was used for treatments with human LDLs (L1, L5, or oxLDL), and subsequently cell viability and nerve growth factor (NGF)-induced neuronal differentiation were assessed. We identified L5 as a neurotoxic LDL, as demonstrated by decreased cell viability in a time- and concentration-dependent manner. Contrarily, L1 had no such effect. L5 caused cell damage by inducing ATM/H2AX-associated DNA breakage as well as by activating apoptosis via lectin-like oxidized LDL receptor-1 (LOX-1) signaling to p53 and ensuring cleavage of caspase-3. Additionally, sublethal L5 long-termly inhibited neurite outgrowth in NGF-treated PC12 cells, as evidenced by downregulation of early growth response factor-1 and neurofilament-M. This inhibitory effect was mediated via an interaction between L5 and LOX-1 to suppress NGF-induced activation of PI3k/Akt cascade, but not NGF receptor TrkA and downstream MAPK pathways. Together, our data suggest that L5 creates a neurotoxic stress via LOX-1 in PC12 cells, thereby leading to impairment of viability and NGF-induced differentiation. Atherogenic L5 likely contributes to neurodegenerative disorders.
View Full-Text
►

▼

Figures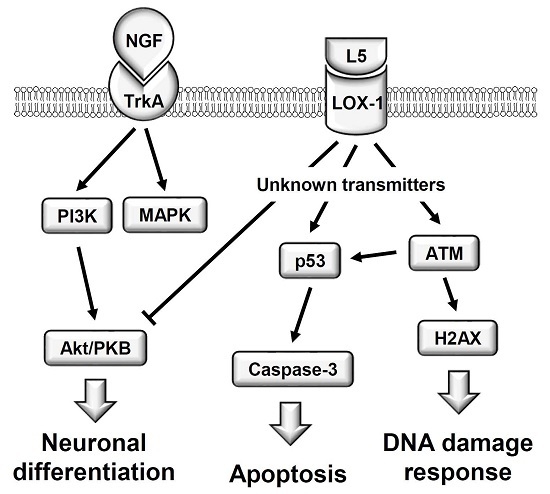 Graphical abstract
This is an open access article distributed under the
Creative Commons Attribution License
which permits unrestricted use, distribution, and reproduction in any medium, provided the original work is properly cited (CC BY 4.0).

Share & Cite This Article
MDPI and ACS Style
Wang, J.-Y.; Lai, C.-L.; Lee, C.-T.; Lin, C.-Y. Electronegative Low-Density Lipoprotein L5 Impairs Viability and NGF-Induced Neuronal Differentiation of PC12 Cells via LOX-1. Int. J. Mol. Sci. 2017, 18, 1744.
Note that from the first issue of 2016, MDPI journals use article numbers instead of page numbers. See further details here.
Related Articles
Comments
[Return to top]