Open Access This article is
freely available
re-usable
Review
New Insights into the Role of Matrix Metalloproteinases in Preeclampsia
1
Clinical Research Branch, Instituto Nacional de Perinatologia, Mexico City 11000, Mexico
2
Department of Immunobiochemistry, Instituto Nacional de Perinatologia, Mexico City 11000, Mexico
3
Unidad de Vinculacion de la Facultad de Medicina, UNAM en el Instituto Nacional de Medicina Genomica, Mexico City 14610, Mexico
4
Guadalupe Estrada-Gutierrez, Research Division, Instituto Nacional de Perinatologia Isidro Espinosa de los Reyes, Mexico City 11000, Mexico
*
Author to whom correspondence should be addressed.
Received: 10 May 2017 / Accepted: 1 July 2017 / Published: 20 July 2017
Abstract
:
Preeclampsia is a severe pregnancy complication globally, characterized by poor placentation triggering vascular dysfunction. Matrix metalloproteinases (MMPs) exhibit proteolytic activity implicated in the efficiency of trophoblast invasion to the uterine wall, and a dysregulation of these enzymes has been linked to preeclampsia. A decrease in MMP-2 and MMP-9 interferes with the normal remodeling of spiral arteries at early pregnancy stages, leading to the initial pathophysiological changes observed in preeclampsia. Later in pregnancy, an elevation in MMP-2 and MMP-9 induces abnormal release of vasoactive factors conditioning hypertension. Although these two enzymes lead the scene, other MMPs like MMP-1 and MMP-14 seem to have a role in this pathology. This review gathers published recent evidence about the implications of different MMPs in preeclampsia, and the potential use of these enzymes as emergent biomarkers and biological therapeutic targets, focusing on studies involving human subjects.
Keywords:
preeclampsia; implantation; matrix metalloproteinases; trophoblast; endothelial damage; biomarkers; therapeutic targets
2. MMPs in Trophoblast Implantation and Invasion in Normal Pregnancy and Preeclampsia
3. MMPs and Endothelial Dysfunction in Preeclampsia
4. MMPs as New Biomarkers and Potential Biological Targets in Preeclampsia
In conclusion, several studies show that at the initial stage of pregnancy, a low concentration of placental MMPs may affect the spiral artery remodeling, causing a poorly perfused feto-placental unit. Vascular dysfunction observed during the late stage of preeclampsia could be mediated by several MMPs inducing vasoconstriction, changes in vascular reactivity and endothelial damage. For these reasons, MMPs have become striking biomarkers to identify women with a high risk of developing preeclampsia, as well as eligible biological targets for treating women with this syndrome. However, it is important to pursue larger basic and clinical studies, as well as meta-analysis to evaluate whether MMPs play a decisive role in the pathophysiology of preeclampsia and the predictive value of these enzymes as biomarkers or therapeutic targets.
Conflicts of Interest
The authors declare no conflict of interest.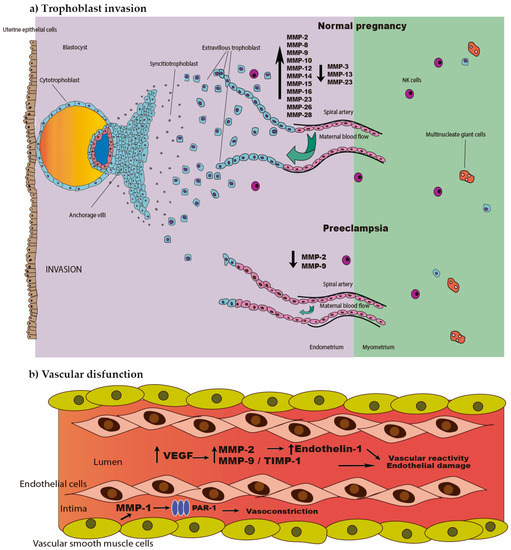 Figure 1. Role of matrix metalloproteinases (MMPs) in preeclampsia. (a) Impaired trophoblast invasion observed in early stage of preeclampsia is characterized by a decrease in MMP-2 and MMP-9, which affects spiral artery remodeling, causing a poorly perfused fetoplacental unit. (b) Vascular dysfunction developed during the late stage of preeclampsia is mediated by several MMPs including MMP-1, MMP-2 and MMP-9, which induce vasoconstriction, changes in vascular reactivity and endothelial damage. PAR-1, protease-activated receptor 1; VEGF, vascular endothelial growth factor; NK, natural killer cells; and TIMP-1, tissue inhibitor of matrix metalloproteinase-1.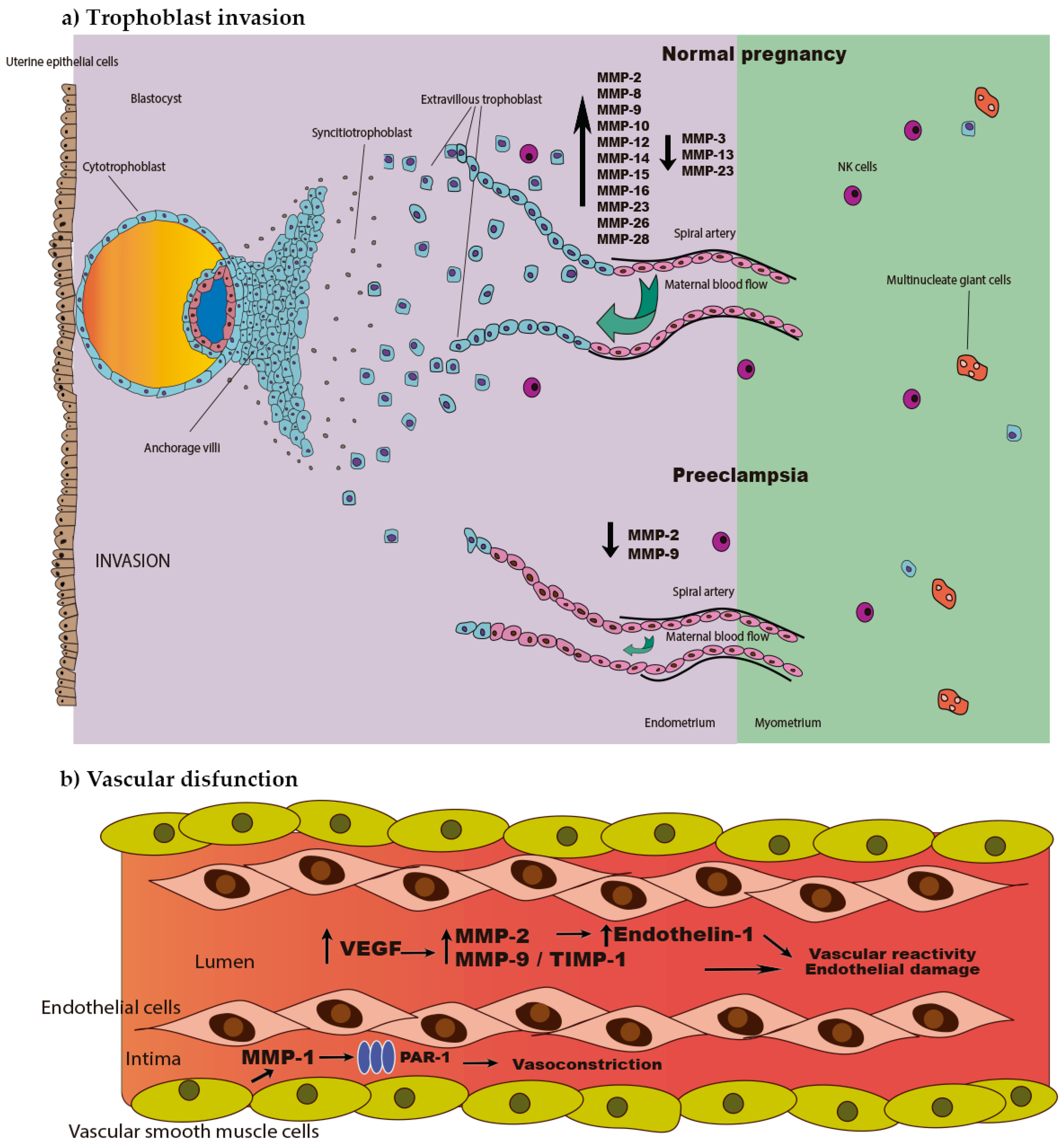 © 2017 by the authors. Licensee MDPI, Basel, Switzerland. This article is an open access article distributed under the terms and conditions of the Creative Commons Attribution (CC BY) license (http://creativecommons.org/licenses/by/4.0/).