New Insights into the Role of Matrix Metalloproteinases in Preeclampsia
1
Clinical Research Branch, Instituto Nacional de Perinatologia, Mexico City 11000, Mexico
2
Department of Immunobiochemistry, Instituto Nacional de Perinatologia, Mexico City 11000, Mexico
3
Unidad de Vinculacion de la Facultad de Medicina, UNAM en el Instituto Nacional de Medicina Genomica, Mexico City 14610, Mexico
4
Guadalupe Estrada-Gutierrez, Research Division, Instituto Nacional de Perinatologia Isidro Espinosa de los Reyes, Mexico City 11000, Mexico
*
Author to whom correspondence should be addressed.
Received: 10 May 2017 / Revised: 30 June 2017 / Accepted: 1 July 2017 / Published: 20 July 2017
Abstract
Preeclampsia is a severe pregnancy complication globally, characterized by poor placentation triggering vascular dysfunction. Matrix metalloproteinases (MMPs) exhibit proteolytic activity implicated in the efficiency of trophoblast invasion to the uterine wall, and a dysregulation of these enzymes has been linked to preeclampsia. A decrease in MMP-2 and MMP-9 interferes with the normal remodeling of spiral arteries at early pregnancy stages, leading to the initial pathophysiological changes observed in preeclampsia. Later in pregnancy, an elevation in MMP-2 and MMP-9 induces abnormal release of vasoactive factors conditioning hypertension. Although these two enzymes lead the scene, other MMPs like MMP-1 and MMP-14 seem to have a role in this pathology. This review gathers published recent evidence about the implications of different MMPs in preeclampsia, and the potential use of these enzymes as emergent biomarkers and biological therapeutic targets, focusing on studies involving human subjects.
View Full-Text
►

▼

Figures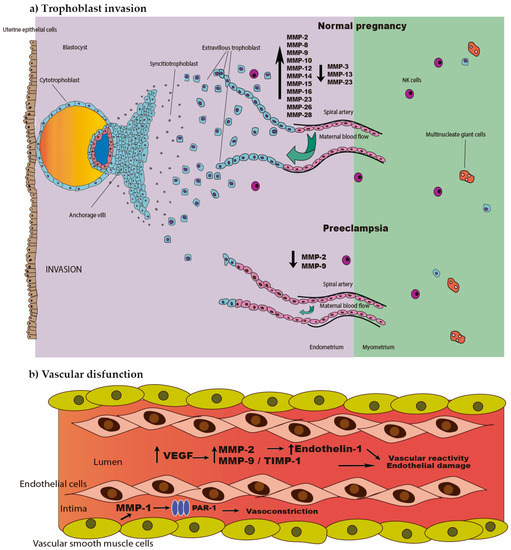 Figure 1
This is an open access article distributed under the
Creative Commons Attribution License
which permits unrestricted use, distribution, and reproduction in any medium, provided the original work is properly cited (CC BY 4.0).

Share & Cite This Article
MDPI and ACS Style
Espino Y. Sosa, S.; Flores-Pliego, A.; Espejel-Nuñez, A.; Medina-Bastidas, D.; Vadillo-Ortega, F.; Zaga-Clavellina, V.; Estrada-Gutierrez, G. New Insights into the Role of Matrix Metalloproteinases in Preeclampsia. Int. J. Mol. Sci. 2017, 18, 1448.
Note that from the first issue of 2016, MDPI journals use article numbers instead of page numbers. See further details here.
Related Articles
Comments
[Return to top]