Open Access This article is
freely available
re-usable
Review
Melatonin as a Novel Interventional Candidate for Fragile X Syndrome with Autism Spectrum Disorder in Humans
1
Department of Rehabilitation Science, Graduate School of Inje University, Gimhae 50834, Korea
2
Ubiquitous Healthcare & Anti-aging Research Center (u-HARC), Inje University, Gimhae 50834, Korea
3
Biohealth Products Research Center (BPRC), Inje University, Gimhae 50834, Korea
4
Department of Physical Therapy, College of Healthcare Medical Science & Engineering, Inje University, Gimhae 50834, Korea
5
Division of Gerontology, Department of Medicine, Beth Israel Deaconess Medical Center, Harvard Medical School, Boston, MA 02215, USA
6
National Primate Research Center (NPRC), Korea Research Institute of Bioscience and Biotechnology (KRIBB), Ochang 28116, Korea
*
Correspondence:
[email protected]
(K.-T.C.);
[email protected]
(Y.H.); Tel.: +82-43-240-6300 (K.-T.C.); +82-55-320-3681 (Y.H.); Fax: +82-43-240-6309 (K.-T.C.); +82-55-329-1678 (Y.H.)
†
These authors contributed equally to this work.

Academic Editor: Russel J. Reiter
Received: 12 March 2017 / Accepted: 5 June 2017 / Published: 20 June 2017
Abstract
:
Fragile X syndrome (FXS) is the most common monogenic form of autism spectrum disorder (ASD). FXS with ASD results from the loss of fragile X mental retardation (
fmr
) gene products, including fragile X mental retardation protein (FMRP), which triggers a variety of physiological and behavioral abnormalities. This disorder is also correlated with clock components underlying behavioral circadian rhythms and, thus, a mutation of the
fmr
gene can result in disturbed sleep patterns and altered circadian rhythms. As a result, FXS with ASD individuals may experience dysregulation of melatonin synthesis and alterations in melatonin-dependent signaling pathways that can impair vigilance, learning, and memory abilities, and may be linked to autistic behaviors such as abnormal anxiety responses. Although a wide variety of possible causes, symptoms, and clinical features of ASD have been studied, the correlation between altered circadian rhythms and FXS with ASD has yet to be extensively investigated. Recent studies have highlighted the impact of melatonin on the nervous, immune, and metabolic systems and, even though the utilization of melatonin for sleep dysfunctions in ASD has been considered in clinical research, future studies should investigate its neuroprotective role during the developmental period in individuals with ASD. Thus, the present review focuses on the regulatory circuits involved in the dysregulation of melatonin and disruptions in the circadian system in individuals with FXS with ASD. Additionally, the neuroprotective effects of melatonin intervention therapies, including improvements in neuroplasticity and physical capabilities, are discussed and the molecular mechanisms underlying this disorder are reviewed. The authors suggest that melatonin may be a useful treatment for FXS with ASD in terms of alleviating the adverse effects of variations in the circadian rhythm.
Keywords:
autism spectrum disorders; fragile X syndrome (FXS); sleep disorder; melatonin
2. Autism Spectrum Disorder (ASD)
2.1. Classification of ASD
In terms of social interaction and communication, ASD is the one of the most frequently studied developmental disabilities. Children with autism commonly exhibit stereotyped behaviors within the framework of restricted and repetitive interests. Although a number of studies have attempted to elucidate the causes of autism, an exact etiology has yet to be clearly defined. Additionally, because autism is associated with several complex conditions that involve genetic predispositions and environmental triggers, a clear treatment strategy has not been suggested either. The ASD diagnosis was proposed in the fifth revision of the Diagnostic and Statistical Manual of Mental Disorders (DSM-5; American Psychiatric Association 2013 [
51
]) because children with autism do not show a uniform set of symptoms but, rather, a unique constellation of features particular to each individual. Therefore, the older term "autism", which depicts a specific category of diagnoses, is being replaced by the newer term "ASD", which better describes a postulated spectrum disorder that encompasses multiple conditions.
2.2. Causes of ASD
2.2.1. Genetic Risk Factors
A variety of studies have consistently reported that ASD appears to be caused by hundreds of genetic variants. Thus, it is clear that there is a strong genetic risk associated with ASD and, furthermore, the genes linked with the monogenic types of ASD are involved in common signal transduction pathways related to synaptic development and neuronal plasticity. The synaptic deficits observed in ASD are induced by genetic disruptions of protein synthesis or alterations in synaptic scaffold proteins. The monogenic forms of ASD include FXS (loss of FMRP), Tuberous Sclerosis Complex (mutation of either TSC1 or TSC2), Angelman Syndrome (loss of Ube3a-dependent ubiquitination), and Phelan-McDermid syndrome (disruption of the Shank3 scaffold protein). These genetic disruptions have been utilized to develop animal models of ASD for the investigation and identification of promising candidates for ASD treatment.
2.2.2. Environmental Conditions: Pre-, Peri-, and Neonatal Risk Factors of ASD
Several pre-, peri-, and neonatal complications have been identified as potential risk factors for ASD, including gestational diabetes mellitus, vaginal bleeding in the first trimester, the precipitation of medicine during pregnancy, viral and fungal infections, and meconium in the amniotic fluid. None of these factors have a conclusive cause-and-effect relationship with ASD but are more frequently present in children with ASD than in typically developing children. These types of environmental conditions can be divided into three categories of risk factors: prenatal, perinatal, and neonatal. Six prenatal factors have been consistently related to ASD: advanced maternal and paternal ages, primiparous women, bleeding, medication, and diabetes; four perinatal factors have been consistently related to ASD: induced labor, preterm birth, breech presentation, and cesarean section; and a variety of neonatal factors have been related to ASD: low birthweight and size, and poor conditions at birth including hypoxia, hyperbilirubinemia, encephalopathy, and birth defects.
3. Fragile X Syndrome (FXS)
4. Melatonin in FXS with ASD
4.1. Melatonin Signaling Pathways under Normal Condition
Melatonin is a circadian synchronizer that is predominantly synthesized in the pineal gland at night. A major role of melatonin involves the regulation of biological signals associated with the L/D cycle. Many studies have demonstrated the beneficial effects of melatonin, its antioxidative and neuroprotective effects, and its involvement in neuronal plasticity and network remodeling. Melatonin synthesis begins during periods of darkness via the serotonin/
N
-acetyl serotonin (NAS)/melatonin pathway. First, the amino acid tryptophan is uptaken into the pineal gland, then tryptophan is converted into serotonin, which is converted into NAS by
N
-acetyltransferase (AANAT), and, finally, NAS is converted into melatonin by acetylserotonin
N
-methyltransferase (ASMT [
71
]).
4.2. Dysregulation of the Melatonin Pathway in FXS with ASD
Clinical studies have reported decreased levels of melatonin in the blood of individuals with FXS and ASD [
19
,
20
]. However, other studies have reported the overproduction of melatonin, which may occur to compensate pineal gland overstimulation following increased sympathetic nervous system activity [
63
], such as occurs with FXS [
72
]. Melatonin deficiencies are caused by dysfunction in its synthesis and are reflected in altered circadian rhythms (
Figure 2
). Sleep disturbances may be caused by significantly lower levels of melatonin as well as by significant decreases in AANAT, which is responsible for converting serotonin into NAS. Because melatonin has anxiolytic effects, ASD in conjunction with an impaired serotonin/NAS/melatonin pathway may result in circadian problems. Recent studies have reported that disruptions of the serotonin/NAS/melatonin pathway are highly sensitive and may be a useful biomarker for ASD [
73
,
74
].
4.3. Correlation between Melatonin with Neurodevelopmental Abnormalities in FXS with ASD
5. Melatonin as an Interventional Therapeutic Approach for FXS with ASD: Clinical Assessments
6. Conclusions
Molecular biological research on autism has produced a significant number of therapeutic candidates, including melatonin. The present review aimed to highlight the neurological effects of melatonin in FXS with ASD, and investigate prevention strategies as well as therapeutic approaches for the management of FXS. The clinical application of melatonin-based therapies is expected to have high efficacy and to suppress the onset of diseases. However, additional studies should be conducted to determine the mechanisms underlying the beneficial effects of melatonin on autism and FXS.
Acknowledgments
This work was supported by the grants from the National Research Foundation (NRF-2012R1A1A2005089 to Yonggeun Hong, NRF-2013R1A2A2A01067169 to Yonggeun Hong), and by the KRIBB Research Initiative Program (KGM4611714 to Yonggeun Hong). This work was also supported by the 2016 Creative Research Program of Inje University.
Author Contributions
This review article was conceptualized by Yonggeun Hong and Kyu-Tae Chang; Yonggeun Hong, Jinyoung Won, and Yunho Jin wrote the manuscript; Jeonghyun Choi and Sookyoung Park created the figures appearing in the manuscript; Sang-Rae Lee and Tae Ho Lee professionally edited the manuscript.
Conflicts of Interest
The authors declare no conflict of interest.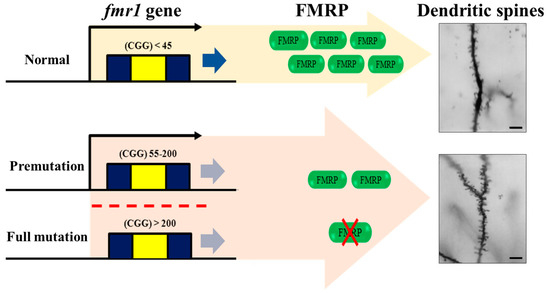 Figure 1.
Mechanism of fragile X syndrome (FXS) incidence. Diagram of transcription and translation of the
fmr1
gene [
2
,
54
,
55
]. FXS resulted from the expansion of a CGG trinucleotide repeat in the 5′-untranslated region of the
fmr1
gene. Dendritic spine morphology between
fmr1
knockout (KO) and wild type mouse [
56
]. Overabundance of immature dendritic spine (bulbous head and a thin neck) is expressed in
fmr1
KO mouse [
57
,
58
,
59
].
fmr
, fragile X mental retardation; FMRP, fragile X mental retardation protein. Scale bars = 10 µm.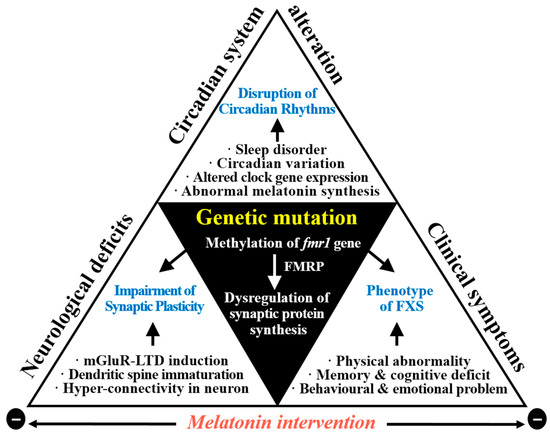 Figure 2. Melatonin intervention perspectives in FXS with autism spectrum disorder (ASD). Abnormal melatonin synthesis and clock-related gene mutation can result in circadian system alteration in FXS with ASD (indicated by the white upper triangular portion in the figure above). Loss of FMRP is associated with dysregulation of synaptic protein synthesis resulting in impairment of synaptic plasticity (indicated by the lower left triangular portion) and clinical symptoms (indicated by the lower right triangular portion). mGluR, metabotropic glutamate receptor; LTD, long-term depression.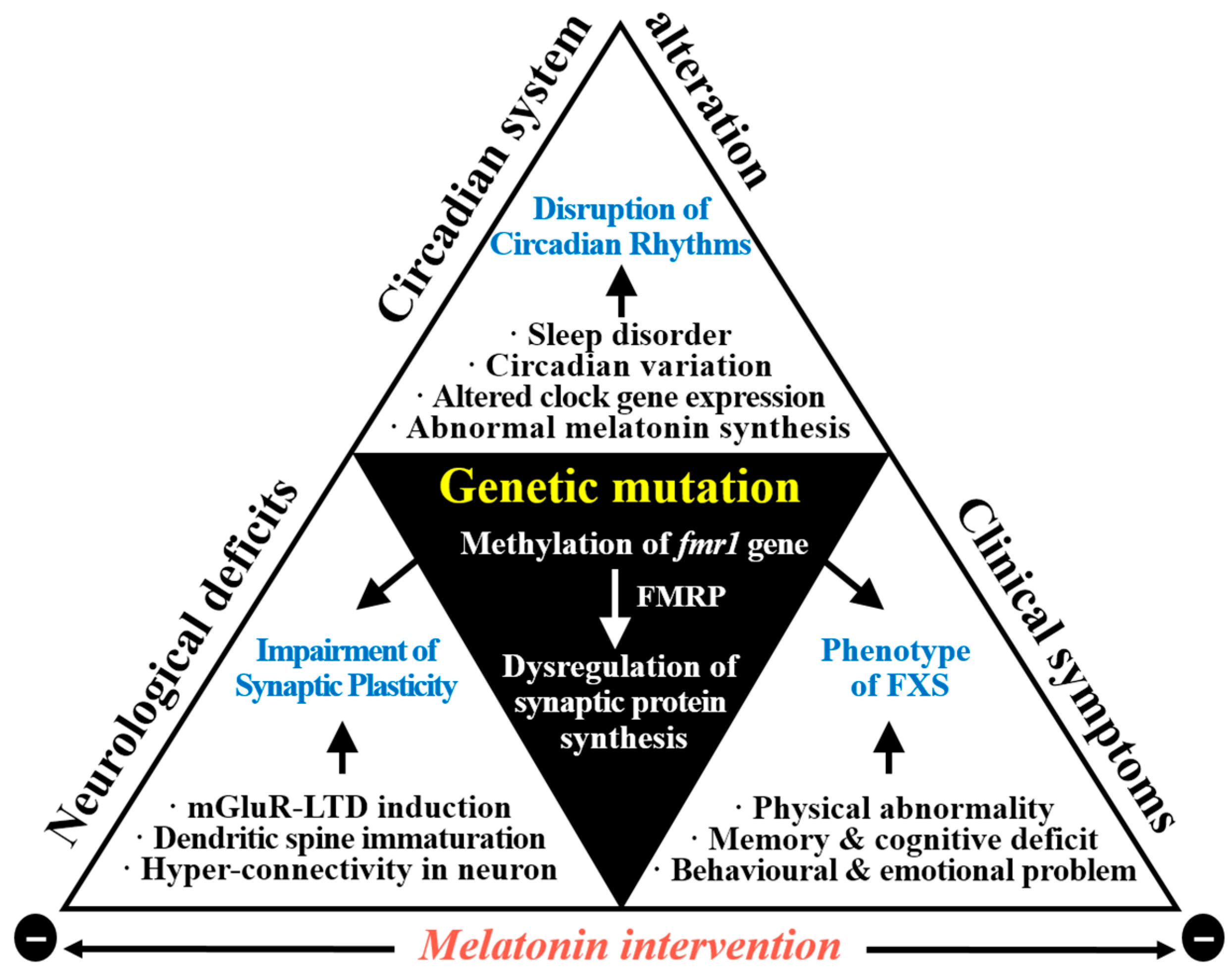 © 2017 by the authors. Licensee MDPI, Basel, Switzerland. This article is an open access article distributed under the terms and conditions of the Creative Commons Attribution (CC BY) license (http://creativecommons.org/licenses/by/4.0/).